by Wolf Richter, Wolf Street: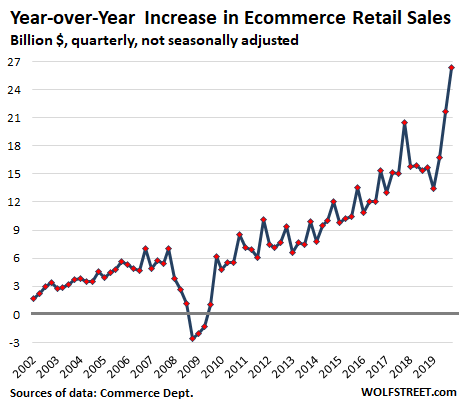 What's astounding many people: ecommerce growth is not leveling off, but keeps surging at blistering rates.
Ecommerce retail sales jumped 16.4% in the fourth quarter 2019 compared to a year earlier (not seasonally adjusted), to $187 billion, and reached $602 billion for the year, double the amount five years ago, according to the Commerce Department. Ecommerce retail sales in Q4 were $26.4 billion higher than in Q4 a year earlier, the biggest year-over-year dollar-gain in the history of ecommerce, as it continues to gain momentum, instead of losing it: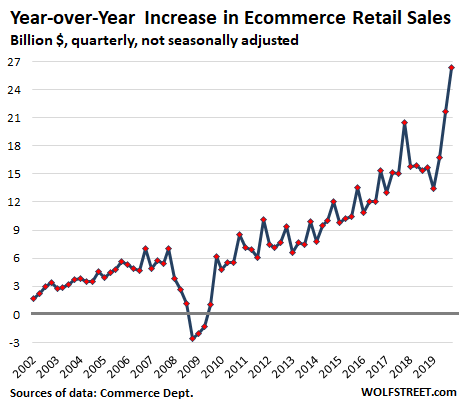 On a seasonally adjusted basis, ecommerce sales hit $154.5 billion in Q4 and accounted for 11.4% of total retail sales. But wait… retail sales include sales at gas stations (gasoline, diesel), auto dealers, and grocery and beverage stores. These three categories have largely been able to resist ecommerce – and they account for 55% of brick-and-mortar retail sales.
But the remaining 45% of brick-and-mortar sales are getting crushed and particularly the group of retailers that tend to populate shopping malls, including department stores: the "mall retailers," as I call them.
Ecommerce sales include the online sales of brick-and-mortar retailers, many of which have built big and thriving online operations. According to eMarketer, these were the top 10 ecommerce retailers in 2019 – six of them started out as iconic US brick-and-mortar chains:
Amazon
eBay
Walmart
Apple
Home Depot
Best Buy
Macy's
Qurate Retail Group (QVC, HSN, Zulily, Ballard Designs, Frontgate, Garnet Hill, and Grandin Road)
Costco
Wayfair (ecommerce furniture retailer)
Walmart belatedly got the memo a few years ago.
Walmart is now throwing everything it has at ecommerce to see what sticks, including ecommerce-related acquisitions, many of which didn't stick. For 2019, it allocated $5.2 billion of its capital expenditures to building out its ecommerce infrastructure and technology, more than double what it allocated to spending on new stores and store remodels ($2.5 billion).
In its Q4 earnings report two days ago, it said that Walmart U.S. ecommerce sales had surged 37% year-over-year and that Sam's Club ecommerce sales had surged 33%.
But Walmart, having gotten such a late start, remains woefully behind. In 2019, it started disclosing its ecommerce sales in dollars in its quarterly SEC filings, but hasn't yet released it for Q4. Through the first three quarters of 2019 – so not including the huge holiday sales quarter – Walmart's US ecommerce sales jumped 40% year-over-year to $14 billion. This indicates that its US ecommerce sales for the fiscal year 2019 were around $21 billion, which would be about 8.5% of its total US sales.
Other retailers are way ahead of Walmart.
Macy's, when it announced in early February another 125 store closings, on top the prior waves of store closings, also disclosed that its ecommerce sales have surged to "more than $6 billion per year," to over 25% of its total sales.
Nordstrom hasn't yet released its SEC filings for fiscal Q4, but in its 10-Q for the third quarter, it disclosed that ecommerce sales had risen to 34% of total sales, on a 7% rise in ecommerce sales and a 7% drop in brick-and-mortar sales, for a 2% drop in overall sales.
Brick-and-mortar department stores – those that don't want to go the route of Bon-Ton Stores, Sears Holdings, Barney's, and soon J.C. Penney, among many regional chains – decided that they must seek salvation in ecommerce because ecommerce is wiping out department stores one by one, and chain by chain.