from ZeroHedge: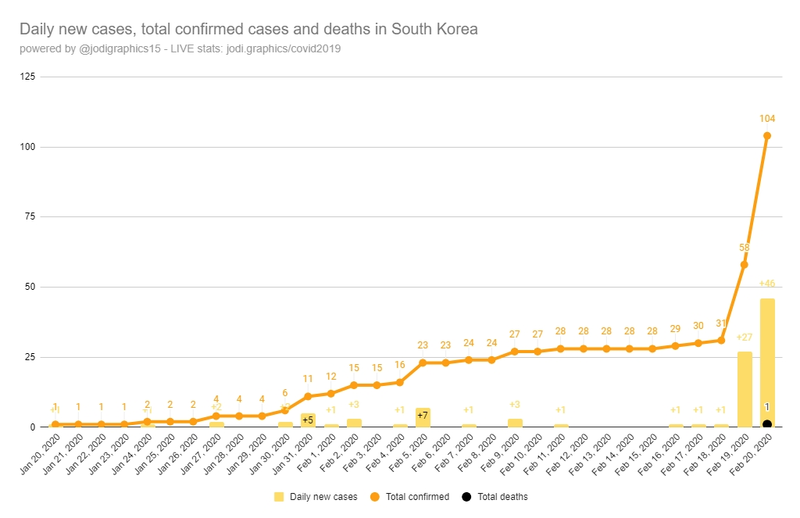 Hours after Japanese press reports claimed that two passengers who contracted COVID-19 aboard the 'Diamond Princess' died yesterday – news that was later confirmed by Japanese authorities – South Korea reported its first fatality while one of its major cities asked citizens to stay inside and avoid venturing outdoors, according to the Washington Post.
According to Japanese government officials, both of the virus-related fatalities were Japanese citizens in their 80s who had been moved off the ship more than a week ago for treatment in a Japanese hospital, though the government has so far declined to release names.
The latest reports Thursday morning confirmed another 13 cases aboard the DP bringing the total to 634. The odds that individuals being released from the 2 week quarantine on Thursday and Friday might have contracted the virus, but have yet to show symptoms, remains high. The death in South Korea raised the death toll ex-China to 10.
The speed is hardly a surprise for those who have been paying attention to all of the new research, instead of dismissing it for being 'alarmist' and 'not peer reviewed'.
Finally, earlier this week, researchers published the largest study yet of the outbreak, which confirmed that COVID-19 is more contagious than SARS and MERS, leaving it on par with seasonal influenza.
Still, experts insist that the virus's fatality rate is probably around 2%, meaning that it's less deadly than SARS, but the wider spread will result in more deaths, CNN reports.
"My sense and the sense of many of my colleagues, is that the ultimate case fatality rate … is less than 2%," Dr. Anthony Fauci, director of the National Institute for Allergy and Infectious Diseases, told CNN's Jim Sciutto on "New Day" Tuesday. "What is likely not getting counted is a large number of people who are either asymptomatic or minimally symptomatic, so the denominator of your equation is likely much much larger."

"So I would think at tops it's 2% and it likely will go down when all the counting gets done to 1% or less. That's still considerable if you look at the possibility that you're dealing with a global pandemic," he added.
Even as President Xi does everything in his power to present an image of success to the Chinese people – in his speeches, he claims the Chinese government's strict quarantines have been an unmitigated success – global experts, including the WHO, have warned that the disease will continue to spread globally, and that the end of this crisis is still far from certain.
And as new confirmed cases dropped substantially on Wednesday in Hubei, everywhere else, the rate of new infections is accelerating.
In South Korea, the number of cases soared by almost two-thirds to 104 overnight, further emphasizing our observation that the number of cases ex-China has started to accelerate notably as the curve starts to resemble an exponential progression.
One WHO health expert told a Japanese TV station on Thursday that the virus is "a moving target" making it difficult to collect information and treat people: "Nobody has ever had to deal with this situation before, this is a new virus on a ship with 4,000 people, there are no guidelines for that." He added that he suspects there was a substantial amount of transmission before it arrived in Yokohama, adding that it was "not possible" to isolate everybody individually.