from ZeroHedge: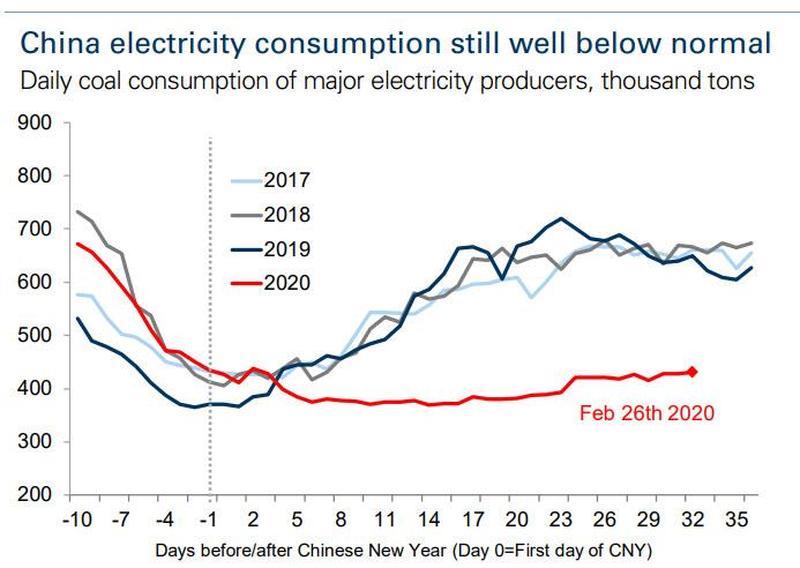 One week ago, ahead of today's Chinese data release which would for the first time capture the devastation from the coronavirus pandemic, we wrote that "to those who have been following our series of high-frequency, daily indicators of China's economy, it will probably not come as a surprise that the world's second biggest economy has ground to a halt, its GDP set to post the first negative print in modern history. To everyone else who is just now catching up, we have some news: it's going to be bad."
Specifically, we said that ahead of official Chinese economic data which will soon start capturing the period when the coronavirus crippled the country's economy, Nomura's Chief China economist Ting Lu pointed out that China's Emerging Industries PMI (EPMI), which gauges momentum in the country's high-tech industries and is closely correlated with official manufacturing PMI, slumped to 29.9 in February (from 50.1 in January!), its lowest-print on record, which was a "pure reflection of the devastating impact of the COVID-19 outbreak."
What would this mean for the closely followed China manufacturing PMI? As Nomura added, "even adjusting for seasonality and expected progress in business resumption in the coming week, we estimate the official manufacturing PMI could drop to a range of 30-40 in Feb.
In retrospect, it turns out that Nomura's dire forecast was optimistic, because moments ago China's National Statistics Bureau reported the latest, February PMIs and they were absolutely catastrophic:
Manufacturing PMI crashed to 35.7 in Feb, far below the 45.0 consensus estimate, and sharply down from 50.0 in January. A record low.
Non-Manufacturing PMI plummets to 28.9, also far below the 50.5 consensus, estimate, and down nearly 50% from the 54.1 in Jan. This too was a record low.
Putting these numbers in context, they are far, far worse than the prints for both series reported during the financial crisis, when the mfg PMI dropped to "only" 38.8, while the non-manufacturing PMI never even contracted.
What is even more ominous is that while China's non-mfg PMI has traditionally been stronger, in February not only did it collapse into deep contraction, but it plunged to 5 points below where the manufacturing sector currently finds itself, a catastrophic 20-handle. This means that China's service industries, long seen as the guiding light to China's successful transition away from a manufacturing-led economy, is now devastated.
Commenting on the unprecedented number, Bloomberg's China economist Tom Orlik said that "the first credible gauge of how China's economy is fairing under virus lock down – the official PMI – is pointing to a brutal drop into contraction." Well, no: anyone who read our recent series analyzing "high-frequency", real-time Chinese data already was already aware of the catastrophic collapse in China's economy.
Of course, we are confident that as so often happens, the market will take these numbers in stride, as they will be an indication that China is "kitchen sinking" the collapse, and a V-shaped recovery will follow. Alas, it won't because while not only has China's economy not picked up even modestly, but it is only a matter of time before Beijing, which has forced people to go to work against their will, succumbs to a second wave of coronavirus infections, one which will result in a far worse economic collapse than the current one, which incidentally has yet to show any actual recovery!
Finally, for all those expecting that Beijing will unleash another massive stimulus to kick-start the economy at any cost, we give the last word to Nomura's Ting Lu, who not only correctly predicted the plunge in PMIs, but also says that "the likelihood of another round of massive stimulus appears low as policy space remains limited.""