by Stefan Stanford, All News Pipeline: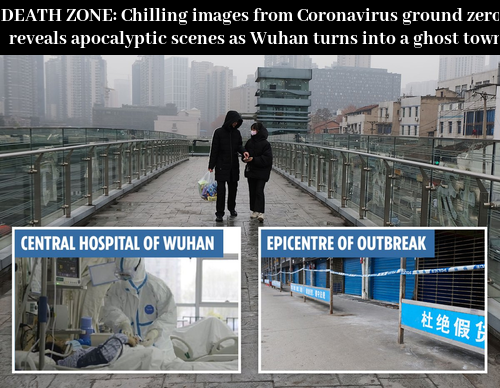 – Ghost Town Scenes In Wuhan – Has 'Captain Trips' Been Unleashed?
While I began my story Thursday on the coronavirus reporting that we weren't overly concerned about the outbreak happening half the planet away, as we reported in a major update to that story, a 2017 story over at Nature written about a top secret, BSL-4 level laboratory in Wuhan, China that would soon be opened to handle some of the world's deadliest pathogens has caused us to look at all of this in a completely different manner.
As we'd reported within that update, 'some scientists outside of China worried about pathogens escaping' from that Wuhan, China pathogen lab and while we're not in the position at this moment to confirm that is what indeed happened, the spread of a virus that one disease expert compared to having the death rates of the Spanish flu while another SARS Virologist claimed,"this time, I'm scared", has gotten a lot of ANP readers talking in our comment sections about how to prepare for the arrival of such an outbreak in America.
With one US scientist warning 2 years ago about the very real possibility of an apocalyptic virus escaping from that lab in Wuhan as Metro reports in this new story, and Live Science reporting that only one lab could 'safely handle' the coronavirus and that lab was in Wuhan, one might argue that lab was NOT able to safely handle this mysterious virus, or as others have argued, may have even intentionally released it.
And with this Daily Mail story warning a woman in Chicago who recently flew in from Wuhan, China is the latest person in America to have been diagnosed with coronavirus, with at least 63 more people in the US being monitored including at least 4 people in New York, some are reminded of the mutations and spread of the man-made virus in the movie "12 Monkeys", where airplanes were the 'vector' for the viruses release and spread as it wiped out most of the global population.
With Wuhan, China now looking like a ghost town as seen in the image at the top of this story as was reported in this new story at The Sun and the very real possibility this virus was something that 'escaped' from that BSL-4 Lab in Wuhan, China, and Chinese officials surely never giving the world the truth about it, we'll be taking a look within this story at some ANP readers suggestions about how to go about preparing for this 'beasts' arrival in America knowing what we now know about it. We'll also be looking at a theory of Celeste Solum at Shepherds Heart who warns the rollout of coronavirus may have been timed to coincide with the rollout of 'global government'.
(ANP EMERGENCY FUNDRAISER! Following Susan Duclos' recent heart attacks and hospitalization, All News Pipeline will need some financial help in the days ahead. So if you like stories like this, please consider donating to ANP to help keep us in this 'Info-war' for America at a time of systematic censorship and widespread corruption.)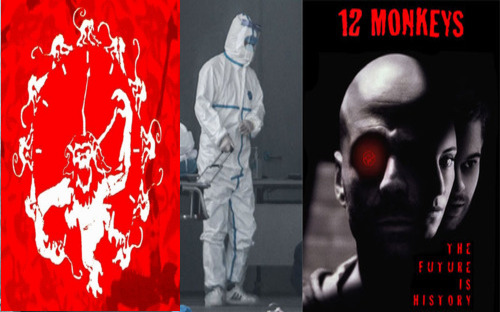 As Celeste points out in this 
new story over at Shepherd's Heart
, the globalists have long been pushing for a 
'one world government'
 and a 
'global health emergency'
 might just offer them the 
'crisis'
 that they've been looking for and pushing for. And as Susan Duclos had mentioned to me, if this deadly virus was actually something that was created or intentionally released from a lab in China, it could be considered
 'an act of war'
 should it have been 
'weaponized'
 as 
Mike Adams reported of the coronavirus in this January 22nd story
 at Natural News.
So with a virtually unknown, deadly pathogen released upon the world, as we'd reported within our January 23rd ANP story, one of the very most critically important things that we can do should coronavirus become widespread here in America is prepare to self-quarantine ourselves and our families away from the rest of the masses. And to be able to do that effectively means stocking up on anything that we might need including food, water and supplies so that we don't have to go into grocery stores and other public locations as we'll explore much more in the next section of this story below.
With China just deploying their military to help fight the virus spread helping to show just how dangerous they believe this outbreak is and experts now warning thousands more could be infected by the virus and not yet showing symptoms, (including those who may have already left Wuhan and traveled via air travel to America and other locations), of great concern is the fact that this disease can be spread via the air, making it  spread much more quickly and more likely than non-airborne viruses.
As Mike Adams had also reported in this new story over at Natural News, Coronavirus is spreading among people who show non-respiratory symptoms. This means detection of the carriers of the virus is going to be extremely difficult, given that nearly all health officials around the world are looking for respiratory symptoms such as coughing, sneezing and breathing difficulties. So how many people who've come down with the illness but aren't showing symptoms are now walking around freely in America or elsewhere, spreading it to others who also may not show any symptoms until they've infected many others?
And as the Daily Mail reports in this new story, China's President Xi Jinping has just warned the world that the outbreak is accelerating there with at least 56 million Chinese people now under lockdown. So what does China know about this outbreak that we don't know? As ANP reader 'Sloopofwar' commented recently.:
I picked this up at Weazle Zippers a bit ago. Not good.
EWSTX • 8 hours ago Noswamp says:
My friends in China speak of thousands infected and over 100 people dead.
Chinese greatly underreporting what is really going on.
My friends tell me that infected people are being rejected by Wuhan hospitals. Will keep posted.
If this is the case there better be folks from the CDC GREETING every plane from China. Welcome to the 2020 version of the Spanish influenza.
Not meaning to scare folks but when China quarantines one of their largest second tier cities, (11 million people) it believes the situation is quite serious.
I am hearing some of the same things from people I know in Taiwan.
Read More @ AllNewsPipeline.com