by Chris Menahan, Information Liberation: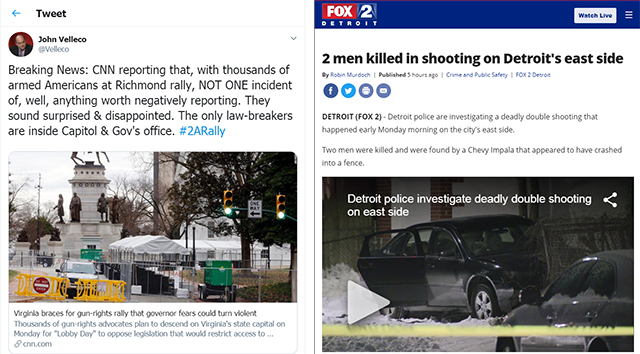 The heavily-armed Second Amendment rally in Richmond which drew an estimated 25,000 people went down without a hitch on Monday despite doomsaying from the media and Democrats, meanwhile there were multiple deadly shootings in the Democrat-controlled strongholds of Detroit, Kansas City and The Bronx within the past 24 hours.
Here's a video pic.twitter.com/qsu855PEqd

— Tanner B. Hirschfeld (@Hirschfeld4VA) January 20, 2020
Two men were shot dead in Detroit this morning.

From Fox 2 Detroit:
Detroit police are investigating a deadly double shooting that happened early Monday morning on the city's east side.

Two men were killed and were found by a Chevy Impala that appeared to have crashed into a fence.
Two people were killed and 15 were wounded on Sunday night in a shooting outside a bar which "appeared to be celebrating the Kansas City Chiefs' advancement to the Super Bowl."
The shooter was stopped by an armed security guard.
From the AP:
KANSAS CITY, Mo. (AP) — An armed security guard shot and killed a man suspected of fatally shooting a woman and injuring 15 more people outside a bar in Kansas City, Missouri, police said Monday.

A motive for the attack shortly before midnight Sunday outside 9ine Ultra Lounge was not immediately clear.
Police in Kansas City, Missouri, say at least two people are dead and upwards of a dozen people may have been injured in a shooting outside a bar. The bar appeared to be celebrating the Kansas City Chiefs' advancement to the Super Bowl. https://t.co/WZF2lLpqTI

— The Associated Press (@AP) January 20, 2020
Kansas City Police Capt. David Jackson told reporters that responding officers found "a chaotic scene." A man and a woman were killed and police believe the shooter is the deceased man, Jackson said. It was not clear if the gunman targeted anyone in particular, he said.
A 23-year-old man was shot to death in The Bronx overnight after an "argument."
From CBS New York:
Police are searching for a gunman who shot a man to death overnight in the Bronx.

The 23-year-old was gunned down around 11:30 p.m. Sunday near Creston Avenue and 182nd Street in the Fordham Heights neighborhood.
Read More @ InformationLiberation.com