by Chris Menahan, Information Liberation: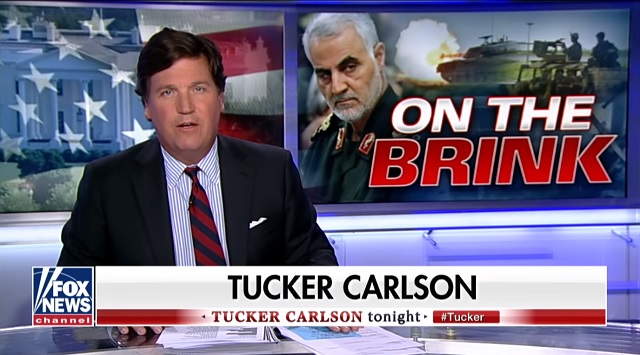 President Trump reportedly watched Tucker Carlson's anti-war rants and they "affected his view on the Iran situation."
From Buzzfeed, "Fox News Hosts Were Against A Ground War With Iran. Trump Listened.":
Fox News personalities by and large supported President Donald Trump's confrontation with Iran over the past week. But between the lines, even the most ardent Trump supporters on Fox's opinion side like Sean Hannity stopped short of encouraging all-out war, though some less prominent on-air figures spoke in favor of more extreme measures. And one of Fox's biggest opinion hosts has consistently criticized the confrontation with Iran.
The coverage of the Iran showdown on Fox has reflected a conundrum for Trump supporters — whether to cheer his every move regardless or hold him to campaign promises to disentangle the US from conflicts in the Middle East.

[…] Monday night, Tucker Carlson launched what would become a series of monologues criticizing the administration — though, notably, not Trump personally — for getting involved in yet another Middle Eastern nation. He broke from other Fox personalities in criticizing the entire venture, including the killing of Soleimani, which most others supported.

[…] Dan Bongino, a contributor to the network, said on Tuesday, "The mullahs only understand one language, and that's the language of death, sadly. And if death is what we have to give them to stop this, and sadly, that's what we have to do."

But those with real influence, most notably Carlson, have not. Carlson has become an increasingly influential voice for anti-interventionism on the right and is very popular among the Trump base. And according to a source with knowledge of the conversations, Trump told people that he had watched Carlson's show and it had affected his view on the Iran situation.

On Wednesday, Trump announced that Iran had backed down and indicated that the US wouldn't pursue further military action, though it will continue to impose new sanctions.
It's pretty wild that our president's views are shaped by what he sees on TV but it is what it is.
Tucker deserves major kudos for managing to keep Trump's attention without just telling him what he wants to hear and cheerleading everything he does (looking at you, Sean Hannity).
He's very careful not to attack him personally but instead just blame everyone around him.
On his show Tuesday night, his guest Ned Ryun said Israel and Saudi Arabia should be fighting their own wars.
.@NedRyun on @TuckerCarlson Tonight Discussing Iran Conflict

"I'm sicking of us spending trillions of dollars and costing thousands of American lives to do other people's business. Israel & Saudi Arabia should be taking the lead on this and dealing with the Iranian situation." pic.twitter.com/AKWggdbThU

— The Columbia Bugle 🇺🇸 (@ColumbiaBugle) January 8, 2020
Read More @ InformationLiberation.com