by Wolf Richter, Wolf Street: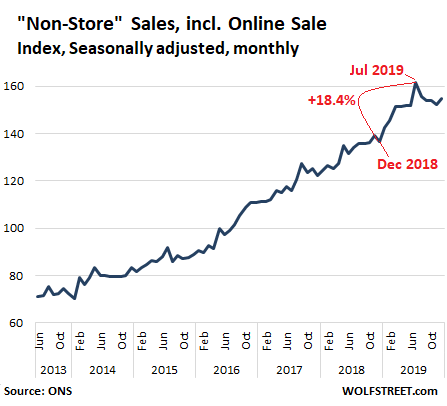 But even red-hot online sales cooled off late in the year as consumers turned sour.
Consumers in the UK, generally a hardy bunch when it comes to borrowing and shopping, were not in a shopping mood before the holidays. Retail sales in December at non-food brick-and-mortar stores – ranging from specialty stores to department stores – fell 1.6% compared to December last year, seasonally adjusted, according to the UK's Office for National Statistics (ONS). The less volatile three-month moving average fell 1.1% year-over-year, the biggest decline since September 2009, when consumers were trying to clamber out of the Financial Crisis: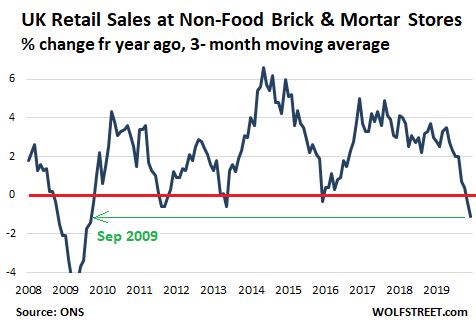 The decline in December caused the non-food brick-and-mortar index to drop to its lowest level since June 2018. And it's down 3.2% since its peak in July 2019, an indication of just how fast retail sales have deteriorated in the second half of the year: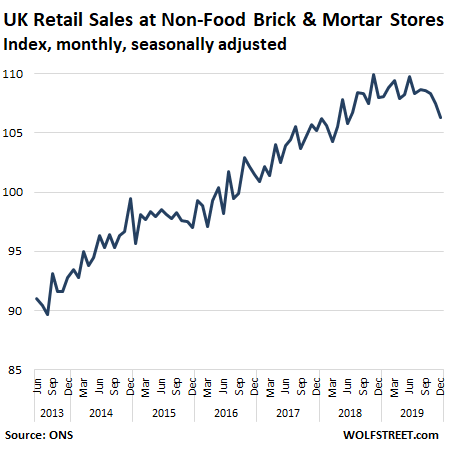 Even sales at food stores fell 1.7% year-over-year in December. But gasoline sales rose 4.7%, on higher fuel prices.
Even red-hot online sales cooled off in the second half.
Online sales – including sales by the online divisions of brick-and-mortar retailers – had skyrocketed 18.4% in the seven months from December 2018 through July 2019, to a huge all-time record, but have since fallen off, in another sign of retail weakness in the second half, reducing the 12-month growth from December 2018 through December 2019 to "just" 13.3%: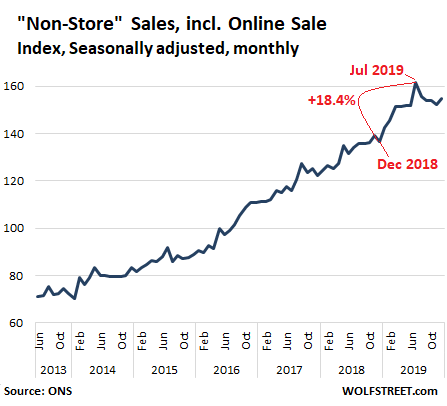 Online sales in the UK now account for 19% of total retail sales. The biggest gains were in the household goods sector whose online sales surged 23% year-over-year in December. This rapid shift to online retail poses a major threat to the viability of many brick-and-mortar stores that have failed in building a vibrant and large online business.
All combined, including online sales, fuel sales, and grocery sales, total retail sales have fallen 1.6% from the peak in July 2019 – due to the weakness in the second half – but eked out a year-over-year gain of 1.5%.
Why this sudden slow-down in retail sales in the second half?
The British Retail Consortium — which focuses on brick-and-mortar stores and doesn't cover big online retailers, such as Amazon — hammered the uncertainty surrounding Brexit:
"2019 was the worst year on record and the first year to show an overall decline in [brick-and-mortar] retail sales. This was also reflected in the CVAs, shop closures and job losses that the industry suffered in 2019. Twice the UK faced the prospect of a no deal Brexit, as well as political instability that concluded in a December General Election – further weakening demand for the festive period."
"We've had the perfect storm in recent years," says Martin Newman, a former multichannel operator for Ted Baker, Harrods and Burberry. "The political uncertainty has fueled a fall in consumer confidence and a subsequent tightening of belts."