by Chris Menahan, Information Liberation: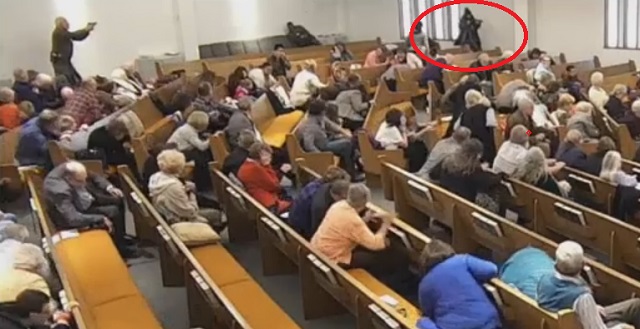 A mass shooter was swiftly shot in the head after shooting two innocent churchgoers at West Freeway Church of Christ in White Settlement, Texas.
From KGET, "Three dead, including gunman, one in critical condition in shooting at Texas church":
A gunman killed two people before parishioners shot and killed him at a church near Fort Worth, Texas, on Sunday, authorities said.
J.P. Bevering, police chief of White Settlement, in Tarrant County, said the man opened fire at West Freeway Church of Christ during services shortly before noon. Worshipers returned fire, killing the gunman, Bevering said.

One person was pronounced dead shortly after the shooting. Another parishioner who was in critical condition later died, authorities said.
Graphic video of the attack was captured on the church's live stream:
BREAKING: Video shows gunman open fire at West Freeway Church of Christ in White Settlement, Texas before being shot dead by armed security; the service was being live-streamed on YouTube pic.twitter.com/58YcB8ODT1

— GrantB911 (@GrantB911) December 29, 2019
This video censors the two people who were shot (one appeared to have been reaching for a weapon but was hesitant to shoot the suspect before he fired):
NEW: Video shows man opening fire at Texas church before he is shot by a security guard; 2 dead, 1 critical (blurred to hide victims, viewer discretion is advised) pic.twitter.com/hulXR7MYIy

— BNO News (@BNONews) December 29, 2019
Slowed-down, edited footage shows seven parishioners pulled guns either during or immediately after the shooting.
Some anon broke down the footage from the shooting at the Texas church earlier on and no less than seven of the congregation members happened to be armed including one elderly lady (no. 5).

Ain't no messing around down that way by the looks of things.

CC: @DaddyWarpig pic.twitter.com/yJ7E6rLGvd

— Rathdranalon (@Daicheal) December 30, 2019
The Dallas Morning News reported that "two members who are part of the church's security team opened fire on the gunman."
It looks as though the older man on the left hit the shooter with a direct head shot.
Read More @ InformationLiberation.com