from RT: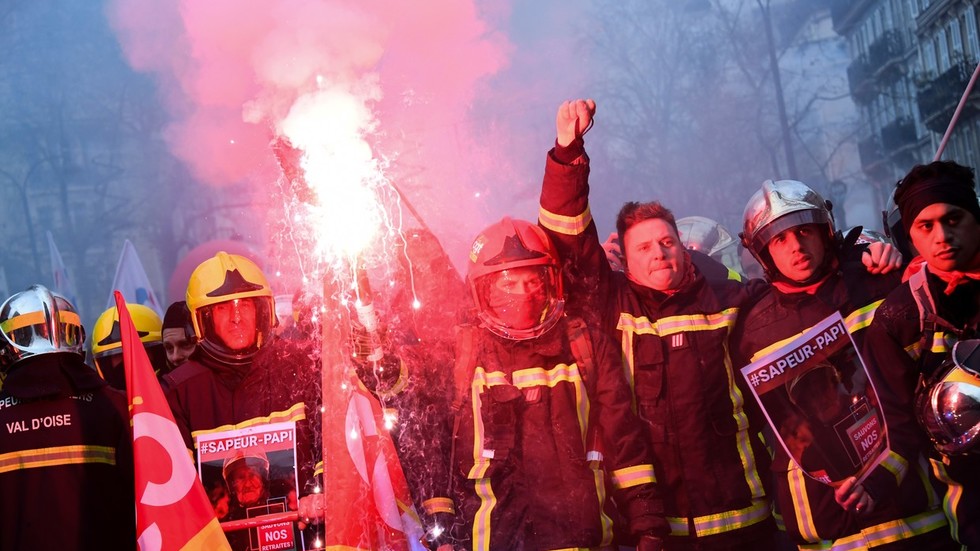 Protests against controversial French pension reform plans have escalated into clashes between demonstrators and police in Paris. Protesters pelted police with projectiles, while officers responded with tear gas and baton charges.
Over 350,000 people took to the streets of the French capital on Tuesday to protest the planned pension reforms, according to figures provided by the CGT trade union. Police put the Paris numbers at 76,000, and said around 615,000 marched nationwide.
The demonstration promptly became heated, escalating into clashes between protesters and law enforcement.
Footage from the scene shows crowds engulfed in thick plumes of tear gas, while riot police repeatedly charge groups of demonstrators with batons drawn.
Provocations policières place de la Nation. Deux groupes de FDO sont venues sur la place sans aucune raison et ont jeté des grenades lacrymos à main pic.twitter.com/76z2qJnzNL

— Christophe Gueugneau (@gueugneau) December 17, 2019
#Paris paralysed as nationwide strikes continue pic.twitter.com/k2bWXquNmV

— Ruptly (@Ruptly) December 17, 2019
Depuis quelques minutes, BRAV et CI se déchaînent et utilisent énormément de gaz lacrymogènes… En dépit du sens du vent…#17decembre2019 #greve17decembre #grevedu17decembre #greve #reformedesretraites pic.twitter.com/zYmxpmFdi9

— Le Média (@LeMediaTV) December 17, 2019