by Adam Taggart, Peak Prosperity:
How soon until the consequences of our excesses catch up with us?
The laws of physics are governed by cause and effect. But there can exist a time lag between the two.
For instance:
Note how the speed of both the bullet and the retracting latex far exceed that of the shockwave or gravity on the water contained inside each balloon.
There's an observable time lag during which the globe of previously-contained water momentarily hangs there in space.
Then, a beat later, it's obliterated.
Living On Borrowed Time
I'm unusually focused on time these days as we're updating Peak Prosperity's crown jewel, The Crash Course video series.
Originally created in 2008 and updated in 2014, it lays out the macro forces driving the economy and our way of living, explaining why most of them are unsustainable and headed for trouble. That then opens the door to an avalanche of critical questioning about what the future will bring.
Updating the parade of charts and data has been eye-opening for me. When I last did this (early 2014), the S&P had just returned to the same price level that served as the apex for both the 2001 and 2008 market bubbles.
I remember how concerned I was then. How could we have returned to such reckless exuberance so quickly after the pain caused by the Dot-com bust and the Great Financial Crisis? Did we learn nothing from our previous (and recent!) excess?
Clearly not only did we not learn; we didn't give a crap. With a "hold my beer, you ain't seen nothin' yet" bravado, we proceeded to DOUBLE the S&P above the previous bubble highs.
Here at PeakProsperity.com, my co-founder Chris Martenson and I have spilled a lot of ink in the ensuing years, warning how QE (aka central bank money printing), stock buybacks, and record low interest rates have pushed the degree of systemic unsustainability to Bizzaro-world levels. For our most recent analysis, click here, here and here.
But the TL;DR version is succinctly captured by the chart below:
A few important things to note beyond the colorful editorial commentary I added to John Hussman's quality work here.
First, the chart is logarithmic. The y-axis value doubles with each hashmark. Meaning: the current excess is a lot more extreme than it looks at first glance.
Second, the vertical lines indicate 'dispersions' which are market conditions Hussman finds are highly-correlated with "steep and rather abrupt market plunges, often representing the first leg of a more extended collapse".
Notice how rarely they have occured over the past 25 years, and yet they've suddenly increased in frequency of late (the most recent took place on Nov 20th).
This is what you would expect to see from a dangerously over-extended system, where prices have been propelled way beyond where they can be sustainably supported. Keep in mind, today's all-time high prices are occuring at a time when:
As we covered in a recent report The Phantom Mania, there's simply no substance underlying this latest run in stocks. It's all been driven by multiple expansion, which is a fancy term for "paying more for the same dollar of earnings", aka, speculating that you'll be able to sell at a higher price to an even greater fool: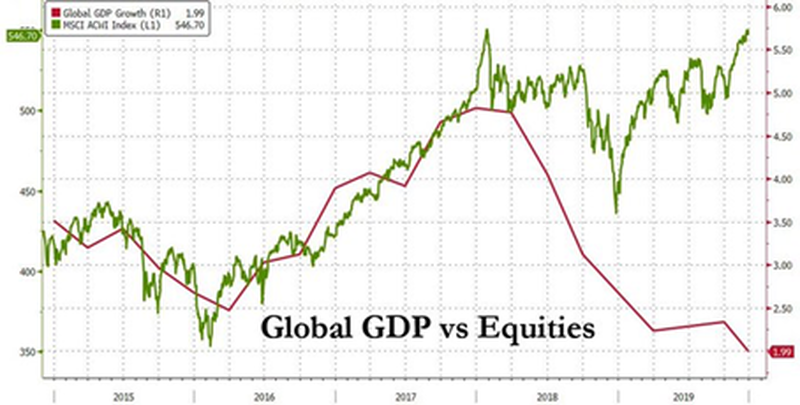 What we are experiencing right now is a 'time lag' between the collapse of the argument underlying the 10-year bull market and investors' recognition of that.
A full decade and some $14 Trillion in newly-printed money later, plus the cheapest interest rates in recorded history, and yet the central banks have not been able to restore growth to the global economy. The experiment has failed.
And what do we have to show for it?
The worst wealth gap in history. An impoverishment of future generations, who will be stuck paying off our recent debt orgy:
What good is Dow 30,000 if 75% of us can't afford a house or scrape together $400 in an emergency?
Time Is Running Out
And of course, that's just what's going on in funny-money land.
In the real world, the resources we rely on to power the economy, sustain our modern lifestyle, and put food into our bellies are rapidly becoming more scarce and expensive.
Read More @ PeakProsperity.com