by Mike Gleason, Money Metals: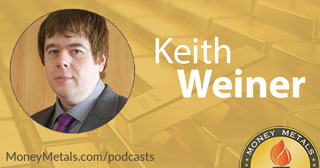 Welcome to this week's Market Wrap Podcast, I'm Mike Gleason.
Coming up we'll hear a truly fascinating interview with Keith Weiner of Monetary Metals and the Gold Standard Institute.
Keith tells us what led him to devote his second career to developing a new gold standard as a solution to our nation's monetary problems. Keith also explains why the dollar, or Federal Reserve Note, is deeply immoral. So, don't miss a wonderful interview with Keith Weiner, coming up after this week's market update.
Gold and silver markets edged up this week but remain mired within a longer-term consolidation phase.
Last Friday, it appeared that silver was at risk of breaking down below its trading range for this fall. But prices recovered early this week and finished Thursday right back at the $17.00 level, where silver has been drawn to like a magnet.
So, the bullish scenario suggested by us and our guest expert, Greg Weldon, during last week's podcast is still in play. We had noted that gold and silver mining stocks were breaking to the upside and outperforming the metals. That outperformance continued again this week, especially in the silver miners.
Spot silver currently checks in at $16.95 per ounce, up 1.7% since last Friday's close. And gold is up 0.8% for the week to trade at $1,473 an ounce.
Bigger gains are being posted by base metals and PGMs. Copper prices jumped nearly 3% this week to hit a 7-month high. Platinum, despite giving back nearly $20 so far today still shows a weekly gain of 3.3% to trade at $930. And finally, palladium continues to defy gravity, up 2.2% for the week to reach another record high at $1,929 per ounce. It has fallen, though, today after threatening to reach nearly $2,000 an ounce in early day trading here on Friday.
Industrial metals are benefiting from on-again, off-again, now on-again trade progress with China. They are also reflecting rising inflationary pressures in the economy, bolstered by the Federal Reserve's latest and most explicit policy messaging yet on wanting to engineer higher rates of inflation.
Fed Chairman Jerome Powell is now talking up inflation in ways that nobody in his position ever has before. At a press conference on Wednesday, Powell went so far as to call for a "significant" and "persistent" move up in inflation.
Jerome Powell: In order to move rates up, I would want to see inflation that's persistent and that's significant. A significant move up in inflation that's also persistent. To move inflation expectations up from where they are, which appears to be a bit below 2%, will not happen overnight. It'll have to happen over time as credibility is built. The Fed has great inflation credibility, but inflation expectations are anchored at about their 25-year average, which is a few ticks below 2%, and that underscores, I think, the challenge of getting inflation to move up. The committee has wanted inflation to be at 2% squarely at 2% for ever since I arrived in 2012, and it hasn't happened. And it's because of disinflationary forces around the world and they've been stronger than I think people understood them to be. But a number of people did write down overshoots of inflation as appropriate under appropriate policy.
For reasons they have never made clear to the public, Powell and company are upping the inflation ante from 2% to 2% plus overshoots.
Why are they are so obsessed with making sure the value of the U.S. dollar goes down at a more rapid pace? Well, the obvious but unspoken reason is because they want to promote spending and consumption, punish savers, and bail out debtors.
The largest debtholder being the U.S. government, it needs more dollars to be created somehow since tax revenues are falling far short of spending commitments, including interest payments owed on more than $23 trillion in outstanding debt.
Uncle Sam and his partners at the Fed would like to see the real value of debt diminished through inflation without triggering a corresponding increase in interest rates. One way to help achieve that objective is to convince the bond market to anchor its inflation expectations to an understated measure.
The Fed has convinced everyone that inflation is running persistently under 2% because the inflation gauge it uses produces a lowball number. The central bank's preferred core Personal Consumption Expenditures index is running at an estimated 1.6% year-on-year.
But inflation as measured by the Consumer Price Index is running at 2.1% annually, according to the latest data reported by the Bureau of Labor Statistics on Wednesday. Other alternative measures show consumer costs rising at a much faster clip.
For example, analysis from Gordon Haskett Research Advisors showed that a basket of 76 typical items from Walmart and Target has gone up by about 5% this year. Housing rents are now climbing at a 5.4% rate. Medical and education costs are also each rising by over 5% annually.