by Frances Martel, Breitbart: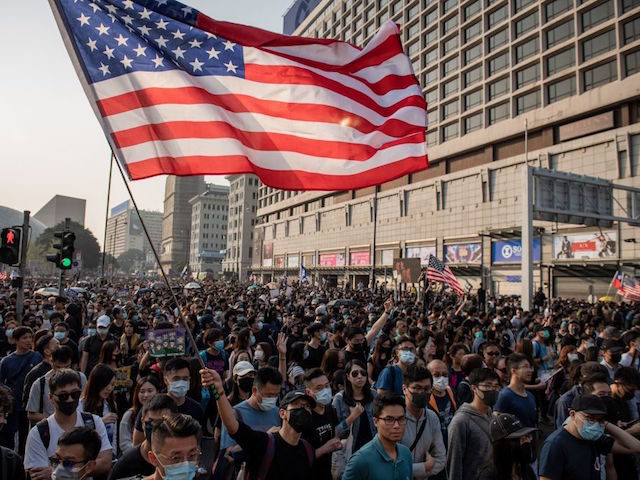 Rally organizers said 380,000 people took the streets of Hong Kong Sunday for a protest themed "never forget" – a reminder to the city's government that the protest movement's victory in last week's district council elections would not silence their four democratic demands.
Hong Kong residents have been organizing peaceful assemblies since June – the largest protest on record attracting 2 million people in a city of 7 million – demanding the government not cede to Chinese Communist Party attempts to subdue it. China has a right to sovereignty over Hong Kong under a policy called "One Country, Two Systems," which bans Beijing from imposing communism.
The protesters are making five demands of their government: the full withdrawal of proposed legislation to allow Beijing to extradite anyone present in Hong Kong into China's repressive and secretive prison system; freedom for all political prisoners; the direct election of lawmakers; an end to the government referring to protests as "riots;" and an independent investigation into police brutality.
Chief Executive Carrie Lam ceded to the first demand in September, forcing the Legislative Council to withdraw the extradition bill. The move prompted protesters to coin the new slogan "five demands, not one less," refusing to allow Lam to disregard the other four – in particular, the demand for the direct election of all lawmakers, rather than subjecting the Legislative Council to the whims of a coalition of special interests that currently chooses who writes the city's laws.
Sunday was the first day in some time that police issued a permit for large-scale protests in the city. Officers approved three rallies: the "never forget" rally, a protest against the police use of tear gas against children present in protest areas, and a rally thanking the United States for passing the Hong Kong Human Rights and Democracy Act, which allows Washington to curb Hong Kong's special economic status if China violates "One Country, Two Systems."
The "never forget" rally was reportedly the largest. According to its organizer, a protester identified only as "Swing," 380,000 people attended; police claimed only 16,000 participated, though protesters have previously accused the police of deflating attendance numbers.
People keep streaming in #hongkongprotests pic.twitter.com/7n3ABqZnuC

— Annie Wu (@annieeenyc) December 1, 2019
These numbers also do not apply to the other two large rallies organized on that day.
At the largest rally, the crowd reportedly chanted "five demands, not one less" while waving their five fingers in the air, in addition to other, more combative slogans like "disband the police force without delay" and "the heavens will eliminate the Chinese Communist Party, let the entire Party die," according to the Epoch Times.