by John Hayward, Breitbart: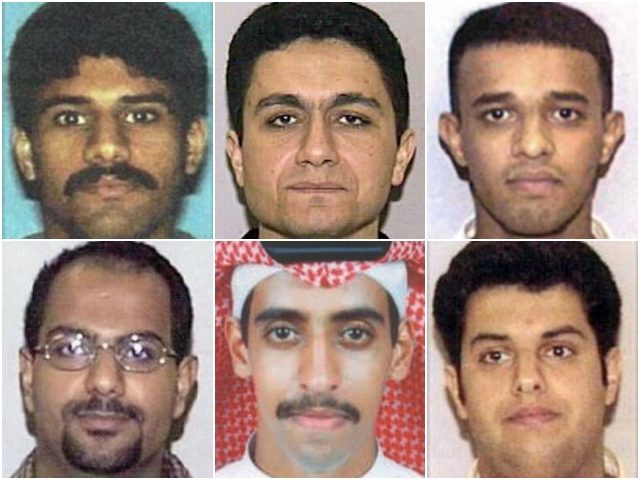 Sean Carter, one of the lead lawyers in the 9/11 families' and victims ongoing lawsuits against Saudi Arabia, spoke with Breitbart News on Monday after taking note of last week's article "Terror Ties May Allow Pensacola Victims to Sue Saudi Arabia Under 9/11 Law."
Carter offered his insights on the longstanding legal action filed by the families of 9/11 victims against the government of Saudi Arabia, the game-changing Justice Against Sponsors of Terrorism Act (JASTA), and the prospects that victims of the attack perpetrated in Pensacola by a Saudi pilot trainee might pursue their own legal action under JASTA.
Carter was keenly aware that the slow pace of the 9/11 lawsuit, even after the passage of JASTA in 2016, made the story drop off the public radar. He said the suit is moving forward and depositions from Saudi officials can be expected in the near future.
On the subject of those depositions, he addressed criticism that lawsuits filed under JASTA could force U.S. and Saudi intelligence agencies to disclose sensitive information about the 9/11 attacks, potentially jeopardizing investigations that are still in progress. Carter described those concerns as "overstated" and said much of the information provided during the discovery process by the Saudi government has not been sensitive enough to justify keeping it under seal, and it remains "unclear to us" just how active the FBI's investigations might be after so many years.
"There's the possibility that it's being retained in an active status to enhance claims of privilege by the FBI so they don't have to turn everything over to us," he said. "We really do think that virtually all of this information could and should be in the public domain."
"We don't think they're being as forthcoming and forward-leaning as they should be in producing documents to us," he said of the FBI. "There's this whole fight going on behind the scenes about whether information relating to this criminal investigation that's implicated Saudi government employees rises to the level of being a state secret. We don't think it is."
Carter noted that protection for state secrets has historically been interpreted by the courts to cover sensitive military, intelligence, and diplomatic information, but it has not previously been applied to "criminal investigations about murders on U.S. soil," as in the case of the 9/11 attack.
Carter said the Saudis have a track record of attempting to "pull every lever available to them to persuade U.S. government agencies to hold back on the information being made available" to opposing counsel and the general public.
"Information is not supposed to be classified to protect another government from embarrassment," he noted. "There's a concern that what's happening here is that information that's not that sensitive is being withheld to protect the Saudis from embarrassment, because there's a concern that the Saudis, if embarrassed, would turn around and limit cooperation with the U.S. government on various fronts."
Carter described some of the resistance to providing 9/11 information by U.S. government agencies, stretching back across the past few administrations, as "an effort by executive branch agencies to undo what Congress did" when it passed JASTA over former President Barack Obama's veto and "win the arguments they already lost."
He argued history has been kind to JASTA and its supporters, since none of the negative consequences proposed by its opponents, including Obama, have come to pass during the three years since its passage. In fact, he denounced Obama's major argument against the bill – a warning that Americans overseas could face legal reprisals or even extralegal attacks if terrorism lawsuits against foreign governments were allowed to proceed – as "incredibly misleading and disingenuous, particularly the warnings about potential suits against veterans."
"At the end of the day, we were right," he said of JASTA proponents. "All the reciprocity stuff was completely overstated. There's been no adverse consequences whatsoever to the enactment of JASTA."