from ZeroHedge: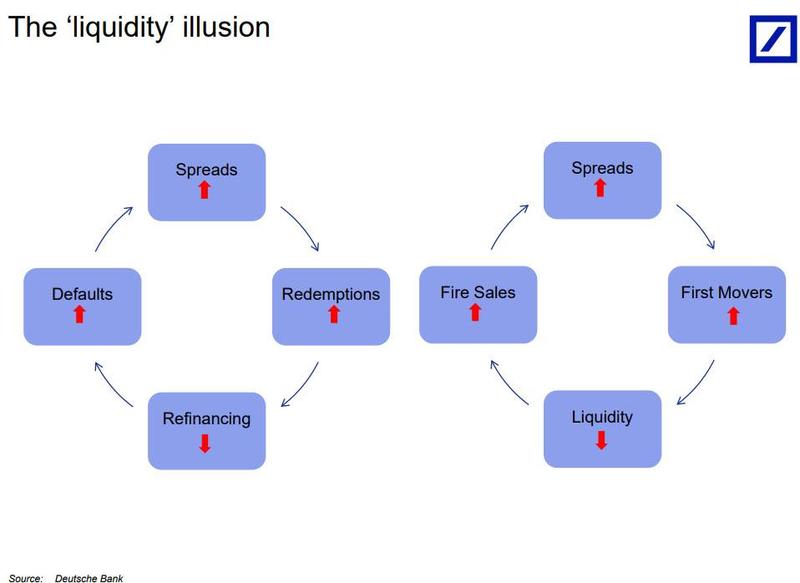 Earlier this week, ECB vice president Luis De Guindos, speaking in an interview with El Mundo, offered a surprisingly candid take on how the ECB is distorting capital market, saying that while "we can still increase bond purchases or lower interest rates further, which means that we still have the same tools available" he added that "what is happening is that the secondary effects are becoming more tangible."
Specifically, De Guindos said he is "worried by risk taking in the asset management sector against the background of low interest rates." According to the ECB VP, the risk is that "supervision in this sector is not comparable with that in the banking sector. There is a risk. If they are asked for units to be paid out they have to do so within two or three days. I see a potential risk of liquidity imbalance. That is what worries me the most at the moment."
De Guindos' warning was spot on, because just a few hours earlier, UK fund manager M&G announced it had suspended redemptions and trading in its £2.5 billion Property Portfolio, which is marketed to retail investors, after it was unable to sell properties fast enough, particularly given its concentration on the retail sector, to meet the demands of investors, and was facing "unusually high and sustained outflows" it blamed on Brexit and the retail downturn.
As the FT reported, the M&G fund was the first major open-ended property fund to halt redemptions in this way since the crisis in the sector that caused seven funds to "gate" in 2016 following the Brexit referendum — which we profiled three years ago as one of the most high-profile market consequences of the vote to leave the EU.
First, a little history: first it was the shocking junk bond fiasco at Third Avenue which led to a premature end for the asset manager, then the three largest UK property funds suddenly froze over $12 billion in assets in the aftermath of the Brexit vote; two years later the Swiss multi-billion fund manager GAM blocked redemptions, followed by iconic UK investor Neil Woodford also suddenly gating investors despite representations of solid returns and liquid assets, then it was the ill-named, Nataxis-owned H20 Asset Management decided to freeze redemptions; finally Arrowgrass joined the list when it wrote down the value of an illiquid investment (the Dramland amusement park) by a whopping 70% overnight.
By this point, a pattern had emerged, one which Bank of England Governor Mark Carney described best when he said that investment funds that promise to allow customers to withdraw their money on a daily basis are "built on a lie." At roughly the same time, the chief investment officer of Europe's biggest independent asset manager agreed with him, because while for much of 2019 the biggest risk bogeymen were corporate credit, leveraged loans, and trillions in negative yielding debt, gradually consensus emerged that investment funds themselves – and specifically their illiquid investments- gradually emerged as the basis for the next financial crisis.
"There is no point denying we are faced with a looming liquidity mismatch problem," said Pascal Blanque, who oversees more than 1.4 trillion euros ($1.6 trillion) as the CIO of Amundi SA, adding that the prospect of melting liquidity is one of "various things keeping me awake at night."
* * *
Fast forward to today, when in what may be the first harbinger of a UK commercial real estate crisis, M&G, a London-listed asset manager, said it has been unable to sell properties fast enough, particularly given its concentration on the retail sector, to meet the demands of investors who wanted to cash out. The investor "run" led the fund to suspend any redemption requests in its £2.5 billion ($3.2 billion) Property Portfolio arriving after midday on Wednesday.
"In recent months, unusually high and sustained outflows from the M&G Property Portfolio have coincided with a period where continued Brexit-related political uncertainty and ongoing structural shifts in the UK retail sector have made it difficult for us to sell commercial property," M&G said in a statement.
"Given these circumstances, we have now reached a point where M&G believes it will best protect the interests of the Funds' customers by applying a temporary suspension in dealing."
In addition to Brexit worries, M&G's fund has been hit by its large holdings in retail property, a sector hit by retailer failures and value drops. According to the FT, the fund – which shrunk by £1.1 billion so far this year – holds 37.5% of its portfolio in retail warehouses, shopping centres, designer outlets and standard retail, based on its latest fact sheet, plus another 2.5% in supermarkets, a more stable part of the sector. The same fund was suspended in July 2016 for four months following the UK's EU referendum when money flooded out of such funds.
Shares in the company dropped 2.6 per cent to 227.8p following the news, while the value of the property portfolio fund tumbled to the lowest level in 6 years.
Investors in the fund range from armchair, retail investors to institutional investors, dealing with millions of pounds according to the BBC. The fund waived 30% of its annual charge to investors, as they were unable to access their money, although some have called for action from the regulator on such charges.
The decision to suspend the fund, and its feeder fund, was taken by its official monitor – its authorised corporate director – and the City watchdog has been informed.
"The FCA is working closely with the firms involved to ensure that timely actions are undertaken in the best interests of all the fund's investors," a spokesman for the Financial Conduct Authority (FCA) said.
M&G said the suspension would be monitored daily, formally reviewed every 28 days, and would only continue "as long as it is in the best interests of our customers". This will allow assets to be sold over time, rather than as a fire sale, in order to meet investors' withdrawal demands. The firm has written to investors to explain the current situation.