by Joel B. Pollak, Breitbart: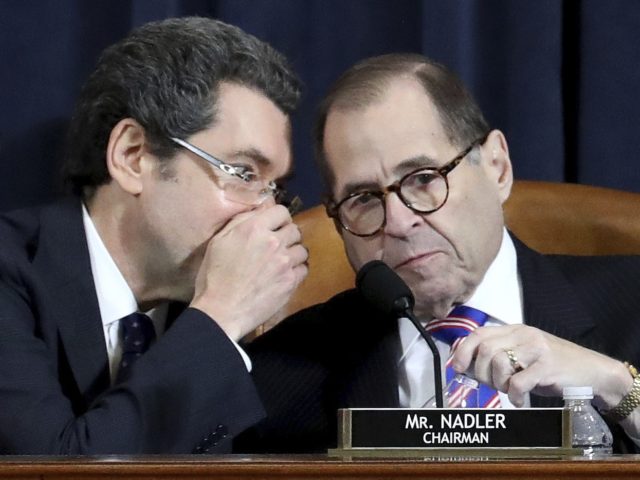 Democrats used a deceptively edited video of President Donald Trump in Wednesday's first House Judiciary Committee hearing on impeachment, using "experts" in constitutional law to claim, falsely, that he believes he has absolute power.
As Breitbart News White House Correspondent Charlie Spiering pointed out Friday, Speaker of the House Nancy Pelosi (D-CA) misquoted Trump when she made the case for articles of impeachment on Thursday morning.
She said:
The president's actions have seriously violated the Constitution, especially when he says and acts upon the belief 'Article II says I can do whatever I want.' No. His wrongdoing strikes at the very heart of our Constitution.
She repeated that statement on Thursday evening in a CNN Town Hall, saying Trump thought himself a "king."
It is not clear exactly which of Trump's statements Pelosi was quoting. As Spiering pointed out, when Trump told ABC News' George Stephanopoulos in June that "Article II allows me to do whatever I want," he was referring specifically to his constitutional authority to fire Special Counsel Robert Mueller, which he never actually did.
The full quote (emphasis added):
Look, Article II, I would be allowed to fire Robert Mueller. Assuming I did all of the things, I said I want to fire him. Number one, I didn't. He wasn't fired. Number one, very importantly but more importantly, Article II allows me to do whatever I want. Article II would allow me to fire him. I wasn't going to fire him. You know why — because I watched Richard Nixon firing everybody and that didn't work out too well.
In the House Judiciary Committee, the Democrats' counsel, former Obama White House ethics "czar" Norm Eisen, used a similar misquote to set up Harvard Law School professor Noah Feldman to condemn the president.
That quote was specifically drawn from a speech President Trump gave to the Turning Point USA conservative youth "teen action summit" on July 23, 2019, in Washington, DC. (Mueller testified before both houses of Congress the following day.)