from RT: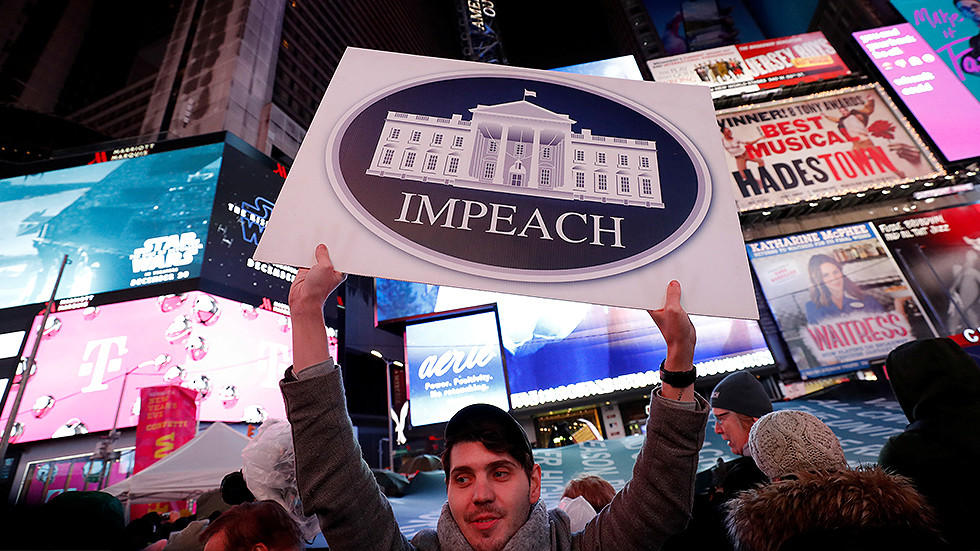 The US is more divided today than at any time since the historic war between North and South, and whether or not the Democrats vote to impeach Trump, Americans won't be spared a political storm looming on the horizon.
Today, millions of Washington watchers around the world are asking the same question: What happens if the Democrats go ahead and bring articles of impeachment against Donald J. Trump? The answer is twofold, and just might be the shortest story ever told: At first nothing, and then, everything. The end.
The reason nothing will happen immediately requires no degree in political science to appreciate. Should the Democrats commit the mother of all political screw-ups by voting to impeach Trump, all on the basis of hearsay, gossip and maybe reading tea leaves, the circus moves next door to the Senate, where Republicans hold a majority. This is where House efforts to impeach Trump will inevitably smack into a brick wall and disintegrate.
That much was made clear earlier this week when Minority Leader Chuck Schumer demanded to call current and former White House officials to appear on the witness stand for stage two of the Democratic show trials. Senate Majority Leader Mitch McConnell was having none of it.
"I'm not an impartial juror," McConnell retorted to applause from Senators, many of whom were thwarted in their own efforts to call witnesses and ask questions when the Democrats controlled the hearings. "This is a political process," he added.
.@marcthiessen "Voters say the Democrats are trying to take away their votes. Pelosi was right the first time. Impeachment has backfired thoroughly on the Democrats. How can you Impeach the President for going to the courts?"

— Donald J. Trump (@realDonaldTrump) December 18, 2019
So, if the inevitable prospect of certain defeat in the Senate won't stop the Democratic impeachment train, then maybe the knowledge that the majority of Americans oppose their plans will make them reconsider, right? Think again. Not even a USA Today/Suffolk University poll, which shows that Americans oppose by 51-45% any effort by the Senate to remove Trump, up from October when the margin was 47-46%, has deterred the Democrats from their witch hunt.
Trump practically thanked the Democrats for the early Christmas gift when he said impeachment is "a very sad thing for our country, but it seems to be very good for me politically." Indeed it has been. If elections were held today, Trump would likely emerge victorious against any of his Democratic rivals.
With regards to the economy, Wall Street appears to be on steroids, smashing records almost weekly. All of this points to smooth sailing for Trump up to the 2020 presidential elections.