by Nomi Prins, Daily Reckoning: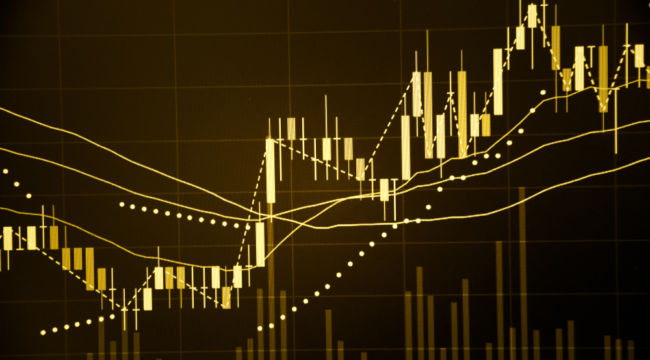 Even though it's on rate-cutting hold, the Fed nonetheless keeps engaging in aggressive oversubscribed repo ops, or as we like to call the process, "QE4R."
QE4R involves offering money to banks in return for short-term U.S. Treasury and mortgage bonds, in shades of 2009.
The fact that the Fed is expanding its balance sheet through these repo operations allows it to pretend it is merely auctioning "adjustment-based" policy moves, rather than problem-based ones, to keep rates from rising and money becoming too expensive for banks.
This provides the Fed a kind of cover during which it can hold off on rate cuts until it deems that data clearly suggest they do otherwise.
Regardless of the reasons for QE4R, this new flow of dark money has the ability to stimulate the stock and bond markets — along with gold. Although gold prices have rallied on the back of the Fed's recent balance sheet growing exercise, gold has been rising less quickly than it did during the initial phases of QE in the post-financial crisis period from 2009 through 2011.
However, the stock market has been rising steadily (with some bumps along the way) since the start of the Fed's QE4R operations. There are several reasons for this phenomenon.
Computer algorithms, ETF-related trading and asset managers for pensions and other forms of retirement funds seeking yields above those of bonds have pushed the market up. So have corporate stock buybacks. There is also the steadfast (and proven true) belief that the Fed will step in whenever it "has to," as would other central banks around the world.
There's a reality behind the dark money-infused market euphoria, though. It's that U.S. economic growth, as well as that of the global economy, has been slowing down and will likely continue to slow.
Shrinking corporate profits in conjunction with lower rates and increased debt loads is not a classic recipe for a prolonged bull market. The fact that bulls continue to run is a mark of just how much dark money can keep markets elevated.
In the past, slowing profits along with more debt and cheap money has more closely reflected a bear market (consider the U.S. stock market in 2000–02, 2007–09 and the Japanese stock market since 1989). Japan's stock market would be even lower were it not for various QE and ZIRP moves by the Bank of Japan.
U.S. corporate margins may well have already hit a multiyear peak. As we head toward the 2020 U.S. election, it's hard to see many corporations diverting their debt loads into R&D or investment programs. This could hold true after the elections regardless of which political party wins.
Another reason that the Fed began QE4R is the global shortage of U.S. dollars in money markets. This also happened at the start of the financial crisis in 2008.
The last thing Fed Chairman Jerome Powell wants under his stewardship is a repeat performance. Repo lending rates spiked in September because of this shortage and liquidity problems at the big banks. This continues to this day, as evidenced by the Fed's term repo lending facilities being often oversubscribed by the largest Wall Street players.
Since Monday, the Fed has pumped $97.9 billion into the market in two parts. One was through overnight repurchase agreements of $72.9 billion. The other was through 42-day repos. The result is that the Fed's balance sheet has topped the $4 trillion mark and looks to rise from there.
Also, the Fed again increased the amount of short-term cash loans it plans to offer banks to ensure rates remain stable. It now plans to offer $25 billion in cash loans for the 28-day period ended Jan. 6, up from $15 billion previously.
Last week, it increased the size of its 42-day facility for the period ended Jan. 13 by $10 billion, too. This was also based on its recent bank supervisory findings that 45% of U.S. banks holding more than $100 billion in assets have supervisory ratings that are less than satisfactory.
Read More @ DailyReckoning.com