by Wolf Richter, Wolf Street:
The stunning decline of men in the student headcount.
With college costs blowing through the roof, with "luxury student housing" and not so luxury "student housing" having become asset classes – including, of course, CMBS, now in rough waters – for global investors, with textbook publishers gouging students to the nth degree, and with the monetary value of higher education questioned in more and more corners, the inevitable happened once again: College enrollment dropped for the eighth year in a row.
The post-secondary student headcount – undergraduate and graduate students combined – in the fall semester of 2019 fell 1.3% from the fall semester last year, or by over 231,000 students to 17.97 million students, according to the Student Clearing House today. In the fall of 2011, the peak year, 20.14 million students had been enrolled. Since then, enrollment has dropped by 10.8%, or by 2.17 million students: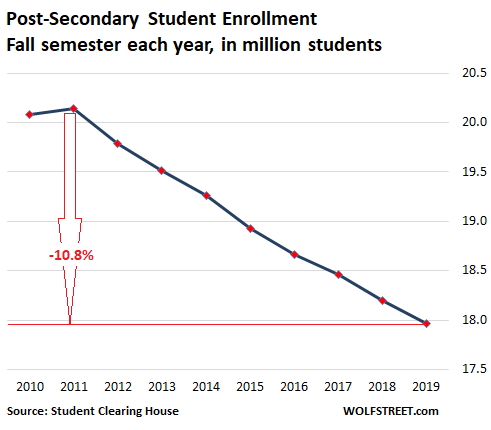 This is based on enrollment data submitted to the Student Clearing House by the schools. It does not include international students, which account for just under 5% of total student enrollment in the US. Duplicate headcounts – one student enrolled in two institutions – are removed from the data to eliminate double-counting.
The 10.8% decline in enrollment since 2011 comes even as student loan balances have surged 74% over the same period, from $940 billion to $1.64 trillion: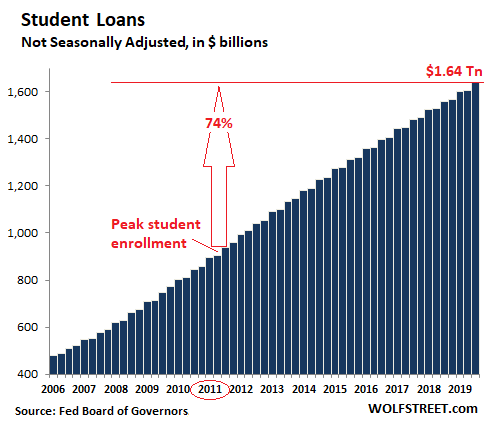 Enrollment in for-profit colleges collapses.
The overall decline in enrollment hasn't been spread evenly across the board. After myriad scandals, lawsuits, government action, and government inaction, enrollment in for-profit four-year colleges has plunged by 54%, from 1.64 million student in the fall of 2010, as far back as the data series is available, to 750,000 now.
The current year-over-year decline of 2.1% pales compared to the plunges of 15% in 2018, of 7% in 2017, of 15% in 2016, and of 14% in 2015. Despite the relatively small share of total enrollment – by 2019, the share has withered to just 4% – these for-profit colleges account for 41% to the total decline in enrollment since 2001: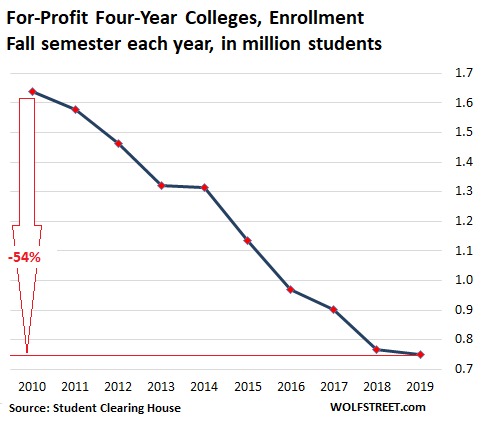 Enrollment at public two-year schools, such as junior colleges, has plunged by 22% since 2011, to 5.37 million (green line in the chart below).
But enrollment at private nonprofit four-year colleges has ticked up 3.9% since 2011. Yet, even these schools saw enrollment decline by 0.6% over the past year, to 3.84 million (brown line in the chart below).
And public four-year schools too had been hanging in there and the student headcount remains up 2.2% from 2011 though it too declined 1.2% over the past 12 months, to 7.82 million. At public schools, the peak was in 2016 with 8.1 million students (blue line):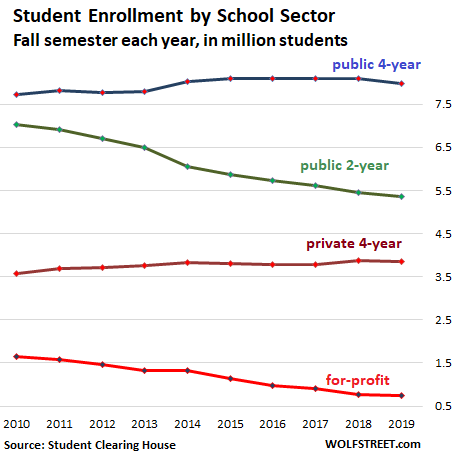 Where the heck are the men?
Women by far outnumbered men in total enrollment in the fall semester of 2019 with 10.63 million women enrolled and just 7.61 million men, meaning that overall there are now 40% more women in college than men:
At public four-year schools, there were 30% more women (4.51 million) than men (3.48 million)
At private non-profit four-year schools, there were 50% more women (2.32 million) than men (1.54 million)
At private for-profit four-year schools, there were more than twice as many woman (508,000) than men (241,000).
At public two-year schools, there were 38% more women (3.11 million) than men (2.26 million).
Over the past three years, enrollment has declined for both men and women, but faster for men (-5.2%) than for women (-1.4%). Since 2011, enrollment has declined by 13% for men and by 9.4% for women.
Enrollment by state.
Of the big four states, California had by far the most students, at 2.45 million. Over the 12-month period, enrollment ticked down by 0.8%, and over the three-year period by 2.7%.
In Texas, with 1.49 million students, enrollment inched up by 0.3% this year, and by 0.7% from three years ago.
In New York, at 1.04 million students, enrollment declined 1.8% year-over-year and fell 4.4% over the three-year period.
In Florida, with 933,000 students, enrollment fell by 5.3% year-over-year, or by 52,328 students, the largest headcount decline among the states. And it fell 7.0% over the three-year period.