from RT: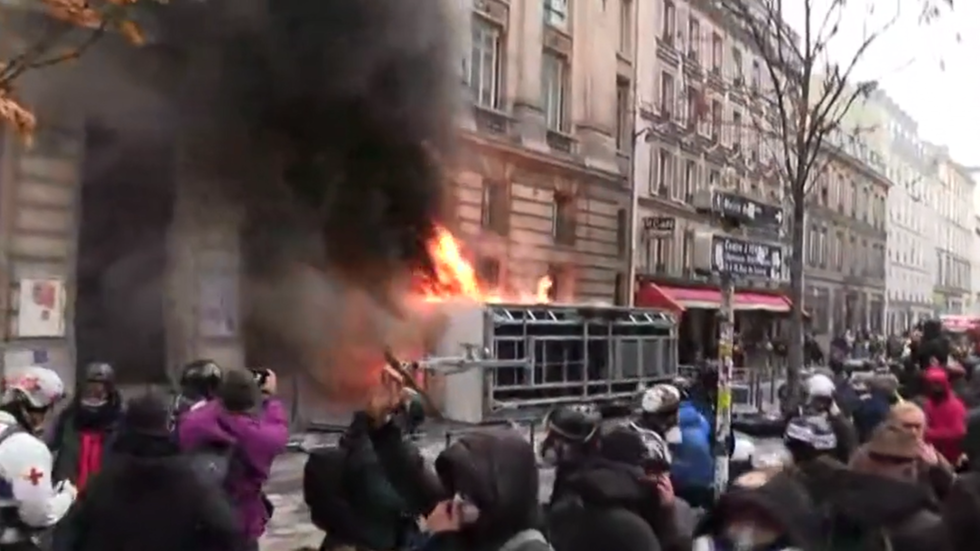 Parisians will once again be counting the costs of protests in the French capital after mass union demonstrations finally subside. Protesters were filmed attacking bicycles and setting them on fire.
A nationwide union strike against proposed pension reform has launched enormous protests in France on Thursday and brought transport to a halt across the country. In Paris, frustrated demonstrators lit flares and were seen torching bicycles tied to lamposts, and even using bikes to build bonfires.
🔺️DIRECT INFO🔻Feu tricolore en feu ! #GreveGenerale #grevedu5decembre #5decembre #GiletJaunes #Paris pic.twitter.com/0HeU1XvpCj

— HORS-ZONE Press ⚠️ (@HZ_Press) December 5, 2019
⚡️EN DIRECT⚡️ #Paris : Des manifestants brûlent des trottinettes et des vélos dans les rues de la capitale. #greve5decembre #5decembre #GreveGenerale #ReformeRetraites pic.twitter.com/Vd2FtlhZcw

— FranceNews24 (@FranceNews24) December 5, 2019
Un magasin semble prendre feu du côté de République. Les pompiers tentent d'en venir à bout depuis quelques minutes. @sputnik_fr #OnBloqueTout #GrèveDu5Décembre #5Décembre #GiletsJaunes #Paris #ReformeRetraites #reformedesretraites pic.twitter.com/q1zdZDGXtb

— La Rue (@LaRueBlogParis) December 5, 2019
In some parts of the city, CCTV cameras were seen smouldering after being put out of action.
Et encore une caméra out ! #Paris #GreveGenerale #grevedu5decembre pic.twitter.com/GtMOj8OrRw

— Bill Denbrough (@Bismuthback) December 5, 2019