from Silver Doctors: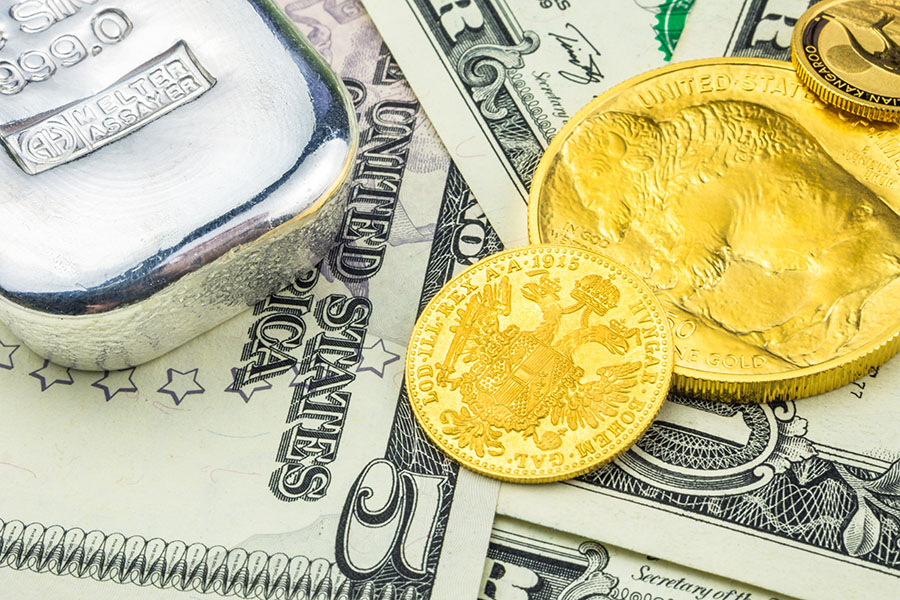 You can't really find a pure silver play anywhere in the world…
by Maurice Jackson via Streetwise Reports
Maurice Jackson: Joining us for a conversation is the Mercenary Geologist, Mickey Fulp.
Thank you for joining us. Two years ago, Mickey, we discussed the value propositions in tax-loss selling. Last year we did one on peak gold. I like to have your thoughts today regarding the value proposition of silver bullion, silver junior mining companies, and then those that extract silver, and if those aren't the ones that we should be focusing our efforts on, then let's find out what you are focusing your efforts on. So first let's discuss silver bullion. There's a number of speculators in the space that they're always optimistic about the value proposition, currently the silver ratio is, what, in the 80s, mid-80s?
Mickey Fulp: 84 as of Friday.
Maurice Jackson: What are your thoughts on that? Does that surprise you? Should it be lower? Should it be higher or is it in the right place?
Mickey Fulp: Well, it is what it is. It's what the market says it is. So it's not my point to judge if it should be higher or lower. This is what the market says it is. I can go on historical precedent and good reasoning and say since January of 1970 to the present month, the mean of the gold-silver ratio has been 57, the median has been 59 so that is a normal, or the most common ratios, but it is varied since January of 1970 from around 20 to as high as 93 ½, which it reached a couple of months ago.
So it's skewed toward the higher higher-value right now and that's abnormal to say it in one word. It does not mean that it's not going to stay there. If you look at the price of the ratios since global economic crisis, it's moved almost continuously up and up with a couple of perturbations. So it can be argued we're in a different paradigm. I've heard that argument. I don't necessarily subscribe to that argument. I expect that ratio to come back down at some point. So that means that, yes, silver bullion is a value proposition right now predicated on the fact that historically it's way high. But gold remains money and it's debatable if silver's money or not.
As far as the U.S. government is concerned, it was no longer money. We came off the bimetallic monetary standard in 1900. It was briefly money with Federal Reserve notes when Roosevelt took us off the gold standard, so 1933 to 1944 with the Federal Reserve notes, which could be exchanged for bullion. Then we went on the gold standard from 1944 to 1971. There was a brief period of time in the late 1960s, 1965, with minting for the most part gold and silver coins. And then there was a period of time until, if memory serves, 1968, where you could still convert a Federal Silver Note into either bullion, or coins first and then they cut that window, and then into bullion.
Maurice Jackson: Thanks to Lyndon Johnson, right?
Mickey Fulp: Yeah. And so since then I would argue that silver is not money in the United States, but it remains somewhat a monetary metal. Even though it's used 60% for industrial purposes, mostly consumed in times of economic duress. It follows gold and is usually more volatile than gold. So we all own, or we should own, bags of junk silver and some silver bars, because at some point you'll want to convert that into real money and gold. So if you're going to buy bullion right now, I'd say buy silver, buy platinum too.
Maurice Jackson: I like the fact that you're being very responsible. You didn't give a price. You indicate it is a good value proposition and you used the ratios. And that's a philosophy that I subscribed to as well. I think sometimes we get misconstrued into silver's deeply discounted and is going to be at a certain currency value. And I think that's sometimes disingenuous because you and I both don't know that. We don't know what that price is going to be, but if we use historical precedence, those ratios do seem to revert back to the mean. So I liked that. I've always admired your integrity regarding that. Let's switch the conversation now to junior mining and those in particular that are focused in silver. I think you wrote a musing on that recently, did you not?
Mickey Fulp: Right. I wrote something with a somewhat provocative title, it was Are These Silver CEOs Insane or Simply Buggy Brained, or something on the effect of that. So the silver miners that exist in North America, or mine in North America and or South America for the most part, they're not really silver companies. They're lead-zinc companies of which silver is a by-product. They could also be copper companies that lead-zinc companies that have by-product silver, copper companies that have by-product silver, or gold companies that by-product silver, but that is never the determining metal. You still need, if you're a lead-zinc silver company you'd need a lead-zinc smelter. So you're really dependent on lead and zinc prices for a lot of the economics of your production and in demand for those two metals, and silver even though it may contribute more of your cash flow, is really dependent on the primary metals.
Maurice Jackson: Can I stop you there for a second?
Mickey Fulp: Yeah.
Maurice Jackson: Now is that, they're not predominantly silver extractors, correct? Now is that from marketing? And also, is it the nomenclature of the company that they market themselves and it has silver in the title, so then the lay investor or speculator is thinking this is a silver play, but it's really not?
Mickey Fulp: Correct. Well, they're partially silver plays, but yeah, it's a buzzword. It's still viewed as a monetary metal. And that can be argued that it is, but it's not money, but it follows gold. So yeah, it's a marketing tool. You're not going to call yourself First Majestic Lead and Zinc. That doesn't excite anybody. You can't really find a pure silver play anywhere in the world. Pan American Silver, First Majestic Silver, Endeavour Silver. Those are really base metal companies that have significant revenues from silver and that varies according to the price of silver, but really if you've got no demand for lead and zinc at the smelter, then you're going to suffer as a silver company.
Maurice Jackson: Now, if silver extractors and their exploration companies don't have your attention, would you mind sharing what does have your attention?
Mickey Fulp: I can go back to the usual things and that's copper and gold. It's easy to find good gold plays I think, and I cover a couple of good gold plays. Copper companies are harder to find, but good copper companies cover one of those. And I'm always interested in maintaining my positions in uranium companies. That metal is still a flushed down the toilet and will be until we see what happens with the Section 232 National Security Interests of Uranium by the Trump administration. That decision or the actions on that decision…
Maurice Jackson: Pending. We'll…
Mickey Fulp: We're still waiting for. It's been punted first 90 days and now 30 days and we'll see if it happens in mid-November here. I'm not holding my breath on that. In fact I'm probably crossing as many fingers and toes as I can, so.
Maurice Jackson: Now, Mick, you have to speak for the person listening to this interview. Give us the names.
Mickey Fulp: Sure. Copper Space. Very bullish on the prospects going forward and catalysts coming with Trilogy Metals Inc. (TMQ:NYSE.MKT; TMQ:TSX). Arguably the two best highest grade giant copper deposits in the geopolitically safe world in Alaska. Catalysts coming on that, that stock's currently trading about $2 bucks U.S., trades almost exclusively on the New York American exchange. It's been as high as $3.14 this year before it got knocked down by a bunch of algorithmic short sellers down to $1.50. It's recovered to two bucks, so we expect a higher, or let me put it this way, there's reason to think it's going to have a higher stock price going forward. So that might be a buying op at this level.
In gold space, I cover two companies, Ely Gold Royalties Inc. (ELY:TSX.V; ELYGF:OTCQB). We picked that stock at 9 cents. It has recently traded as high as $0.47. Closed Friday at $0.41. It's filling in the gaps as I predicted in a piece about five weeks ago that it was going to fill in this gap between low 30s and the low 40s. It filled that in. We're looking for the next leg up on that stock.
I should also mention we got subscribers in Trilogy at 65 cents. That at one point was nearly a fivebagger. It's still a threebagger. Ely Gold Royalties in at 9 cents and as high as 47, well that's a five bagger. You can't always buy or sell at the high or low, but we've made really good money for subscribers on that. And a new company I cover, Real Gold Resources. It's a private deal right now. We offered it to subscribers about a month ago, maybe five weeks ago, a private placement opportunity through the company. That's still open as the book has been allotted but now they're over into an over-allotment for accredited subscribers. You can go to the email because it's only available, but it's easy to become a subscriber. You just sign up, it's free and then you'll have the ability to look at that private placement and get a decision. A new gold explorer in a Carlin-type gold play, big recon with drill success so far and it should be public very soon.