from RT: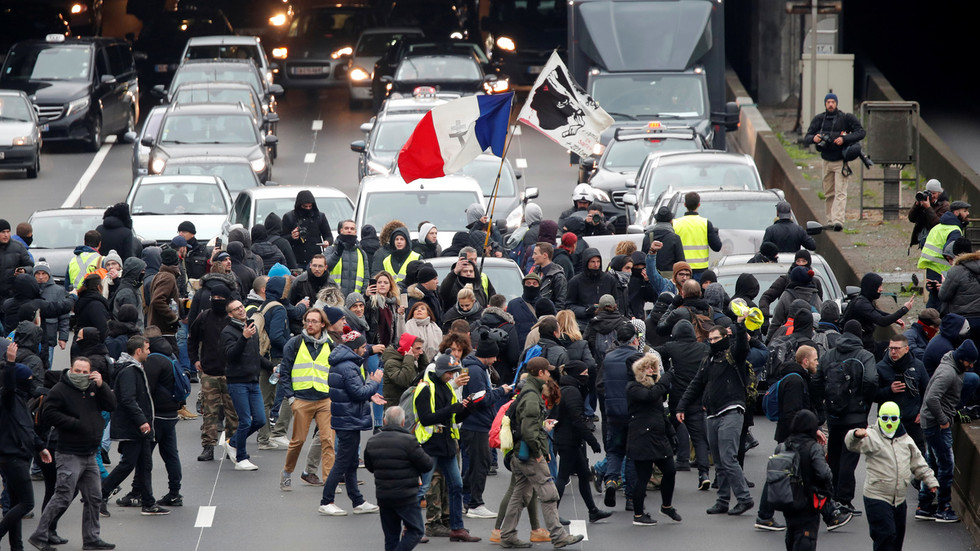 Police fired tear gas as Yellow Vest protesters blocked a major road and erected barricades in Paris, marking one year since the nationwide demonstration movement began sweeping the country.
Clashes broke out at Place d'Italie downtown and near Porte de Champerret on the city's outskirts.
Place ditalie #Acte53 pic.twitter.com/aTWZHE4Ay8

— Lo boièr (@BoierLo) November 16, 2019
The protesters have also blocked traffic down the Boulevard Peripherique, the main ring road circling the capital. Riot police were deployed to disperse them.
#GiletsJaunes blocage en cours sur Le periph pic.twitter.com/G7sb0o9F4Y

— Mona_H_RTFrance (@Mona_RTFrance) November 16, 2019
Bugün #France'da Macron karşıtı
#YellowJackets in eyleme başlamalarının 1. yıl dönümü#Paris #YellowVests1YearOn #MacronDemission #Acte53 : Les #GiletsJaunes sont sur le périphérique à pied. Situation en cours. pic.twitter.com/l2qN91NJzl

— Devlet-i Aliyye🇹🇷 (@mehmetiletisim) November 16, 2019