by Harvey Organ, Harvey Organ Blog: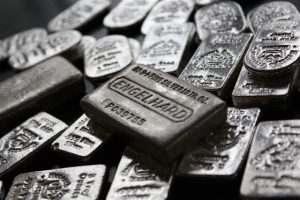 COMEX DATA EXCEPT INVENTORY DATA COMPLETE/CURRENCY DATA COMPLETE//GOLD AND SILVER VALUES COMPLETE//COULD NOT GET MORNING DATA
GOLD:$1507.90 up $8.90(COMEX TO COMEX CLOSING
Silver:$17.78 up 14 CENTS  (COMEX TO COMEX CLOSING)
Closing access prices:
Gold : $1506.00
silver:  $17.77
COMEX DATA
JPMorgan has been receiving gold with reckless abandon and sometimes supplying (stopping)
today RECEIVING 73/229
EXCHANGE: COMEX
CONTRACT: OCTOBER 2019 COMEX 100 GOLD FUTURES
SETTLEMENT: 1,497.200000000 USD
INTENT DATE: 10/08/2019 DELIVERY DATE: 10/10/2019
FIRM ORG FIRM NAME ISSUED STOPPED
____________________________________________________________________________________________
072 H GOLDMAN 224
118 H MACQUARIE FUT 42
657 C MORGAN STANLEY 13
661 C JP MORGAN 73
737 C ADVANTAGE 4 56
800 C MAREX SPEC 1 19
880 H CITIGROUP 1
905 C ADM 25
____________________________________________________________________________________________
TOTAL: 229 229
MONTH TO DATE: 10,632
we are coming very close to a commercial failure!!
NUMBER OF NOTICES FILED TODAY FOR  OCT CONTRACT: 229 NOTICE(S) FOR 22900 OZ (0.7122 tonnes)
TOTAL NUMBER OF NOTICES FILED SO FAR:  10,632 NOTICES FOR 1,063,200 OZ  (33.069 TONNES)
FOR 0CT
2 NOTICE(S) FILED TODAY FOR 10,000  OZ/
total number of notices filed so far this month: 923for 4,615,000 oz
XXXXXXXXXXXXXXXXXXXXXXXXXXXXXX
we are coming very close to a commercial failure!
Bitcoin: OPENING MORNING TRADE :  xx
Bitcoin: FINAL EVENING TRADE: xx
Let us have a look at the data for today
xxxxxxxxxxxxxxxxxxxxxxxxxxxxxxxxxxxxxxxxxxxxxxxxxxxxxxxxxxxxxxxxxxxxxxxxxx
IN SILVER THE COMEX OI ROSE BY A HUGE  SIZED 2686 CONTRACTS FROM 211,282 UP TO 213,968 WITH THE 15 CENT GAIN IN SILVER PRICING AT THE COMEX.
TODAY WE ARRIVED CLOSER TO  AUGUST'S 2018  RECORD SETTING OPEN INTEREST OF 244,196 CONTRACTS.
WE HAVE ALSO WITNESSED A LARGE AMOUNT OF PHYSICAL METAL STAND FOR COMEX DELIVERY AS WELL WE ARE WITNESSING CONSIDERABLE LONGS PACKING THEIR BAGS AND MIGRATING OVER TO LONDON IN GREATER NUMBERS IN THE FORM OF EFP'S.  WE WERE  NOTIFIED  THAT WE HAD A HUGE SIZED NUMBER OF COMEX LONGS TRANSFERRING THEIR CONTRACTS TO LONDON THROUGH THE EFP:,
FOR SEPT 0,; DEC  2274 AND ZERO FOR ALL  OTHER MONTHS  AND THEREFORE TOTAL ISSUANCE  2274 CONTRACTS. WITH THE TRANSFER OF 2274 CONTRACTS, WHAT THE CME IS STATING IS THAT THERE IS NO SILVER (OR GOLD) TO BE DELIVERED UPON AT THE COMEX AS THEY MUST EXPORT THEIR OBLIGATION TO LONDON. ALSO KEEP IN MIND THAT THERE CAN BE A DELAY OF 24-48 HRS IN THE ISSUING OF EFP'S. THE 2274 EFP CONTRACTS TRANSLATES INTO 11.37 MILLION OZ  ACCOMPANYING:
1.THE 15 CENT GAIN IN SILVER PRICE AT THE COMEX AND
2. THE STRONG AMOUNT OF SILVER OUNCES WHICH STOOD FOR DELIVERY IN THE LAST 12 MONTHS:
JUNE/2018. (5.420 MILLION OZ);
FOR JULY: 30.370 MILLION OZ
FOR AUG., 6.065 MILLION OZ
FOR SEPT. 39.505 MILLION  OZ S
FOR OCT.2.525 MILLION OZ.
FOR NOV:  A HUGE 7.440 MILLION OZ STANDING  AND
21.925 MILLION OZ FINALLY STAND FOR DECEMBER.
5.845 MILLION OZ STAND IN JANUARY.
2.955 MILLION OZ STANDING FOR FEBRUARY.:
27.120 MILLION OZ STANDING IN MARCH.
3.875 MILLION OZ STANDING FOR SILVER IN APRIL.
18.845 MILLION OZ STANDING FOR SILVER IN MAY.
2.660 MILLION OZ STANDING FOR SILVER IN JUNE//
22.605 MILLION OZ  STANDING FOR JULY
10.025   MILLION OZ INITIAL STANDING IN AUGUST.
43.030   MILLION OZ INITIALLY STANDING IN SEPT. (HUGE)
6.310     MILLION OZ INITIALLY STANDING IN OCT
YESTERDAY, ANOTHER MAJOR ATTEMPT BY THE BANKERS TO COVER THEIR MASSIVE SHORTFALL AT THE SILVER COMEX AS ANOTHER RAID WAS INITIATED.  OUR OFFICIAL SECTOR//BANKERS AGAIN USED HUGE COPIOUS NON BACKED PAPER IN THEIR SUCCESSFUL ENDEAVOUR TO WHACK SILVER'S PRICE (58 CENTS). HOWEVER TO THEIR SHOCKING SURPRISE, AGAIN AND AGAIN NOBODY LEAVES THE SILVER COMEX ARENA AS THE TOTAL OF OUR TWO EXCHANGES ROSE BY  4960 CONTRACTS MAKING THEIR RAID TOTALLY USELESS TO THEM AS THEIR PRIMARY AIM IS TO FLEECE LONGS.  THE MAJORITY EITHER MORPHED INTO LONDON FORWARDS OR  THEY ARE STANDING FOR DELIVERY HERE AS THEY  SEEK OUT PHYSICAL METAL ON BOTH SIDES OF THE POND
THE SPREADING LIQUIDATION OPERATION IS NOW OVER FOR GOLD..AND WE WILL NOW MORPH INTO AN ACCUMULATION PHASE OF SPREADING CONTRACTS FOR SILVER.  THEY WILL ACCUMULATE CONSIDERABLE AMOUNT OF THE CONTRACTS AND THEN LIQUIDATE ONE WEEK PRIOR TO FIRST DAY NOTICE
FOR THOSE OF YOU WHO ARE NEWCOMERS HERE IS A BRIEF SYNOPSIS OF HOW THE CROOKS FLEECE UNSUSPECTING LONGS IN THE SPREADING ENDEAVOUR;
MODUS OPERANDI OF THE CORRUPT BANKERS AS TO HOW THEY HANDLE THEIR SPREAD OPEN INTERESTS:
.
AS I HAVE MENTIONED IN PREVIOUS COMMENTARIES:
"AS YOU WILL SEE, THE CROOKS WILL NOW SWITCH TO SILVER AS THEY INCREASE THE OPEN INTEREST FOR THE SPREADERS. THE TOTAL COMEX GOLD OPEN INTEREST WILL RISE FROM NOW ON UNTIL ONE WEEK PRIOR TO FIRST DAY NOTICE AND THAT IS WHEN THEY START THEIR CRIMINAL LIQUIDATION.
HERE IS HOW THE CROOKS USED SPREADING AS WE ARE NOW INTO THE NON ACTIVE DELIVERY MONTH OF OCT HEADING TOWARDS THE  ACTIVE DELIVERY MONTH OF OCTOBER FOR GOLD.
AS I HAVE MENTIONED IN PREVIOUS COMMENTARIES, HERE IS THE BANKERS MODUS OPERANDI:
YOU WILL ALSO NOTICE THAT THE COMEX OPEN INTEREST  STARTS TO RISE IN THIS NON ACTIVE MONTH OF OCT BUT SO IS THE OPEN INTEREST OF SPREADERS. THE OPEN INTEREST IN SILVER WILL CONTINUE TO RISE UNTIL ONE WEEK BEFORE FIRST DAY NOTICE OF AN UPCOMING ACTIVE DELIVERY MONTH (OCT), AND THAT IS WHEN THE CROOKS SELL THEIR SPREAD POSITIONS BUT NOT AT THE SAME TIME OF THE DAY.  THEY WILL USE THE SELL SIDE OF THE EQUATION TO CREATE THE CASCADE (ALONG WITH THEIR COLLUSIVE FRIENDS) AND THEN COVER ON THE BUY SIDE OF THE SPREAD SITUATION AT THE END  OF THE DAY. THEY DO THIS TO AVOID POSITION LIMIT DETECTION. THE LIQUIDATION OF THE SPREADING FORMATION CONTINUES FOR EXACTLY ONE WEEK AND ENDS ON FIRST DAY NOTICE."
ACCUMULATION FOR EFP'S/SILVER/J.P.MORGAN'S HOUSE OF BRIBES, / STARTING FROM FIRST DAY NOTICE/FOR MONTH OF OCT:
8190 CONTRACTS (FOR 7 TRADING DAYS TOTAL 8190 CONTRACTS) OR 40.96 MILLION OZ: (AVERAGE PER DAY: 1170 CONTRACTS OR 5.850 MILLION OZ/DAY)
TO GIVE YOU AN IDEA AS TO THE HUGE SUPPLY THIS MONTH IN SILVER:  SO FAR THIS MONTH OF AUGUST:  40.96 MILLION PAPER OZ HAVE MORPHED OVER TO LONDON. THIS REPRESENTS AROUND 5.85% OF ANNUAL GLOBAL PRODUCTION (EX CHINA EX RUSSIA)*  JUNE'S 345.43 MILLION OZ IS THE SECOND HIGHEST RECORDED ISSUANCE OF EFP'S AND IT FOLLOWED THE RECORD SET IN APRIL 2018 OF 385.75 MILLION OZ.
ACCUMULATION IN YEAR 2019 TO DATE SILVER EFP'S:          1713.06   MILLION OZ.
JANUARY 2019 EFP TOTALS:                                                      217.455. MILLION OZ
FEB 2019 TOTALS:                                                                       147.4     MILLION OZ/
MARCH 2019 TOTAL EFP ISSUANCE:                                          207.835 MILLION OZ
APRIL 2019 TOTAL EFP ISSUANCE:                                              182.87  MILLION OZ.
MAY 2019: TOTAL EFP ISSUANCE:                                                136.55 MILLION OZ
JUNE 2019 , TOTAL EFP ISSUANCE:                                               265.38 MILLION OZ
JULY 2019   TOTAL EFP ISSUANCE:                                                175.74 MILLION OZ
AUG. 2019  TOTAL EFP ISSUANCE;                                                 216.47 MILLION OZ
RESULT: WE HAD A HUGE SIZED INCREASE IN COMEX OI SILVER COMEX CONTRACTS OF 2686, WITH THE 15 CENT GAIN IN SILVER PRICING AT THE COMEX /YESTERDAY… THE CME NOTIFIED US THAT WE HAD A  HUGE SIZED EFP ISSUANCE OF 2686 CONTRACTS WHICH EXITED OUT OF THE SILVER COMEX AND TRANSFERRED THEIR OI TO LONDON AS FORWARDS. SPECULATORS CONTINUED THEIR INTEREST IN ATTACKING THE SILVER COMEX FOR PHYSICAL SILVER (SEE COMEX DATA) .
TODAY WE GAINED AN ATMOSPHERIC  SIZED: 4960 TOTAL OI CONTRACTS ON THE TWO EXCHANGES: 
i.e 2274 OPEN INTEREST CONTRACTS HEADED FOR LONDON  (EFP's) TOGETHER WITH INCREASE OF 2686  OI COMEX CONTRACTS. AND ALL OF THIS  DEMAND HAPPENED WITH A 15 CENT GAIN IN PRICE OF SILVER AND A CLOSING PRICE OF $17.71 WITH RESPECT TO YESTERDAY'S TRADING. YET WE STILL HAVE A STRONG AMOUNT OF SILVER STANDING AT THE COMEX FOR DELIVERY!! 
Read More @ HarveyOrganBlog.com