by Matthew Boyle, Breitbart: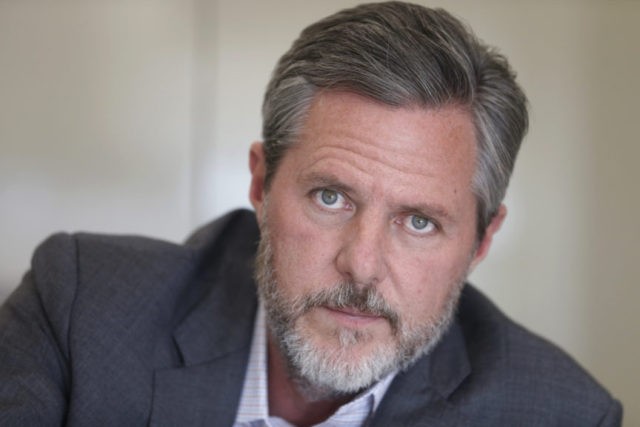 Liberty University and its president Jerry Falwell, Jr., are preparing a massive legal battle to fight the merchants of a "smear campaign" being waged against the world's largest Christian school, Breitbart News has learned exclusively.
"We have been patient with the smear campaign being waged against the school, but it is clear now that there is a concerted effort to damage the school's reputation and mission," Falwell, Jr., the president of Liberty University and the son of the late Rev. Jerry Falwell, told Breitbart News exclusively. "We have a fiduciary duty to defend the school from this attack."
Liberty University has retained counsel from the law firm Kasowitz Benson Torres, LLP, a nationally-renowned firm known for, among other major clients, President Donald Trump—whose longtime personal attorney Marc Kasowitz is a named parter in the firm—to fight back against what is becoming clear has been a broader line of attack against the Christian university in Lynchburg, Virginia. Liberty University is one of the biggest Christian schools in the world, and one of the biggest non-profit universities anywhere in the country by student population—and the fact that its president, Falwell, Jr., has been supportive of President Trump drives many on the left mad.
Trump Wraps 2020 Campaign Launch Speech: 'We're Going to Keep on Winning, Winning, Winning'
The smear campaign against Liberty University stems from a Sept. 9, 2019, article published in Politico and written by a former Liberty University student Brandon Ambrosino—in which Ambrosino makes a number of claims of dubious nature against Liberty University. Subsequently, Ambrosino appeared at a public forum at Villanova University, where he is studying for a doctorate in theology, to make similar claims against Liberty University. Ambrosino, a former Liberty University student who is openly gay and has previously written about his positive experiences at the Christian school for another publication, The Atlantic, freelances according to his Twitter biography for a number of publications including Politico, The Atlantic, the New York Times, and elsewhere.
A letter from Kasowitz Benson Torres attorney Michael Bowe sent to Ambrosino this week, obtained by Breitbart News exclusively ahead of its public release, rips the writer and claims he has been systemically defaming Falwell and Liberty University. Bowe wrote:
You have and continue to publicly defame LU and Mr. Falwell with a series of claims for which you have no factual basis, that are based on knowingly misrepresented facts, or which you have just made up. It is clear from the evidence we have thus far uncovered that these false and defamatory statements were made with actual malice and an actual intent to harm LU and Mr. Falwell.
The letter reveals that Falwell and his legal team have been conducting an investigation into the origins and veracity of these claims against him and the school in the wake of Ambrosino's article and his later public appearance at Villanova, and found many of them to be abjectly false.
The letter opens with a series of statements that Ambrosino made at the Oct. 7, 2019, event at Villanova that Falwell's attorney says are false. First, Ambrosino's claim that Liberty University is a "'not a school but a real estate hedge fund' that operates as a for-profit entity through its fundraising, on-line educational program, endowment's real estate investments, and in other ways in violation of its stated mission and not-for-profit status" is not true according to the letter. Bowe writes:
In fact, LU provides a quality, legitimate, accredited not-for-profit education consistent with its mission and tax status; LU's real estate investments account for no more than l0% of its endowment (which is in line with and much lower than most other university endowments); and most of LU's real estate investments are contiguous to the school and supportive of its mission, unlike most real estate investments at other universities that are wholly unrelated to their educational mission.
Liberty University does own various properties near the school in Lynchburg, Virginia, but its financial structure is not much different than other major universities or colleges in America like Harvard, Yale, Stanford, et cetera.
Secondly, Bowe lays out how Ambrosino claimed during the Villanova event that:
Mr. Falwell 'breakfs] the law,' is 'corrupt,' 'exploits people for money,' 'quotes the gospel against them,' engages in self-dealing, and improperly uses his leadership position to enrich himself and his family and friends at the expense of LU; is similar to the fictional corrupt preacher Elmer Gantry and the actual corrupt embezzler and felon James Baker, and has a faith that is racist.
Bowe writes in response:
In fact, Mr. Falwell does not break the law, engage in corrupt or self-dealing, exploit people for money, use the gospel against people, abuse his position to improperly enrich himself or his family and friends, or practice a racist faith or hold racist views. Moreover, only approximately lo/o of LU's $1 billion in annual revenues comes from donations (the bulk of the rest comes from educational services).
Thirdly, Bowe moves to refute a claim by Ambrosino at the Villanova event that Falwell:
…had an employee fired because his wife did not like a Facebook post the employee made, when, in fact, the employee referenced continued to work at LU for two years without any disciplinary or other adverse action and left of her own accord stating that it was 'nothing more than a pleasure' to have worked at LU and that she 'will cherish every moment.'