by Mike Gleason, Money Metals: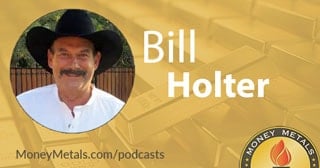 Welcome to this week's Market Wrap Podcast, I'm Mike Gleason.
Coming up Bill Holter of JSMineset.com joins me for an explosive conversation on why he is convinced there will eventually be a failure to deliver in the futures markets which will trigger a run on gold and silver… and if that happens, inventory would completely dry up and become unavailable. Holter also describes the scary amount of credit that exists in all facets of the economy and the credit crisis that could ensue due to a monetary hiccup. So be sure to stick around for my conversation with Bill Holter, coming up after this week's market update.
Precious metals are catching some mild buying interest this week as the U.S. dollar slumps. On Thursday, the Dollar Index fell to a two-month low.
Global equity markets didn't seem bothered. They are posting gains this week, which is limiting the appeal of gold and other safe-haven assets.
Gold prices currently come in at $1,492 per ounce, up a fraction of a percent since last Friday's close. Silver, meanwhile, is posting a slight 0.2% decline on the week to trade at $17.60 an ounce. Silver prices have ranged around the $17.60 level for the past few weeks. A heavy commercial short position in the futures market appears to be keeping a lid on rally attempts for the time being.
Turning to platinum, prices are down 1.1% this week and currently check in at $889. And finally, high-flying palladium is up 2.9% on the week to trade at a lofty $1,756 per ounce.
Metals investors are positioning themselves for rapidly developing political and geopolitical events, as well as a rapidly expanding Federal Reserve balance sheet. What started out as a limited intervention to provide temporary liquidity to overnight lending markets has morphed into a massive $60-billion-per-month Treasury-buying campaign. By some measures, it's even bigger than the last Quantitative Easing program.
The Fed has yet to fully explain why this is all necessary given the lack of an immediate crisis in the real economy. Last week, Fed chair Jerome Powell took great pains to insist that their expanded repo market operations are "not QE" – only to announce a massive new Treasury bill buying program on Friday.
Is there some emergency going on behind the scenes that Fed officials don't want us to know about? It could well be that they are engineering another bailout of "too big to fail" banks on a scale they aren't admitting.