by Geoffrey Grinder, Now The End Begins: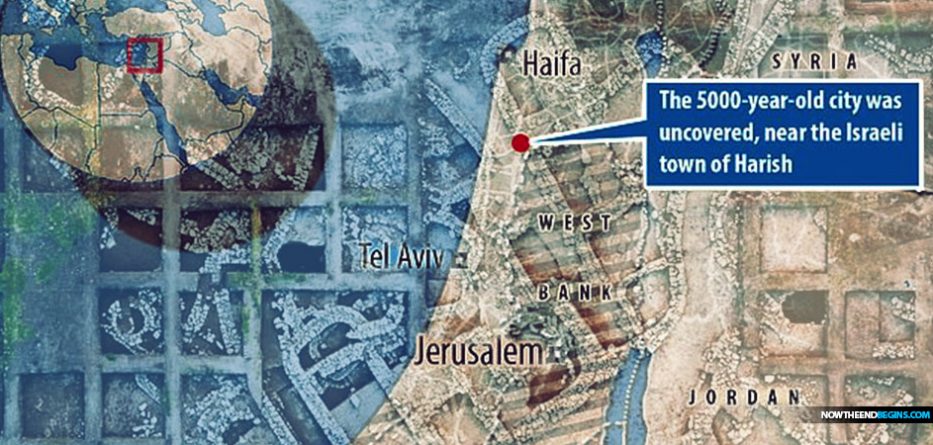 "The study of this site at Ein Esur will change forever what we know about the emergence and rise of urbanization in the land of Israel and in the whole region," said Paz. "And it means that what we know now will change what is written today in the traditional books when people read about the archaeology of Israel." The ancient settlement contained public and private buildings and areas, streets and alleys and was surrounded by a fortification wall.
A massive 5,000-year-old metropolis Ein Esur that housed some 6,000 residents has been uncovered alongside Israel's newest city, Harish, during new roadworks.
The world of biblical archaeology in the Middle East is buzzing right now with the news of the discovery of the largest ancient settlement ever found in the region of Israel and trans-Jordan, a city called Ein Esur that was so massive in its day that archaeologists are calling it 'Israel's NYC', and only partially tongue in cheek. This scope of this find is so large they really aren't even sure exactly what they've found. Ein Esur dates back to the time of the very first pharaoh in Egypt, that's how old this city is. Amazing.
"Hast thou not heard long ago how I have done it, and of ancient times that I have formed it? now have I brought it to pass, that thou shouldest be to lay waste fenced cities into ruinous heaps." 2 Kings 19:25 (KJV)
The article below goes on to say that they have also discovered settlements that are '7,000 years old', which would be a pretty good trick considering the Bible only records a history of humans dating back around 6,000 years. Needless to say, we will be watching the developments of Ein Esur very closely and will report to you as soon as new information becomes available. But I will make one prediction right now. When they dig a little deeper, they will find artifacts that will establish a direct connection with matching accounts contained in the Holy Bible. That's a virtual guarantee.
'Israel's ancient NYC': 5,000-year-old Canaanite megalopolis Ein Esur may rewrite history
FROM TIMES OF ISRAEL: The 160-acre (over 650 dunam) city is the largest Early Bronze Age settlement excavated in Israel, the Israel Antiquities Authority announced on Sunday. "It is much larger than any known site in the land of Israel — and outside the land of Israel — in the region of Jordan, Lebanon, southern Syria," said excavation co-director Dr. Yitzhak Paz in an IAA video.
In addition, just ahead of the construction of a new interchange over the Ein Esur (Ein Asawir) archaeological site, IAA archaeologists also discovered an earlier, 7,000-year-old Chalcolithic settlement under several of the 5,000-year-old structures.
"This is a huge city – a megalopolis in relation to the Early Bronze Age, where thousands of inhabitants, who made their living from agriculture, lived and traded with different regions and even with different cultures and kingdoms in the area… This is the Early Bronze Age New York of our region; a cosmopolitan and planned city," said excavation directors Itai Elad, Paz and Dr. Dina Shalem in an IAA statement.
"THE STUDY OF THIS SITE WILL CHANGE FOREVER WHAT WE KNOW ABOUT THE EMERGENCE AND RISE OF URBANIZATION IN THE LAND OF ISRAEL AND IN THE WHOLE REGION," SAID PAZ. "AND IT MEANS THAT WHAT WE KNOW NOW WILL CHANGE WHAT IS WRITTEN TODAY IN THE TRADITIONAL BOOKS WHEN PEOPLE READ ABOUT THE ARCHAEOLOGY OF ISRAEL."
Salvage excavations have been taking place at the site for the past two and a half years, financed by Netivei Israel – the National Transport Infrastructure Company Ltd. Over 5,000 high school students and volunteers from the area have participated in them.
Read More @ NowTheEndBegins.com