from ZeroHedge: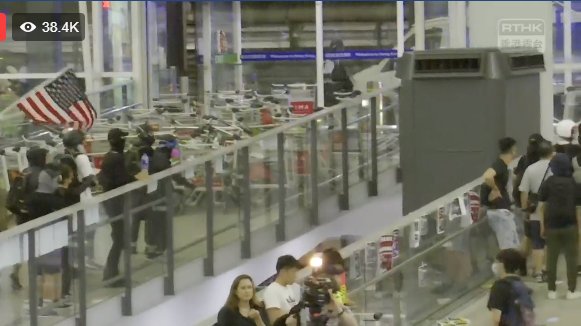 Update 5: That didn't take long…
Less than an hour after reports of riot police storming the airport first hit the Internet, HK police have reportedly nearly finished clearing the airport. Few injuries have been reported – but many have been arrested. The Guardian reports that the police have arrested more than 20 protesters.
In one stunning scene, a protester wrested a baton from a riot police officer, who then drew their firearm. Amazingly, nobody was killed.
Police officer had his baton taken from him and was attacked with it. Drew his pistol and aimed at protesters. Astonished nobody killed here tonight. pic.twitter.com/Wox8yziDnz

— Mike Bird (@Birdyword) August 13, 2019
As Chinese police mass in Shenzen just over the boarder, some journalists are asking important questions.
Knew this yesterday, it's getting dangerous for Hong Kong, they can't fight the police, how in the hell do they think they are going to fight the Chinese military.

— Star Traveler-Dixie is consecrated Ground. (@startraveler785) August 13, 2019
Update 4: In what appears to be one of the most violent clashes in the history of the 10-week anti-extradition bill protests, Hong Kong police are reportedly storming Hong Kong International Airport clad in riot gear ready to clear all protesters from the premises. Clouds of tear gas and pepper spray are reportedly filling the air as police apply liberal doses to the protesters (and probably a few unfortunate travelers who managed to get caught in the cross fire).
In a live feed, protesters clad in black and wearing face masks can be seen building trolly barricades across entrances to try and keep the police out as Pandemonium reigns at just before midnight local time.