by Michael Snyder, End Of The American Dream: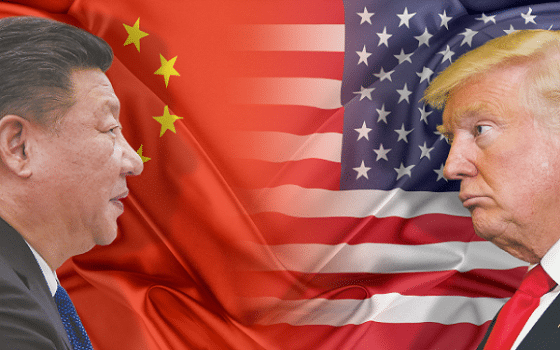 This is not going to end well.  As a result of our ongoing trade war, U.S. relations with China were already rapidly deteriorating, but now the chaos in Hong Kong threatens to completely wreck them.  Violence between political protesters and riot police is making headlines all over the globe, and as you will see below, the Chinese are squarely blaming the United States for what is happening.  On Tuesday, flights at Hong Kong International Airport were canceled for a second day in a row, and riot police stormed the airport in an attempt to evict the thousands of protesters that were occupying it.  This resulted in extremely violent clashes, and you can see raw video of one of these confrontations right here.  Needless to say, the Chinese government is extremely alarmed by these developments.  According to ABC News, one top official told the press that these protests in Hong Kong "have begun to show signs of terrorism"…
The clashes appeared to represent an escalation 10 weeks after the protest's massive, peaceful beginnings in early June, when hundreds of thousands marched in the semi-autonomous city against a now-suspended extradition bill. A Chinese official said Tuesday that protesters "have begun to show signs of terrorism," and China appeared to be weighing a crackdown on the democratic movement.

Bolstered by anger over the crackdown by Hong Kong police, the protests has grown more confrontational in recent weeks and reached new levels last Monday with a city-wide strike that disrupting traffic and hundreds of flights.
It appears to be just a matter of time before a major crackdown happens.  It is being reported that China has been moving troops toward Hong Kong, and the Chinese are also now refusing to allow U.S. warships to make stops in Hong Kong.  Apparently they are afraid that the presence of U.S. warships may escalate the situation, and so they don't want to take any chances.
And it may be a very long time until the U.S. Navy is able to use Hong Kong ports in the future.  At this point, the Chinese have concluded that "external foreign forces" are responsible for the protests in the city, and the finger of blame is being pointed directly at the United States.  The following comes from NPR…
Along with its increasingly strident rhetoric, Beijing has encouraged conspiracy theories now popular within China that the protests were instigated and funded by the United States. In a second press conference last week, China's office on Hong Kong blamed "external foreign forces" for the protest, citing several meetings U.S. leaders had with Hong Kong pro-democracy advocates in Washington this spring.

The ideas have gained significant support in mainland China: when a prominent international relations commentator dismissed theories of CIA support for the protests as an unfounded conspiracy, he was vilified as a traitor by online bloggers.
Most Americans are not deeply angry with China, and so they don't understand why they would be deeply angry at us.  But it is critical for us to understand that the Chinese now consider the United States to be enemy #1, and anti-American sentiment is constantly being fueled by official statements from the Chinese government.  For example, Foreign Ministry spokeswoman Hua Chunying recently told the press that the Hong Kong protests are "somehow the work of the US" and she warned that those who interfere in Hong Kong "will only get themselves burned"…
"As you all know, they are somehow the work of the US," Foreign Ministry spokeswoman Hua Chunying said at a press conference in Beijing.

Hua added that China would "never allow any foreign forces" to interfere in the semi-autonomous city, and warned that "those who play (with) fire will only get themselves burned."
Read More @ EndOfTheAmericanDream.com