by Chris Menahan, Information Liberation: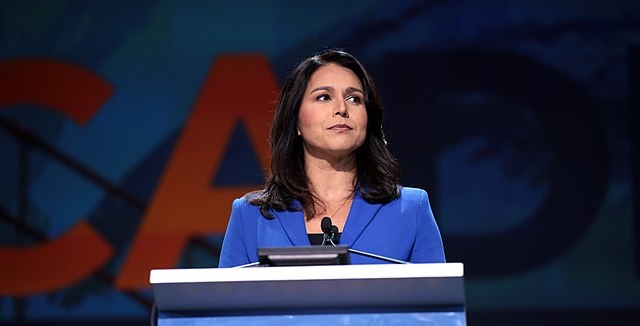 The Democratic establishment successfully scammed anti-war, anti-establishment presidential candidate Rep Tulsi Gabbard out of the third Democratic debate with the help of Big Tech.
From Hawaii News Now:
U.S. Rep. Tulsi Gabbard will not be in the next Democratic presidential debate, a campaign spokesperson said.
The deadline to qualify in the third campaign was Wednesday, but she failed to meet the 2% threshold in DNC-approved polls.

Although Gabbard met the 130,000 individual donor mark, the recent polls showed she was lacking the support needed from voters.
This is the real story:
Tulsi has ~170,000 individual donors. Two national polls this week alone put her at or above the required threshold (but they're not "approved" by the DNC). She's ahead of Beto, Yang, Klobuchar, Booker, and Castro in New Hampshire. Excluding her from the debates is a total joke.

— Michael Tracey (@mtracey) August 28, 2019
Bennet also asks the DNC whether any presidential campaigns were consulted in the drafting of these mysterious rules, and if the TV networks (whose only goal is to maximize ratings) had any input. There's been zero transparency on these questions pic.twitter.com/g7WdMpAzkr

— Michael Tracey (@mtracey) August 28, 2019
Never forget that Google censored Tulsi Gabbard by blocking her from advertising immediately after her breakout debate.
TULSI2020: In the hours following the 1st debate, while millions of Americans searched for info about Tulsi, Google suspended her search ad account w/o explanation. It is vital to our democracy that big tech companies can't affect the outcome of elections https://t.co/n7Y7y2dQZ9

— Tulsi Gabbard (@TulsiGabbard) July 25, 2019
3/3 – Google's discrimination against our campaign reveals the danger of their dominance & how the dominance of big tech over public discourse threatens core American values. They threaten our democracy & #Tulsi will fight back on behalf of all Americans. https://t.co/n7Y7y2dQZ9

— Tulsi Gabbard (@TulsiGabbard) July 25, 2019
Even if you're a Democrat who subscribes to a large swath of the prog-globalist agenda, if you threaten the neocon war machine the establishment and their allies in Big Tech will unite to destroy you.
Read More @ InformationLiberation.com