by Chris Menahan, Information Liberation: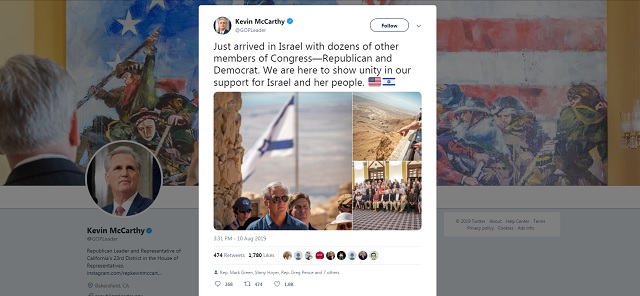 As the Jeffrey Epstein "suicide" scandal was exploding on social media, GOP House Leader Kevin McCarthy announced he and dozens of other members of congress arrived in Israel for an all-expense-paid trip.
BREAKING / NBC NEWS: JEFFREY EPSTEIN IS DEAD, FOUR OFFICIALS SAY.

THEY SAY HE DIED BY SUICIDE.

REPORTED W/ @jonathan4ny

— Tom Winter (@Tom_Winter) August 10, 2019
Photos show Jeffrey Epstein as he's wheeled into Downtown Hospital https://t.co/SICqKfCUNS pic.twitter.com/iPJB6xnPtR

— New York Post (@nypost) August 10, 2019
Just arrived in Israel with dozens of other members of Congress—Republican and Democrat. We are here to show unity in our support for Israel and her people. 🇺🇸🇮🇱 pic.twitter.com/rIUvAQIkZQ

— Kevin McCarthy (@GOPLeader) August 10, 2019
You can see the whole gang in that last picture grinning from ear to ear.
Today on AIEF missions, 70+ members of Congress (Democrats and Republicans) went to the West Bank and the city of Bethlehem. https://t.co/Wgm1q8BXkT

— AIPAC (@AIPAC) August 10, 2019
Read More @ InformationLiberation.com