by James Delingpole, Breitbart: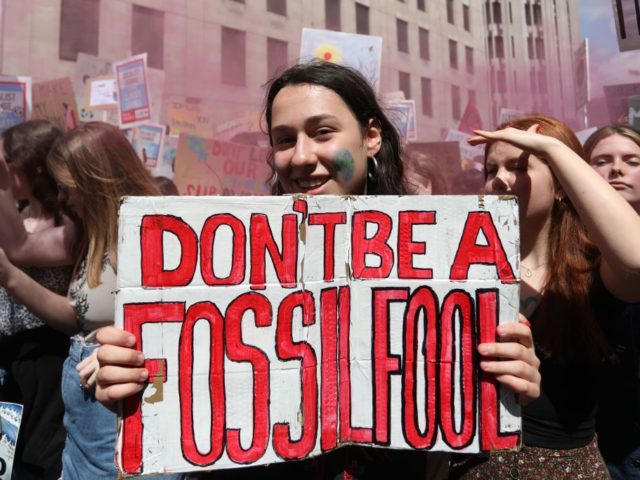 Environmentalism is the new fascism. And just like with the original fascism a worryingly large proportion of the population seems all too eager to slip on that metaphorical black shirt and march (and fight) for a better future. Why?
Let me give you three examples which I think help illustrate the scale of the problem we're facing.
Exhibit A
A recent letter to the Daily Telegraph from Daniel Carey-Dawes, Head of Rural Economy and Communities, Campaign to Protect Rural England.
It begins:
The shocking images of the devastation caused by floods across towns and villages in the Yorkshire Dales and the news that thousands of people have been forced to flee their homes in the Peak District clearly demonstrate the need for urgent action to tackle the impact of climate breakdown.

With the floods coming just one week after Britain was baked by the hottest temperatures ever recorded it is obvious that instances of extreme weather are increasing at an alarming rate.
Exhibit B
Story in the Daily Telegraph headlined 'Britain's formal gardens could be changed forever by global warming, head of the National Trust warns':
Britain's formal gardens could be altered irrevocably by climate change, the head of the National Trust has warned.

Hilary McGrady, said that at Ham House in Richmond, west London, just 10 per cent of their daffodil bulbs now flowered because the warming climate was causing a drought in the spring.
Exhibit C
Story in the Daily Telegraph headlined 'Puffins being hunted and brought back to the UK despite Government efforts to save the species.'
Puffins are being hunted 100 at a time by trophy collectors who are allowed to bring the carcasses back to the UK, despite the government's efforts to save the species.

Campaigners and MPs are calling on Theresa Villiers, the new environment secretary, to ban the import of puffin trophies and push the international wildlife trade body to give the charismatic bird stronger protection.

Websites offer grisly hunting trips for around £3,000, offering British people the chance to go to Iceland and kill a "bag" of puffins. The hunters boast of being able to shoot up to one hundred at a time.
See if you can work out what my three exhibits – and, of course, there are many thousands more where those came from – have in common.
Yes. That's right. They are all fake news stories which have been given the gloss of credibility by their association with well-established and apparently trustworthy British brands.
Besides Britain's arguably most respected Conservative newspaper (the Daily Telegraph), you have in these examples a charity (the CPRE) whose ostensible cause is to keep the English countryside looking beautiful, and another charity (the National Trust) dedicated to the preservation of England's landscapes and historic buildings.