by Wolf Richter, Wolf Street:
After the boom comes the bust. And now is the bust.
Freight shipments in the US across all modes of transportation – truck, rail, air, and barge – fell 5.3% in June compared to June last year, after having fallen 6.0% in May, the seventh month in a row of year-over-year declines, according to the Cass Freight Index for Shipments. This decline, along with other freight indicators, including orders for heavy trucks, now clearly outline the new Transportation Recession – number 2 since the Great Recession – in this very cyclical business: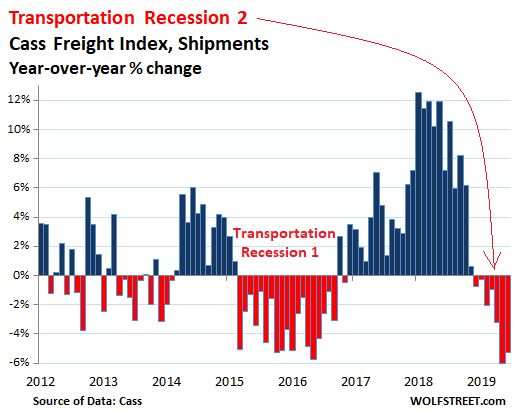 In terms of freight traffic by rail, the Association of American Railroads (AAR) reported that in June overall, volume fell 6.3% from a year ago. The volume of intermodal freight – containers hauled by truck and then transferred to rail, or semi-truck trailers that piggyback on special rail cars – dropped 7.2% in June. For the first half, overall freight volume by rail was down 3.2%, with all segments in the red, except Petroleum and Petroleum Products, which was up 23%! Intermodal was down 3.3%.
The Cass Freight Index, which tracks shipments of consumer and industrial goods but not bulk commodities such as grains, has now fallen below the June 2014 level. June 2014 had set a record in shipments just before Transportation Recession 1 came along. The boom in 2018 broke the 2014 records, and by a big margin. And now the industry is back in its own recession.
In the stacked chart below of the Cass Freight Index, the red line denotes 2019 through June, which has now dipped below June 2014 (green line). Note how much of an outlier the boom of 2018 (black line at the top) had been, though it faded sharply at the end of last year: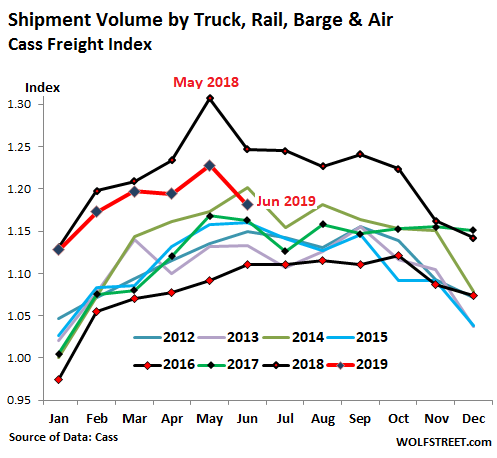 Also today,  FTR Transportation Intelligence reported that its Trucking Conditions Index for May fell deeper into the negative, the third month in a row in the red, from double-digit gains last year. The index tracks five key conditions in the truck market: Freight volumes, freight rates, fleet capacity, fuel price, and financing. A positive value "represents good, optimistic conditions," FTR says. A negative value "represents bad, pessimistic conditions":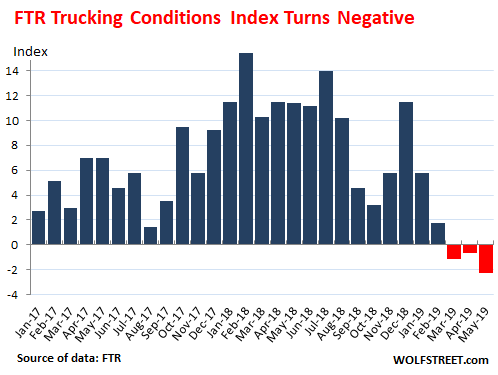 "Most of the weakness is in the industrial sector, so trucking activity related to consumer demand should be relatively stronger than the rest of the industry," explained Avery Vise, FTR's VP of trucking.
One of the big industrial sectors is oil and gas drilling, and late last year, it entered the second oil bust since 2014, and now investment in the sector has slowed, even as production continues to surge. Another major industrial sector that has been in a downturn is residential construction. Industrial demand for transportation by truck shows up in demand for shipments by flatbed trailer. The DAT Flatbed Barometer, cited in the Cass Freight Index Report by Donald Broughton, has now completely unwound its historic spike of last year with a historic plunge (click to enlarge):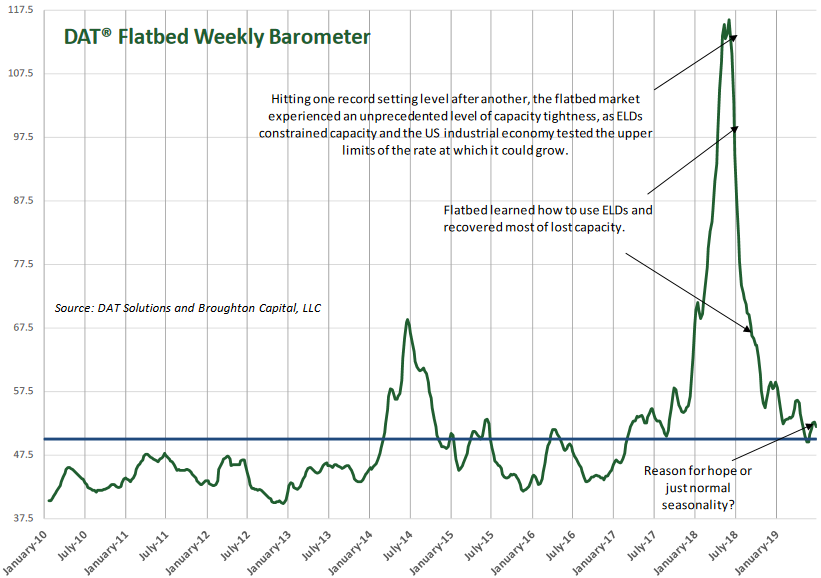 The average national spot rate for flatbed trailers, according to DAT Solutions, the largest truckload freight marketplace in the US, has fallen 18% in June from a year ago, to $2.30 a mile. The average spot rate for van trailers has also fallen 18% year-over-year, to $1.89 a mile.
Contract rates have started to tick down too, but not nearly as much, with van rates down 4.3% year-over-year and flatbed rates down 6.7%.
The plunge in spot rates impacts smaller trucking companies the most because they rely on the spot market. Contract rates mostly apply to larger trucking companies with major companies as clients. And the first batch of these smaller trucking companies are starting to fold.