from RT: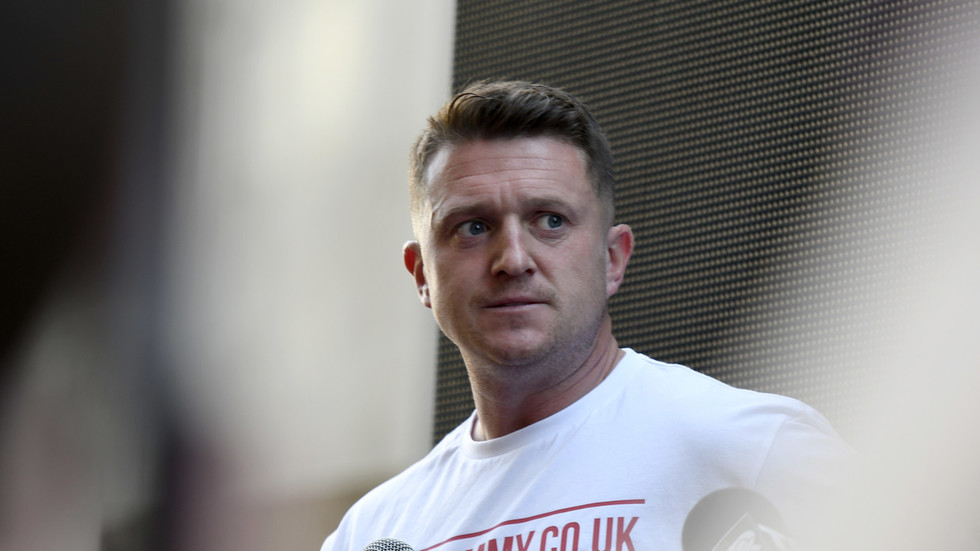 Former EDL leader Tommy Robinson has been sentenced to 9 months in prison after being found guilty of contempt of court, linked to his filming of criminal defendants outside of a courthouse and broadcasting the footage online.
Sentencing Robinson at the Old Bailey in London on Thursday, Judge Dame Victoria Sharp told him: "You will be committed in prison for a period of 19 weeks."  Robinson will serve up to one half of that period to reflect the time already served.
Nothing less than a custodial penalty would properly reflect the gravity of the conduct we have identified.
"Britain = North Korea"

Tommy Robinson (Stephen Yaxley-Lennon) arrived in court this morning wearing a shirt comparing Britain to North Korea. He is currently being sentenced for contempt of court charges. pic.twitter.com/GyzjcF3hdd

— RT UK (@RTUKnews) 11 July 2019
The right-wing activist, whose real name is Stephen Yaxley-Lennon, arrived at court with supporter Katie Hopkins in tow, wearing a T-shirt that read "Convicted of Journalism" on the front and "Britain = North Korea" on the back.
Two High Court judges found Robinson, 36, guilty on July 5, stating that he had been "subjectively reckless" by breaching a reporting ban. The controversial figure filmed defendants in a child grooming trial and broadcast it on Facebook in May last year.
He was originally jailed for the offence on May 25 and released on August 1 following his appeal – serving a total of 69 days in custody, having received a 13-month sentence. A retrial was ordered after Robinson appealed the sentence with the lord chief justice, Lord Burnett of Maldon, saying the ruling was "flawed."
READ MORE: 'Britain has fallen, freedom's gone' – Tommy Robinson asks Trump for political asylum in US
A number of both pro- and anti-Robinson demonstrators gathered outside the court, creating a febrile atmosphere as they waited for the verdict, with confrontations with the police and smoke bombs being let off.