by Chris Menahan, Information Liberation: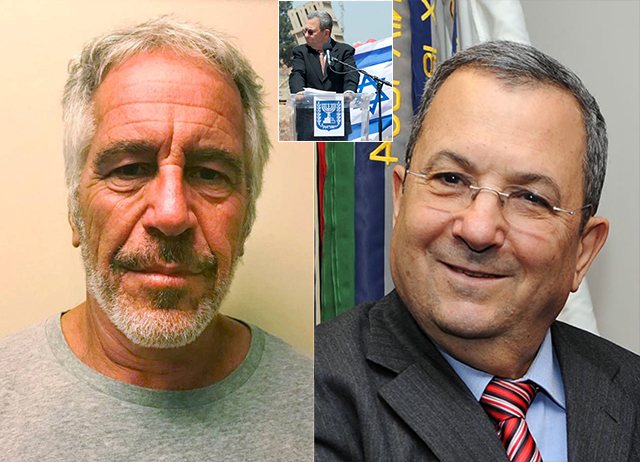 Former Israeli Prime Minister and former head of Israel's Military Intelligence Directorate, Ehud Barak, entered into a "partnership worth millions" with Jeffrey Epstein in 2015.
From Haaretz, "Revealed: Jeffrey Epstein Entered Partnership Worth Millions With Ehud Barak in 2015":
The American billionaire financier Jeffrey Epstein, a registered sex offender who was arrested this week on new sex-trafficking charges involving underage girls, partnered with former Prime Minister Ehud Barak to invest in the former prime minister's startup.
In 2015 Barak set up a limited partnership, in which he is the sole shareholder. That company invested in Reporty Homeland Security, established in 2014, becoming a major shareholder. Last year Reporty changed its name to Carbyne. The company develops call-handling and identification capabilities to for emergency response services.

Barak is the chairman of Carbyne and according to reports by business media outlets, his personal investment in the company totals millions of dollars in it. Haaretz has learned that Epstein financed a considerable part of the investment, thus becoming a partner in the project.
One of the company's directors is Pinchas Buchris, the director general of the Defense Ministry during Barak's tenure as defense minister. […]

"I saw the business opportunity and registered a partnership in my control in Israel. A small number of people I know invest in it," Barak said in a statement to Haaretz. "Since these are private investments, it wouldn't be proper or right for me to expose the investors' details."

[…] One of Epstein's prominent clients was Leslie Wexner, founder and chairman of the parent company of Victoria's Secret's and other companies. Epstein financed and managed the Wexner Foundation, a philanthropic organization that operates training programs to advance leadership and excellence in Israel and among North American Jews.

Last year journalist Israeli Erel Segal reported that in 2004 the foundation gave Barak $2.3 million for research he conducted. Barak refused to comment on the research and said, "as a private citizen I deal with research and business entrepreneurship. My services are in demand, and there are bodies prepared to pay me large sums for them."
The Daily Caller has more on Wexner's relationship with Epstein:
Work Permits Link Victoria's Secret Billionaire To Epstein's New York House

ANDREW KERR
July 11, 2019

The founder and CEO of Victoria's Secret's parent company was tied to Jeffrey Epstein's Manhattan mansion in a pair of construction permits filed in 2002, the same year federal prosecutors said Epstein began luring children to the property for sex.

Leslie Wexner, the billionaire founder of Ohio-based L Brands and Epstein's only publicly known client, purchased the Manhattan townhouse in 1989 for $13.2 million and spent millions more renovating the home with Picasso paintings, antiques and a network of security cameras, according to The New York Times.
But Wexner never officially moved into the property at 9 East 71st Street. Instead, he reportedly "turned over" the mansion in 1995 to Epstein, who performed his own renovation of the property, according to New York Magazine.

"Les never spent more than two months there," Epstein told The Times in a 1996 story that called the financier Wexner's "protege."

But public records link Wexner to the property in 2002, the same year a federal indictment alleged that Epstein began luring children to the mansion to engage in sex acts.

Wexner is listed as an agent of the property owner in two construction permits filed in 2002 with the New York City Department of Buildings. The two permits, one filed on Jan. 4 and the other on May 31, appear to be related to a construction project on the mansion's facade.
As I reported Tuesday, best-selling author and journalist Vicky Ward said that Alexander Acosta told the Trump transition team when asked about his handling of Jeffrey Epstein's case that "I was told Epstein 'belonged to intelligence' and to leave it alone."
As Ward reported:
Epstein's name, I was told, had been raised by the Trump transition team when Alexander Acosta, the former U.S. attorney in Miami who'd infamously cut Epstein a non-prosecution plea deal back in 2007, was being interviewed for the job of labor secretary. The plea deal put a hard stop to a separate federal investigation of alleged sex crimes with minors and trafficking.

"Is the Epstein case going to cause a problem [for confirmation hearings]?" Acosta had been asked. Acosta had explained, breezily, apparently, that back in the day he'd had just one meeting on the Epstein case. He'd cut the non-prosecution deal with one of Epstein's attorneys because he had "been told" to back off, that Epstein was above his pay grade. "I was told Epstein 'belonged to intelligence' and to leave it alone," he told his interviewers in the Trump transition, who evidently thought that was a sufficient answer and went ahead and hired Acosta. (The Labor Department had no comment when asked about this.)
Epstein's madam was Ghislaine Maxwell, the daughter of media mogul and alleged Israeli Mossad agent Robert Maxwell.
Read More @ InformationLiberation.com