from ZeroHedge: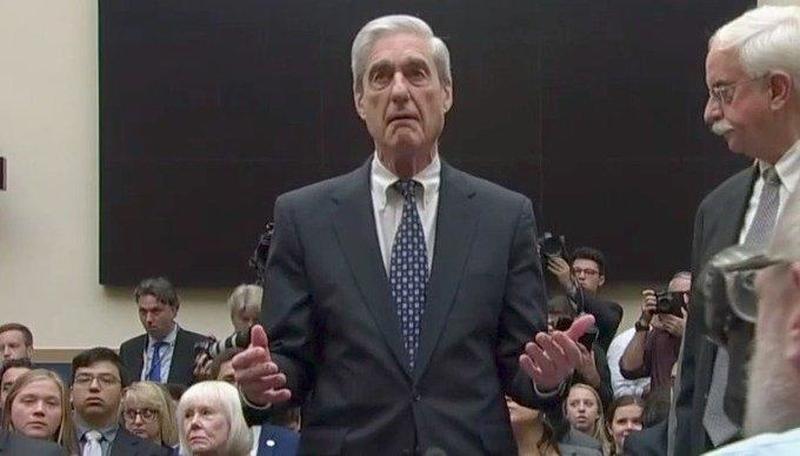 Robert Mueller's dual Wednesday testimonies were, by most accounts, a total disaster for Democrats hoping to bolster the case for impeaching President Trump.
Not only were there no smoking guns, Mueller's stumbling, fumbling, confused performance alone was a massive backfire for Democrats looking to spotlight the former FBI Director – whose 'stellar reputation' as a career public servant melted away to reveal a befuddled old man who was clearly unfamiliar with his own report.
Robert Mueller literally just said he wasn't familiar with Fusion GPS. My Lord. My Lord.

— Mollie (@MZHemingway) July 24, 2019
Drug test everyone in Washington. Everyone! pic.twitter.com/ETcLrgwpJ6

— MATT DRUDGE (@DRUDGE) July 24, 2019
Don't take our word for it. Filmmaker Michael Moore perfectly captures the somber tone amongst Democrats panning Mueller's Wednesday performance.
"frail old man, unable to remember things, stumbling, refusing to answer basic questions…I said it in 2017 and Mueller confirmed it today," tweeted Moore, adding "All you pundits and moderates and lame Dems who told the public to put their faith in the esteemed Robert Mueller — just STFU from now on."
A frail old man, unable to remember things, stumbling, refusing to answer basic questions…I said it in 2017 and Mueller confirmed it today — All you pundits and moderates and lame Dems who told the public to put their faith in the esteemed Robert Mueller — just STFU from now on

— Michael Moore (@MMFlint) July 24, 2019