by Wolf Richter, Wolf Street:
Story stocks, momentum stocks, hyperventilation stocks, consensual hallucination stocks, financial engineering stocks: anything but reality.
You see, Tesla is different. It just reported another doozie, a loss of $408 million in the second quarter, after its $702 million loss in the first quarter, for a total loss in the first half of $1.1 billion. In its 14-year history, it has never generated an annual profit.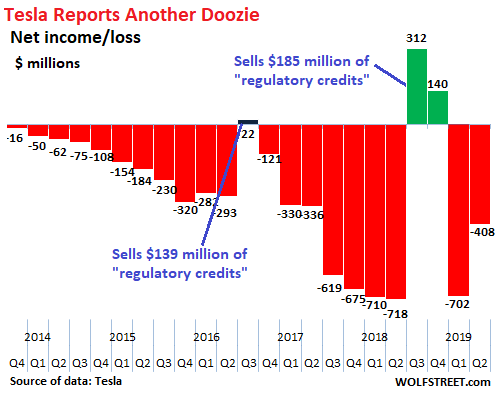 It has real and popular products and surging sales, but it subsidizes each of those sales with investor money. And here's where it's different this time: investors don't care. They dig how the company has been consistently overpromising and underdelivering. They dig the chaos at the top. They dig everything that should scare them off.
Yeah, its shares plunged [TSLA] 11% afterhours today, but that takes those shares only down to where they'd been on May 1. Big deal. Shares are down 32% from the peak. But their peak should have been a small fraction of that. Even today, the company is still valued at over $40 billion.
Tesla lacks a viable business model in the classic sense. Its business model is a new business model of just burning investor cash that it raises via debt and equity offerings on a near-annual basis because investors encourage it to do that, and love it for it, and eagerly hand it more money to burn, and they're rewarding each other by keeping the share price high. It's just a game, you see. And nothing else matters.
Then there is Boeing [BA]. It just reported the largest quarterly loss in its history of $2.9 billion due to a nearly $5-billion charge related to its newest bestselling all-important 737 Max, two of which crashed, killing 346 people, due to the way the plane is designed. The flight-control software that is supposed to mitigate this design issue is not working properly. And a software fix that is acceptable to regulators remains elusive.
The plane has been grounded globally since March. No one, especially not the regulators, can afford a third crash. So today, Boeing announced that it may further cut production of the plane or suspend it altogether if the delays continue to drag out. This is big enough to start impacting US GDP.
The entire 737 Max episode has been tragic from the first minute, and the cost in human lives has been huge, and it has cost and continues to cost billions of dollars to deal with, among calls that the plane should never fly again.
And what does Boeing's share price do? It dipped 3% today and is up 2% from a year ago, before all this happened. In essence, two crashes and the grounding of its bestselling plane, and the potential suspension of production of this plane, and its uncertain future … and the stock has ticked up over a 12-month period.