by Frank Fang, The Epoch Times: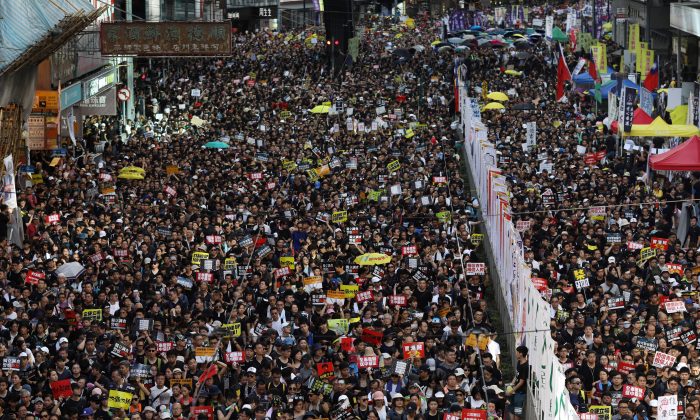 Organizers of Hong Kong's annual march on July 1 said that over 550,000 people took part, breaking the record in 2014 when 510,000 Hongkongers came out to demand universal suffrage in electing the city's top official.
The Hong Kong Public Opinion Research Institute (HKPORI) gave different estimates. It said at least 374,000 was marching through the Arsenal Street during the peak.
A spokesperson for the Hong Kong government has responded with strong words to a group of protesters who broke into the legislature building by smashing glass doors earlier in the evening.
"Some radical protesters stormed the Legislative Council Complex with extreme violence. These protesters seriously jeopardized the safety of police officers and members of the public. Such violent acts are unacceptable to society," according to a statement.
"Hong Kong is a society that respects the rule of law, and has never tolerated violence. Protesters who resort to violence must stop their acts immediately," the unnamed spokesperson said in an earlier statement, adding that the police will "take appropriate enforcement action to protect public order and safety." The government had sent out a red alert asking everyone to leave the building.
The city's Hospital Authority said so far 43 people have been injured in clashes with the police. 37 have since been discharged from the hospital. At least two are still being treated.