by Geoffrey Grinder, Now The End Begins: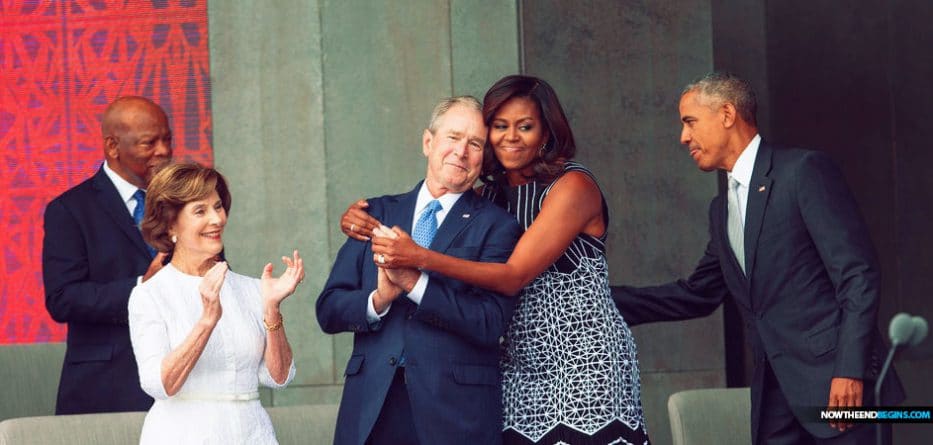 "Our government should not be in the business of warehousing children in converted box stores or making plans to place them intent cities in the desert outside of El Paso." Laura Bush then said the detention facilities being used to house thousands of children are "eerily reminiscent" of the internment camps that held 120,000 Japanese Americans during World War II, and are "now considered to have been one of the most shameful episodes in U.S. history."
Former US first lady Laura Bush rarely speaks out on political issues but on Sunday she openly criticized the Trump administration's separation of children from their parents along the border.
Kinda funny how former first lady Laura Bush is now so outraged at the Trump immigration policies regarding the treatment of illegal immigrants caught at the border, but was silent during the 8 years of Barack Obama who ordered that immigrant kids be put in cages and wrapped in foil.
A quick Google search using the words 'laura bush michelle obama' returns some very interesting results. Headlines like 'In a tense 2016 election year, Laura Bush picks an interesting ally: Michelle Obama', and 'MICHELLE OBAMA JOINS LAURA BUSH IN SLAMMING TRUMP BORDER POLICY' tell you everything you need to know.
The shocking truth is that the Bush Crime Family was only ever 'Republican' when they were allowed to control the party and bend it to their collective will. In 2016, when their man-boy Jeb Bush got pounded by Donald Trump in the 2016 Presidential Debates, the Bushes threw their support over to Crooked Hillary and the Clinton Machine.
Yes, it's very sad when children get separated from their parents at the border, but sadder still than that is when illegal immigrant adults use their children as props in a scheme to obtain free benefits from a country they are entering into illegally. The Bush Crime Family are traitors to this nation, and are actively conspiring to overthrow the presidency of Donald Trump. Hypocrite Laura Bush can take her false piety and calculated outrage and go have tea with her good buddy Michelle Obama.
'It is immoral': Former first lady Laura Bush criticizes the separation of migrant children from their parents
FROM BUSINESS INSIDER: In April, Attorney General Jeff Sessions announced a "zero tolerance" policy towards migrants crossing the US border illegally, which leads to adults being tried as criminals and thus losing custody of their children. In that time, nearly 2,000 children have been separated from their parents leading to crowded facilities and devastating scenes.
In an op-ed published Sunday in The Washington Post, Laura Bush said the policy "breaks my heart."
"THE REASON FOR THESE SEPARATIONS IS A ZERO-TOLERANCE POLICY FOR THEIR PARENTS, WHO ARE ACCUSED OF ILLEGALLY CROSSING OUR BORDERS. I LIVE IN A BORDER STATE. I APPRECIATE THE NEED TO ENFORCE AND PROTECT OUR INTERNATIONAL BOUNDARIES, BUT THIS ZERO-TOLERANCE POLICY IS CRUEL. IT IS IMMORAL. AND IT BREAKS MY HEART," BUSH WROTE.
"Our government should not be in the business of warehousing children in converted box stores or making plans to place them intent cities in the desert outside of El Paso."
Laura Bush then said the detention facilities being used to house thousands of children are "eerily reminiscent" of the internment camps that held 120,000 Japanese Americans during World War II, and are "now considered to have been one of the most shameful episodes in U.S. history."
Read More @ NowTheEndBegins.com