by Joe Hoft, The Gateway Pundit: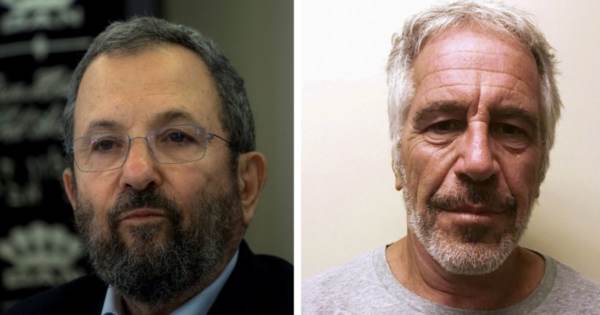 A former Israeli Prime Minister is being linked to recently arrested pedophile Jeffrey Epstein.  Not only did Epstein hob knob with the Clintons, he has close and salacious ties to former Israeli Prime Minister Ehud Barak.
The Jerusalem Post is reporting –
Sex offender Jeffrey Epstein in 2014 bankrolled a large investment in high tech for Ehud Barak, the former Israeli prime minister who's again running for office, Haaretz reported.
The report Friday follows several revelations on financial ties between Epstein, a billionaire who was convicted in 2008 in the United States of soliciting a teenage girl for prostitution, and Barak, whose campaign ahead of Israel's general election on Sept. 17 focuses on fighting corruption.
Epstein financed much of an investment of several million dollars formally made by Barak in the company Reporty Homeland Security, according to Haaretz. It's now called Carbyne. It develops call-handling and identification capabilities for emergency response services.

"I saw the business opportunity and registered a partnership in my control in Israel. A small number of people I know invest in it," Barak said in a statement to Haaretz. "Since these are private investments, it wouldn't be proper or right for me to expose the investors' details."
But that wasn't even the half of it!
In addition to his financial ties with Epstein, the former Israeli Prime Minister also was pictured visiting Epstein's apartment with body guards at his side.
A post at the Daily Mail in January 2016 showed a number of young beautiful women entering and exiting Epstein's place in New York City.  At the end of the post, an unidentified man was seen entering Epstein's place with what appeared to be his own personal body guard.
That man has 
now been identified
 as the former Israeli Prime Minister, Ehud Barak.  A further review of Ehud Barak's ties with Epstein are startling!
Zero Hedge

 reported that Epstein's former house manager, Alfredo Rodriguez, smuggled Epstein'S little black address book out of his home. Rodriguez described the address book as the "Holy Grail" or "Golden Nugget" to unraveling Epstein's sprawling child-sex network. Ehud Barak's name was eighth on the list.
The Wexner Foundation (EIN #:27-7320631)
An Internet sleuth provided us some additional questionable ties related to Epstein and Barak. For the past 15 years there are numerous entities operating in both Ohio and NY related to the Wexner Foundation.  The ties to Epstein seem to be limited to the early years and fairly straight forward.
For tax years 2001 through 2006, the tax returns for the Foundation list Jeffrey Epstein as a Trustee and the person with whom the corporate books are in the possession of (at the same address of the Foundation in Ohio).  Additionally, for 2001 the Wexner Foundation only received one contribution of $9,588,560 and that contribution came from an entity named ARTS INTEREST TRUST with an address of C/O Jeffrey Epstein in St. Thomas, Virgin Islands.
In all other years of 2002-2015, the vast majority (if not all) of the Wexner Foundation revenue came from contributions from an entity named THE LESLIE H. WEXNER CHARITABLE FUND (EIN#: 31-1318013).  For years of 2001-2005, Epstein was listed as a Trustee of this organization as well.  In 2006, this entity changed it's name to THE WEXNER FAMILY CHARITABLE FUND.
Another interesting discovery is that the Wexner Foundation paid "consulting fees" to Ehud Barak of $1 million in 2004 and $800,000 in 2006.  In 2005, The Leslie H Wexner Charitable Fund paid Ehud Barak $505,000 in "consulting fees".
Per further analysis of the tax returns of the Wexner Foundation:
The salaries paid by this entity seem very high given the revenues, expenses and activity of the entity.
Most of the "grants" paid to other organizations have been to educational institutions, with a very substantial portion (roughly 50%) paid to Harvard.
Travel expenses seem extremely high for this organization (some years travel expenses exceed their grants given).
Some other expenses in multiple years seem odd (examples: "Parsonage" and "Honoria")
Rent expense seems very high in multiple years.
One other thing of interest is that while the annual filings of the Wexner Foundation with the NY Charity Bureau are listed for all years 1999-2017, the links for years prior to 2006 are no longer clickable and therefore the documents cannot be downloaded from that site.  However, the 990 returns are viewable and downloadable from ProPublica for 2001-2015.
Read More @ TheGatewayPundit.com