from ZeroHedge: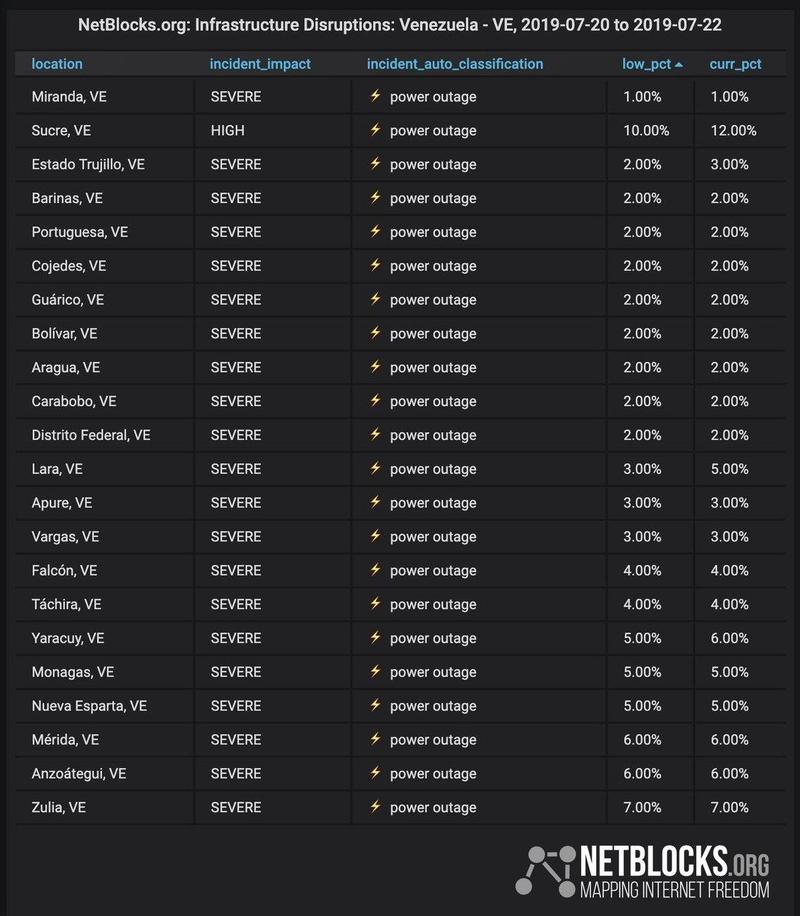 Widespread power blackouts were first reported on Monday evening across 15 Venezuelan states and Caracas, as per a report from Reuters Caracas newsroom.
Venezuelan information minister Jorge Rodrigues said an "electromagnetic attack caused the nationwide blackout" and power companies along with government officials, are in the process of restoring the nation's power grid.
Central #Caracas (#Chacao) right now #apagón #blackout #Venezuela pic.twitter.com/6Pvp3QdPPW

— Adriano Mérola Marotta (@AdrianoMerola) July 22, 2019
Back in March, the country experienced the most damaging rolling blackout in decades that brought the country, already devastated by an economic crisis, even closer to outright collapse.
"It terrifies me to think we are facing a national blackout again," said Maria Luisa Rivero, a 45-year-old business owner from the city of Valencia, in the central state of Carabobo.

"The first thing I did was run to freeze my food so that it does not go bad like it did like the last time in March. It costs a lot to buy food just to lose it," she said.
Wide spread blackout in Venezuela: States affected by the power failure: – Capital District, Anzoátegui, Aragua, Carabobo, Cojedes, Falcón, Guárico, Lara, Mérida, Miranda, Monagas, Táchira, Sucre, Vargas, Yaracuy, Zulia https://t.co/OAOOFyGl4g via @gabyarellanoVE #Venezuela pic.twitter.com/UkMxLKDUFJ

— Liveuamap World (@lumworld) July 22, 2019