by Harvey Organ, Harvey Organ Blog: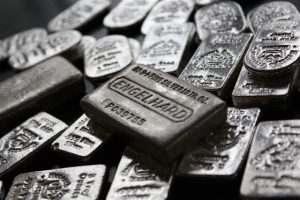 GOLD DOWN $2.15 (COMEX TO COMEX) TO $1410.00 AND THEN DOWN ANOTHER 6 DOLLARS IN THE ACCESS MARKET//SILVER IS THE STAR OF THE SHOW TODAY UP 31 CENTS TO $15.64//TWO BIG STORIES TODAY: (1) DEUTSCHE BANK EXPERIENCING A HUGE RUN ON ITS BANK LOSING 1 BILLION DOLLARS A DAY; THEY ARE SEVERELY UNDER WATER IN THE GOLD AND SILVER DERIVATIVES//(2) A UAE TANKER DISAPPEARS GOING THROUGH THE STRAIT OF HORMUZ//THE POUND DROPS TO MULTI YEAR LOWS//TURKEY RESPONDS TO EU SANCTIONS //AND STRANGELY THEY DISCOVER A HUGE GAS FIND IN GREEK CYPRIOT WATERS: THAT SHOULD BE INTERESTING!//EPSTEIN AND MORE SWAMP STORIES FOR YOU TONIGHT
GOLD: $1410.00  DOWN  $2.15 (COMEX TO COMEX CLOSING)
Silver:
$15.64  UP 31 CENTS  (COMEX TO COMEX CLOSING)//
Closing access prices:
Gold : $1406.50
silver:  $15.55
It sure looks like our banker friends were not in a good mood today.  Silver took off on its own despite the fact that the crooks orchestrated a raid on gold The move on gold was to get silver down and it is my bet that Deutsche bank is under severe water.  It is experiencing a bank run whereby 1 billion dollars are removed from the company each day.  They are losing badly needed collateral and the price rise in both gold and silver did not help them.
The other big news is the disappearance of a UAE oil freighter in the Strait of Hormuz. That news was tempered with the story that Iran is ready to negotiate with the uSA on its missiles, and Yemen if the uSA removes sanctions.
stay tune…
YOUR DATA…
COMEX DATA
JPMorgan has been receiving gold with reckless abandon and sometimes supplying (stopping)
today RECEIVING 17/19
EXCHANGE: COMEX
CONTRACT: JULY 2019 COMEX 100 GOLD FUTURES
SETTLEMENT: 1,411.400000000 USD
INTENT DATE: 07/15/2019 DELIVERY DATE: 07/17/2019
FIRM ORG FIRM NAME ISSUED STOPPED
____________________________________________________________________________________________
661 C JP MORGAN 16
661 H JP MORGAN 1
690 C ABN AMRO 2
737 C ADVANTAGE 17
905 C ADM 2
____________________________________________________________________________________________
TOTAL: 19 19
MONTH TO DATE: 858
NUMBER OF NOTICES FILED TODAY FOR  JULY CONTRACT: 19 NOTICE(S) FOR 1900 OZ (0.2674 tonnes
TOTAL NUMBER OF NOTICES FILED SO FAR:  858 NOTICES FOR 85800 OZ  (2.6687 TONNES)
FOR JULY
122 NOTICE(S) FILED TODAY FOR 6100,000  OZ/
total number of notices filed so far this month: 3763 for   18,815,000 oz
XXXXXXXXXXXXXXXXXXXXXXXXXXXXXX
Bitcoin: OPENING MORNING TRADE :  $ 11021 DOWN 186
Bitcoin: FINAL EVENING TRADE: $ 9642 DOWN 1214
end
Let us have a look at the data for today
xxxxxxxxxxxxxxxxxxxxxxxxxxxxxxxxxxxxxxxxxxxxxxxxxxxxxxxxxxxxxxxxxxxxxxxxxx
IN SILVER THE COMEX OI ROSE BY A CONSIDERABLE  SIZED 1675 CONTRACTS FROM 218,418 UP TO 220,093 WITH THE 11 CENT GAIN IN SILVER PRICING AT THE COMEX.
TODAY WE ARRIVED CLOSER TO  AUGUST'S 2018  RECORD SETTING OPEN INTEREST OF 244,196 CONTRACTS.
WE HAVE ALSO WITNESSED A LARGE AMOUNT OF PHYSICAL METAL STAND FOR COMEX DELIVERY AS WELL WE ARE WITNESSING CONSIDERABLE LONGS PACKING THEIR BAGS AND MIGRATING OVER TO LONDON IN GREATER NUMBERS IN THE FORM OF EFP'S.  WE WERE  NOTIFIED  THAT WE HAD A STRONG SIZED NUMBER OF COMEX LONGS TRANSFERRING THEIR CONTRACTS TO LONDONTHROUGH THE EFP:,
0 FOR JULY. 0 FOR AUGUST, 735 FOR SEPT, AND ZERO FOR ALL  OTHER MONTHS  AND THEREFORE TOTAL ISSUANCE  735 CONTRACTS. WITH THE TRANSFER OF 735 CONTRACTS, WHAT THE CME IS STATING IS THAT THERE IS NO SILVER (OR GOLD) TO BE DELIVERED UPON AT THE COMEX AS THEY MUST EXPORT THEIR OBLIGATION TO LONDON. ALSO KEEP IN MIND THAT THERE CAN BE A DELAY OF 24-48 HRS IN THE ISSUING OF EFP'S. THE 735 EFP CONTRACTS TRANSLATES INTO 3.675 MILLION OZ  ACCOMPANYING:
1.THE 11 CENT GAIN IN SILVER PRICE AT THE COMEX AND
2. THE STRONG AMOUNT OF SILVER OUNCES WHICH STOOD FOR DELIVERY IN THE LAST 12 MONTHS:
JUNE/2018. (5.420 MILLION OZ);
FOR JULY: 30.370 MILLION OZ
FOR AUG., 6.065 MILLION OZ
FOR SEPT. 39.505 MILLION  OZ S
FOR OCT.2.525 MILLION OZ.
FOR NOV:  A HUGE 7.440 MILLION OZ STANDING  AND
21.925 MILLION OZ FINALLY STAND FOR DECEMBER.
5.845 MILLION OZ STAND IN JANUARY.
2.955 MILLION OZ STANDING FOR FEBRUARY.:
27.120 MILLION OZ STANDING IN MARCH.
3.875 MILLION OZ STANDING FOR SILVER IN APRIL.
18.845 MILLION OZ STANDING FOR SILVER IN MAY.
2.660 MILLION OZ STANDING FOR SILVER IN JUNE//
20.805 MILLION OZ INITIAL STANDING FOR JULY
WE HAD SOME SHORT COVERING AT THE SILVER COMEX LAST NIGHT..AND ZERO SPREADING ACCUMULATION.
ACCUMULATION FOR EFP'S/SILVER/J.P.MORGAN'S HOUSE OF BRIBES, / STARTING FROM FIRST DAY NOTICE/FOR MONTH OF JULY:
11,056 CONTRACTS (FOR 11 TRADING DAYS TOTAL 11,056 CONTRACTS) OR 55.28 MILLION OZ: (AVERAGE PER DAY: 1816 CONTRACTS OR 95.16 MILLION OZ/DAY)
TO GIVE YOU AN IDEA AS TO THE HUGE SUPPLY THIS MONTH IN SILVER:  SO FAR THIS MONTH OF JULY:  55.28 MILLION PAPER OZ HAVE MORPHED OVER TO LONDON. THIS REPRESENTS AROUND 7.89% OF ANNUAL GLOBAL PRODUCTION (EX CHINA EX RUSSIA)*  JUNE'S 345.43 MILLION OZ IS THE SECOND HIGHEST RECORDED ISSUANCE OF EFP'S AND IT FOLLOWED THE RECORD SET IN APRIL 2018 OF 385.75 MILLION OZ.
ACCUMULATION IN YEAR 2019 TO DATE SILVER EFP'S:          1212.89   MILLION OZ.
JANUARY 2019 EFP TOTALS:                                                      217.455. MILLION OZ
FEB 2019 TOTALS:                                                                       147.4     MILLION OZ/
MARCH 2019 TOTAL EFP ISSUANCE:                                          207.835 MILLION OZ
APRIL 2019 TOTAL EFP ISSUANCE:                                              182.87  MILLION OZ.
MAY 2019: TOTAL EFP ISSUANCE:                                                136.55 MILLION OZ
JUNE 2019 , TOTAL EFP ISSUANCE:                                               265.38 MILLION OZ
RESULT: WE HAD A CONSIDERABLE SIZED INCREASE IN COMEX OI SILVER COMEX CONTRACTS OF 1675, WITH THE 11 CENT GAIN IN SILVER PRICING AT THE COMEX /YESTERDAY… THE CME NOTIFIED US THAT WE HAD A  STRONG SIZED EFP ISSUANCE OF 735 CONTRACTS WHICH EXITED OUT OF THE SILVER COMEX AND TRANSFERRED THEIR OI TO LONDON AS FORWARDS. SPECULATORS CONTINUED THEIR INTEREST IN ATTACKING THE SILVER COMEX FOR PHYSICAL SILVER (SEE COMEX DATA) .
TODAY WE GAINED A STRONG SIZED: 2410 TOTAL OI CONTRACTS ON THE TWO EXCHANGES: 
i.e 735 OPEN INTEREST CONTRACTS HEADED FOR LONDON  (EFP's) TOGETHER WITH INCREASE OF 1787  OI COMEX CONTRACTS. AND ALL OF THIS  DEMAND HAPPENED WITH A 11 CENT GAIN IN PRICE OF SILVER AND A CLOSING PRICE OF $15.33 WITH RESPECT TO YESTERDAY'S TRADING. YET WE STILL HAVE A STRONG AMOUNT OF SILVER STANDING AT THE COMEX FOR DELIVERY!! 
In ounces AT THE COMEX, the OI is still represented by JUST OVER 1 BILLION oz i.e. 1.101 BILLION OZ TO BE EXACT or 157% of annual global silver production (ex Russia & ex China).
FOR THE NEW FRONT MARCH MONTH/ THEY FILED AT THE COMEX: 122 NOTICE(S) FOR 6100,000 OZ OF SILVER
IN SILVER,PRIOR TO TODAY, WE  SET THE NEW COMEX RECORD OF OPEN INTEREST AT 243,411 CONTRACTS ON APRIL 9.2018.  AND AGAIN THIS HAS BEEN SET WITH A LOW PRICE OF $16.51.  
AND NOW WE RECORD FOR POSTERITY ANOTHER ALL TIME RECORD OPEN INTEREST AT THE COMEX OF 244,196 CONTRACTS ON AUGUST 22/2018 AND AGAIN WHEN THIS RECORD WAS SET, THE PRICE OF SILVER WAS $14.78 AND LOWER IN PRICE THAN PREVIOUS RECORDS.
ON THE DEMAND SIDE WE HAVE THE FOLLOWING:
HUGE AMOUNTS OF SILVER STANDING FOR DELIVERY  (MARCH/2018: 27 MILLION OZ , APRIL/2018 : 2.485 MILLION OZ  MAY: 36.285 MILLION OZ ; JUNE/2018  (5.420 MILLION OZ) , JULY 2018 FINAL AMOUNT STANDING: 30.370 MILLION OZ   )  FOR AUGUST 6.065 MILLION OZ. , SEPT:  A HUGE 39.505 MILLION OZ./ OCTOBER: 2,520,000 oz  NOV AT 7.440 MILLION OZ./ DEC. AT 21.925 MILLION OZ   JANUARY AT  5.825 MILLION 

OZ.AND

 FEB 2019:  2.955 MILLION OZ/ MARCH: 27.120 MILLION OZ/  APRIL AT 3.875 MILLION OZ/ A MAY:  18.845 MILLION OZ..JUNE 2.660 MILLION OZ//JULY 20.805 MILLION OZ
HUGE RECORD OPEN INTEREST IN SILVER 243,411 CONTRACTS (OR 1.217 BILLION OZ/ SET APRIL 9/2018) AND NOW AUGUST 22/2018:  244,196 CONTRACTS,  WITH A SILVER PRICE OF $14.78.
HUGE ANNUAL EFP'S ISSUANCE EQUAL TO 2.9 BILLION OZ OR 400% OF SILVER ANNUAL PRODUCTION/2017
RECORD SETTING EFP ISSUANCE FOR ANY MONTH IN SILVER; APRIL/2018/ 385.75 MILLIONOZ/  AND THE SECOND HIGHEST RECORDED EFP ISSUANCE JUNE 2018 345.43 MILLION OZ
AND YET, WITH THE EXTREMELY HIGH EFP ISSUANCE, WE HAVE A CONTINUAL LOW PRICE OF SILVER DESPITE THE ABOVE HUGE DEMAND.  TO ME THE ONLY ANSWER IS THAT WE HAVE SOVEREIGN  (CHINA) WHO IS ENDEAVOURING TO GOBBLE UP ALL AVAILABLE PHYSICAL SILVER NO MATTER WHERE, EXACTLY WHAT J.P.MORGAN IS DOING. AND IT IS MY BELIEF THAT J.P.MORGAN IS HOLDING ITS SILVER FOR ITS BENEFICIAL OWNER..THE USA GOVERNMENT WHO IN TURN IS HOLDING THAT SILVER FOR CHINA.(FOR A SILVER LOAN REPAYMENT)
.
IN GOLD, THE OPEN INTEREST ROSE BY A STRONG 4805 CONTRACTS, TO 607,372 ACCOMPANYING THE  $1.85 PRICING GAIN WITH RESPECT TO COMEX GOLD PRICING YESTERDAY// /THE SPREADING LIQUIDATION HAS NOW COMMENCED FOR GOLD….
THE CME RELEASED THE DATA FOR EFP ISSUANCE AND IT TOTALED A HUMONGOUS SIZED 11,260 CONTRACTS:
APRIL 0 CONTRACTS,JUNE: 0 CONTRACTS, AUGUST 2019: 11,260 CONTRACTS, DEC>  0 CONTRACTS AND ALL OTHER MONTHS ZERO.  The NEW COMEX OI for the gold complex rests at 607,372.  ALSO REMEMBER THAT THERE WILL BE A DELAY IN THE ISSUANCE OF EFP'S.  THE BANKERS REMOVE LONG POSITIONS OF COMEX GOLD IMMEDIATELY.  THEN THEY ORCHESTRATE THEIR PRIVATE EFP DEAL WITH THE LONGS AND THAT COULD TAKE AN ADDITIONAL, 48 HRS SO WE GENERALLY DO NOT GET A MATCH WITH RESPECT TO DEPARTING COMEX LONGS AND NEW EFP LONG TRANSFERS. . EVEN THOUGH THE BANKERS ISSUED THESE MONSTROUS EFPS, THE OBLIGATION STILL RESTS WITH THE BANKERS TO SUPPLY METAL BUT IT TRANSFERS THE RISK TO A LONDON BANKER OBLIGATION AND NOT A NEW YORK COMEX OBLIGATION. LONGS RECEIVE A FIAT BONUS TOGETHER WITH A LONG LONDON FORWARD. THUS, BY THESE ACTIONS, THE BANKERS AT THE COMEX HAVE JUST STATED THAT THEY HAVE NO APPRECIABLE METAL!! THIS IS A MASSIVE FRAUD: THEY CANNOT SUPPLY ANY METAL TO OUR COMEX LONGS BUT THEY ARE QUITE WILLING TO SUPPLY MASSIVE NON BACKED GOLD (AND SILVER) PAPER KNOWING THAT THEY HAVE NO METAL TO SATISFY OUR LONGS. LONDON IS NOW SEVERELY BACKWARD IN BOTH GOLD AND SILVER  AND WE ARE WITNESSING DELAYS IN ACTUAL DELIVERIES.
IN ESSENCE WE HAVE AN ATMOSPHERIC SIZED GAIN IN TOTAL CONTRACTS ON THE TWO EXCHANGES OF 16,065 CONTRACTS: 4805 CONTRACTS INCREASED AT THE COMEX  AND 11,260 EFPOI CONTRACTS WHICH NAVIGATED OVER TO LONDON. THUS  TOTAL OI GAIN OF 16,065 CONTRACTS OR 1,606,500 OZ OR 49.96 TONNES.  YESTERDAY WE HAD A SMALL  GAIN OF $1.85 IN GOLD TRADING.…AND WITH THAT TINY GAIN IN  PRICE, WE  HAD A HUMONGOUS GAIN IN GOLD TONNAGE OF 49.96  TONNES!!!!!! THE BANKERS WERE SUPPLYING INFINITE SUPPLIES OF SHORT GOLD COMEX PAPER.
WITH RESPECT TO SPREADING:  WE WILL WITNESS THE MORPHING OF OUR SPREADERS OUT OF SILVER AND INTO GOLD AS THE JULY MONTH PROCEEDS INTO THE ACTIVE DELIVERY MONTH OF AUGUST.
FOR NEWCOMERS, HERE IS THE MODUS OPERANDI OF THE CORRUPT BANKERS WITH RESPECT TO THEIR SPREAD/TRADING.
AS I HAVE MENTIONED IN PREVIOUS COMMENTARIES:
"AS YOU WILL SEE, THE CROOKS WILL NOW SWITCHED TO SILVER AS THEY INCREASE THE OPEN INTEREST FOR THE SPREADERS. THE TOTAL COMEX GOLD OPEN INTEREST WILL RISE FROM NOW ON UNTIL ONE WEEK PRIOR TO FIRST DAY NOTICE AND THAT IS WHEN THEY START THEIR CRIMINAL LIQUIDATION.
HERE IS HOW THE CROOKS USED SPREADING AS WE ARE NO INTO THE NON ACTIVE DELIVERY MONTH OF JULY HEADING TOWARDS THE VERY ACTIVE DELIVERY MONTH OF AUGUST.
AS I HAVE MENTIONED IN PREVIOUS COMMENTARIES, HERE IS THE BANKERS MODUS OPERANDI:
YOU WILL ALSO NOTICE THAT THE COMEX OPEN INTEREST IS STARTING TO RISE IN THIS NON ACTIVE MONTH OF JULY BUT SO IS THE OPEN INTEREST OF SPREADERS. THE OPEN INTEREST IN SILVER WILL CONTINUE TO RISE UNTIL ONE WEEK BEFORE FIRST DAY NOTICE OF AN UPCOMING ACTIVE DELIVERY MONTH (JULY), AND THAT IS WHEN THE CROOKS SELL THEIR SPREAD POSITIONS BUT NOT AT THE SAME TIME OF THE DAY.  THEY WILL USE THE SELL SIDE OF THE EQUATION TO CREATE THE CASCADE (ALONG WITH THEIR COLLUSIVE FRIENDS) AND THEN COVER ON THE BUY SIDE OF THE SPREAD SITUATION AT THE END  OF THE DAY. THEY DO THIS TO AVOID POSITION LIMIT DETECTION. THE LIQUIDATION OF THE SPREADING FORMATION CONTINUES FOR EXACTLY ONE WEEK AND ENDS ON FIRST DAY NOTICE."
ACCUMULATION OF EFP'S GOLD AT J.P. MORGAN'S HOUSE OF BRIBES: (EXCHANGE FOR PHYSICAL) FOR THE MONTH OF JULY : 89,249 CONTRACTS OR 8,924,900 oz OR 277.60TONNES (11 TRADING DAY AND THUS AVERAGING: 8113 EFP CONTRACTS PER TRADING DAY
TO GIVE YOU AN IDEA AS TO THE STRONG SIZE OF THESE EFP TRANSFERS :  THIS MONTH IN 11 TRADING DAY IN  TONNES: 277.60 TONNES
TOTAL ANNUAL GOLD PRODUCTION, 2018, THROUGHOUT THE WORLD EX CHINA EX RUSSIA: 3555 TONNES
THUS EFP TRANSFERS REPRESENTS 277.60/3550 x 100% TONNES =7.81% OF GLOBAL ANNUAL PRODUCTION
ACCUMULATION OF GOLD EFP'S YEAR 2019 TO DATE:     3204.43  TONNES
JANUARY 2019 TOTAL EFP ISSUANCE;   531.20 TONNES
FEB 2019 TOTAL EFP ISSUANCE:             344.36 TONNES
MARCH 2019 TOTAL EFP ISSUANCE:       497.16 TONNES
APRIL 2019 TOTAL ISSUANCE:                 456.10 TONNES
MAY 2019 TOTAL ISSUANCE:                    449.10 TONNES
JUNE 2019 TOTAL ISSUANCE:                   642.22 TONNES
WHAT IS ALARMING TO ME, ACCORDING TO OUR LONDON EXPERT ANDREW MAGUIRE IS THAT THESE EFP'S ARE BEING TRANSFERRED TO WHAT ARE CALLED SERIAL FORWARD CONTRACT OBLIGATIONS AND THESE CONTRACTS ARE LESS THAN 14 DAYS.  ANYTHING GREATER THAN 14 DAYS, THESE MUST BE RECORDED AND SENT TO THE COMPTROLLER, GREAT BRITAIN TO MONITOR RISK TO THE BANKING SYSTEM.  IF THIS IS INDEED TRUE, THEN THIS IS A MASSIVE CONSPIRACY TO DEFRAUD AS WE NOW WITNESS A MONSTROUS TOTAL EFP'S ISSUANCE AS IT HEADS INTO THE STRATOSPHERE. 
Result: A STRONG SIZED INCREASE IN OI AT THE COMEX OF 4805 WITH THE TINY PRICING GAIN THAT GOLD UNDERTOOK YESTERDAY($1.85)) //.WE ALSO HAD  A HUMONGOUS SIZED NUMBER OF COMEX LONG TRANSFERRING TO LONDON THROUGH THE EFP ROUTE: 11,260 CONTRACTS AS THESE HAVE ALREADY BEEN NEGOTIATED AND CONFIRMED.   THERE OBVIOUSLY DOES NOT SEEM TO BE MUCH PHYSICAL GOLD AT THE COMEX.  I GUESS IT EXPLAINS THE HUGE ISSUANCE OF EFP'S…THERE IS HARDLY ANY GOLD PRESENT AT THE GOLD COMEX FOR DELIVERY PURPOSES. IF YOU TAKE INTO ACCOUNT THE 11,260EFP CONTRACTS ISSUED, WE  HAD AN ATMOSPHERIC  AND CRIMINALLY SIZED GAIN OF 16,065 CONTRACTS IN TOTAL OPEN INTEREST  ON THE TWO EXCHANGES:
11,260 CONTRACTS MOVE TO LONDON AND 4805 CONTRACTS INCREASED AT THE COMEX. (IN TONNES, THE GAIN IN TOTAL OI EQUATES TO 49.96 TONNES). ..AND THIS HUGE INCREASE OF  DEMAND OCCURRED ACCOMPANYING THE  GAIN IN PRICE OF $1.85 WITH RESPECT TO YESTERDAY'S TRADING AT THE COMEX. WE HAS NOW COMMENCED WITH SPREADING ACCUMULATION IN GOLD AS  THE MONTH PROCEEDS/
we had:  19 notice(s) filed upon for 1900 oz of gold at the comex.
xxxxxxxxxxxxxxxxxxxxxxxxxxxxxxxxxxxxxxxxxxxxxxxxxxxxxxxxxxx
With respect to our two criminal funds, the GLD and the SLV:
GLD…
WITH GOLD DOWN $2.15 TODAY//
NO CHANGE IN GOLD INVENTORY AT THE GLD
INVENTORY RESTS AT 800.54 TONNES
TO ALL INVESTORS THINKING OF BUYING GOLD THROUGH THE GLD ROUTE: YOU ARE MAKING A TERRIBLE MISTAKE AS THE CROOKS ARE USING WHATEVER GOLD COMES IN TO ATTACK BY SELLING THAT GOLD.  IT SURE SEEMS TO ME THAT THE GOLD OBLIGATIONS AT THE GLD EXCEED THEIR INVENTORY
SLV/
WITH SILVER UP 31 CENTS TODAY:
NO CHANGES WITH RESPECT TO SILVER INVENTORY  AT THE SILVER SLV:
/INVENTORY RESTS AT 332.518 MILLION OZ.
OUTLINE OF TOPICS TONIGHT
First, here is an outline of what will be discussed tonight:
1. Today, we had the open interest in SILVER ROSE BY A CONSIDERABLE SIZED 1675 CONTRACTS from 218,418 UP TO 220,093 AND CLOSER TO THE NEW COMEX RECORD SET LAST IN AUG.2018 AT 244,196WITH A SILVER PRICE OF $14.78/(AUGUST 22/2018)..THE PREVIOUS RECORD WAS SET ON APRIL 9/2018 AT 243,411 OPEN INTEREST CONTRACTS WITH THE SILVER PRICE AT THAT DAY: $16.53). AND PREVIOUS TO THAT, THE RECORD  WAS ESTABLISHED AT: 234,787 CONTRACTS, SET ON APRIL 21.2017OVER  1 1/3 YEARS AGO.  THE PRICE OF SILVER ON THAT DAY: $17.89.  AS YOU CAN SEE, WE HAVE RECORD HIGH OPEN INTERESTS IN SILVER  ACCOMPANIED BY A CONTINUAL LOWER PRICE WHEN THAT RECORD WAS SET…..THE SPREADERS HAVE COMMENCED THEIR ACCUMULATION OF OPEN INTEREST CONTRACTS IN SILVER AND STOPPED THE LIQUIDATION OF THE SPREADERS IN GOLD
OUR CUSTOMARY MIGRATION OF COMEX LONGS CONTINUE TO MORPH INTO LONDON FORWARDS  AS OUR BANKERS USED THEIR EMERGENCY PROCEDURE TO ISSUE:
FOR JULY: 0 CONTRACTS FOR AUGUST: 0, FOR SEPT. 735  AND ALL OTHER MONTHS: ZERO. TOTAL EFP ISSUANCE: 735 CONTRACTS. EFP'S GIVE OUR COMEX LONGS A FIAT BONUS PLUS A DELIVERABLE PRODUCT OVER IN LONDON.  IF WE TAKE THE OI GAIN AT THE COMEX OF 1675  CONTRACTS TO THE 735 OI TRANSFERRED TO LONDON THROUGH EFP'S,  WE OBTAIN A STRONG GAIN OF 2410 OPEN INTEREST CONTRACTS. THUS IN OUNCES, THE GAIN ON THE TWO EXCHANGES: 12.05 MILLION OZ!!!AND YET WE ALSO HAVE A STRONG DEMAND FOR PHYSICAL AS WE WITNESSED A FINAL STANDING OF GREATER THAN 30 MILLION OZ FOR JULY, A STRONG 7.475 MILLION OZ FOR AUGUST..  A HUGE 39.505  MILLION OZ  STANDING FOR SILVER IN SEPTEMBER… OVER 2 million  OZ STANDING FOR THE NON ACTIVE MONTH OF OCTOBER.,  7.440 MILLION OZ FINALLY STANDING IN NOVEMBER.  21.925 MILLION OZ STANDING IN DECEMBER , 5.845 MILLION OZ STANDING IN JANUARY. 2.955 MILLION OZ STANDING IN FEBRUARY,  27.120 MILLION OZ FOR MARCH., 3.875 MILLION OZ FOR APRIL  18.765 MILLION OZ FOR MAY  NOW 2.660 MILLION OZ FOR JUNE WITH JULY AT 20.805 MILLION OZ STANDING SO FAR.
RESULT: A CONSIDERABLE SIZED INCREASE IN SILVER OI AT THE COMEX WITH THE 11 CENT GAIN IN PRICING THAT SILVER UNDERTOOK IN PRICING// YESTERDAY. WE ALSO HAD A STRONG SIZED 735 EFP'S ISSUED TRANSFERRING COMEX LONGS OVER TO LONDON. TOGETHER WITH THE STRONG  SIZED AMOUNT OF SILVER OUNCES STANDING FOR THIS MONTH, DEMAND FOR PHYSICAL SILVER CONTINUES TO INTENSIFY AS WE WITNESS SEVERE BACKWARDATION IN SILVER IN LONDON.
BOTH THE SILVER COMEX AND THE GOLD COMEX ARE IN STRESS AS THE BANKERS SCOUR THE BOWELS OF THE EXCHANGE FOR METAL
2 ) Gold/silver trading overnight Europe, Goldcore
(Mark O'Byrne/zerohedge
and in NY: Bloomberg
3. ASIAN AFFAIRS
I)TUESDAY MORNING/ MONDAY NIGHT:
SHANGHAI CLOSED DOWN 4.57 POINTS OR 0.16%  //Hang Sang CLOSED UP 64.74 POINTS OR 0.23%   /The Nikkei closed DOWN 6.79 POINTS OR 0.034%//Australia's all ordinaires CLOSED DOWN .15%
/Chinese yuan (ONSHORE) closed DOWN  at 6.8777 /Oil UP TO 57.82 dollars per barrel for WTI and 65.36 for Brent. Stocks in Europe OPENED GREEN//  ONSHORE YUAN CLOSED DOWN // LAST AT 6.8777 AGAINST THE DOLLAR. OFFSHORE YUAN CLOSED DOWN ON THE DOLLAR AT 6.8787 TRADE TALKS STALL//YUAN LEVELS GETTING DANGEROUSLY CLOSE TO 7:1//TRUMP INITIATES A NEW 25% TARIFFS FRIDAY/MAY 10/MAJOR PROBLEMS AT HUAWEI /CFO ARRESTED  : /ONSHORE YUAN TRADING ABOVE LEVEL OF OFFSHORE YUAN/ONSHORE YUAN TRADING WEAKER AGAINST USA DOLLAR/OFFSHORE YUAN TRADING WEAKER AGAINST THE DOLLAR /TRADE DEAL NOW DEAD..TRUMP  RAISED RATES TO 25%
Read More @ HarveyOrganBlog.com