by Chris Menahan, Information Liberation: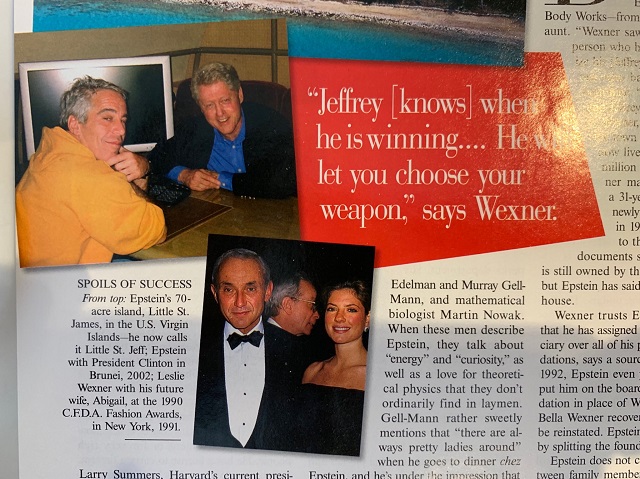 Jeffrey Epstein visited Bill and Hillary Clinton in the White House "multiple times" (in addition to flying together on the "Lolita Express" at least 26 times) and brought his alleged madam/handler Ghislaine Maxwell along with him.
From The Daily Beast, "Jeffrey Epstein Visited Clinton White House Multiple Times in Early '90s":
[A] Daily Beast investigation has uncovered ties between Epstein and the Clinton administration that date back to the president's earliest days in the White House, casting doubt on the oft-circulated narrative that the two only began associating after Clinton left office.
As early as 1993, records show, Epstein donated $10,000 to the White House Historical Association and attended a donors' reception hosted by Bill and Hillary Clinton. Around the same time, according to a source familiar with the connection, Epstein visited presidential aide Mark Middleton several times at the White House. Two years later, businesswoman Lynn Forester de Rothschild wrote a personal letter to Clinton thanking him for their talk about the financier.
[…] How Epstein entered Clinton's orbit remains unclear. When the president released his initial statement on Epstein, he did not explain the multiple other trips he appears to have taken on the financier's plane—including one flight to Westchester with Epstein, his alleged madam Ghislaine Maxwell, and an "unnamed female."

Clinton also failed to mention the intimate 1995 fundraising dinner at the Palm Beach home of Revlon mogul Ron Perelman, where Clinton hobnobbed with the likes of Epstein, Don Johnson, and Jimmy Buffett. (Nearby, at Epstein's own Palm Beach mansion, the money man allegedly abused hundreds of underage girls.)

The two were clearly chummy by the early Clinton Foundation years, as attested to by a 2002 photo of Epstein and Clinton in Brunei that appeared in Vicky Ward's 2003 profile of the financier. In a 2002 piece for New York magazine about the Africa trip, Clinton praised Epstein as a "highly successful financier and a committed philanthropist."

[…] In late September of 1993, Bill and Hillary Clinton hosted a reception for supporters who had contributed to recent White House renovations. […]

Guests for the event, according to the invitation list, included the journalist and philanthropist Barbara Goldsmith, heiress Jane Engelhard, political consultant Cynthia Friedman, and "Mr Jeffrey Epstein and Ms. Ghislaine Maxwell." Epstein and Maxwell do not appear on the 'regret list,' and there is a letter 'A' next to both of their names, indicating they planned to attend. A press release from the event, put out by Hillary Clinton's office, lists Epstein as a White House Historical Association donor.
Nothing to see here folks!
Read More @ InformationLiberation.com