from ZeroHedge: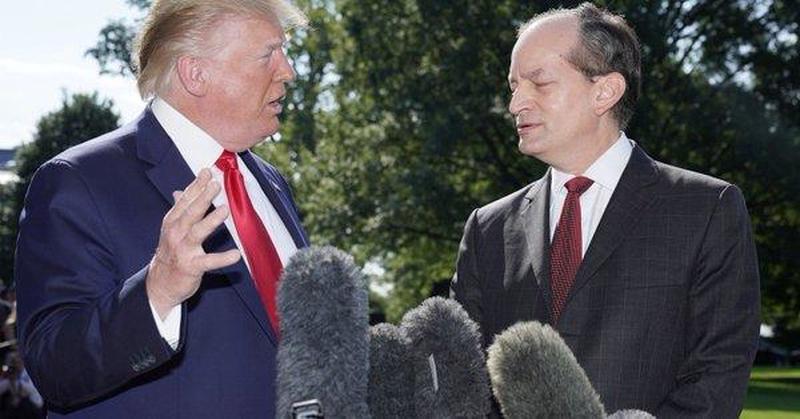 Labor Secretary Alexander Acosta announced his resignation on Friday after receiving harsh criticism for his role in brokering a 2008 plea deal with registered sex-offender and pedophile Jeffrey Epstein. He will be replaced by Deputy Labor Secretary Patrick Pizzella.
"I do not think it is right or fair to have me as the focus," said Acosta, standing next to President Trump at a morning press conference, adding "I thought the right thing was to step aside."
WATCH: Trump announces Labor Secretary Alex Acosta's resignation amid criticism of his handling of the Jeffrey Epstein case https://t.co/PBmUT5rgSD

— TicToc by Bloomberg (@tictoc) 12 July 2019
They say @SecretaryAcosta called @POTUS this morning and informed him of this and it was the labor secretary's decision to leave.

— Steve Herman (@W7VOA) 12 July 2019
Trump comes to departure with Labor Sec Alex Acosta, who announces he is resigning. Acosta says it was his idea. pic.twitter.com/Mpq79f5J4A

— Amber Athey (@amber_athey) 12 July 2019
President Trump said tha Acosta was a "great labor secretary not a good one," adding that he did a "very good job."
Acosta held a press conference on Wednesday in which he suggested Epstein's deal was the fault of Florida state prosecutors, or possibly the judge, or anyone else but him – and that Epstein would have walked free without the deal he was behind.
"I wanted to help them," Mr. Acosta, who was the top federal prosecutor in Miami at the time, said of the victims during an hourlong session with reporters at the Labor Department. "That is why we intervened. And that's what the prosecutors of my office did — they insisted that he go to jail and put the world on notice that he was and is a sexual predator." –NYT