by Chris Menahan, Information Liberation: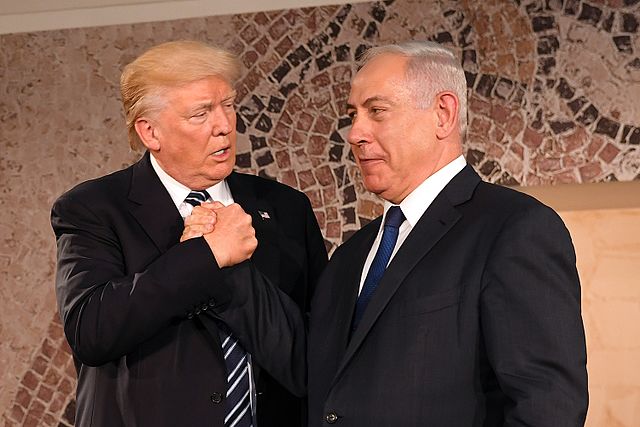 President Donald Trump is sending 1,000 additional US troops to the Middle East as several UN officials told the Hebrew-language only Israeli newspaper Maariv that the US "plans to carry out a tactical assault on Iran in response to the tanker attack in the Persian Gulf on Thursday."
From ABC News:
The United States is sending 1,000 additional troops to the Middle East, amid rising tensions between the U.S. and Iran. The decision follows last week's attack on two tankers in the Gulf of Oman that the U.S. blamed on Tehran, with the Pentagon releasing new images on Monday that officials said show Iranian Islamic Revolutionary Guard Corps (IRGC) members removing an unexploded mine from one of the ship's hulls.
"In response to a request from the U.S. Central Command (CENTCOM) for additional forces, and with the advice of the Chairman of the Joint Chiefs of Staff and in consultation with the White House, I have authorized approximately 1,000 additional troops for defensive purposes to address air, naval, and ground-based threats in the Middle East," acting Defense Secretary Patrick Shanahan said in a statement on Monday.

The additional personnel are mostly part of intelligence, surveillance and reconnaissance and force protection units, a U.S. official told ABC News.
From the Jerusalem Post, "U.N. officials: U.S. planning a 'tactical assault' in Iran":
Is the US going to attack Iran soon?

Diplomatic sources at the UN headquarters in New York revealed to Maariv that they are assessing the United States' plans to carry out a tactical assault on Iran in response to the tanker attack in the Persian Gulf on Thursday.

According to the officials, since Friday, the White House has been holding incessant discussions involving senior military commanders, Pentagon representatives and advisers to President Donald Trump.

The military action under consideration would be an aerial bombardment of an Iranian facility linked to its nuclear program, the officials further claimed.

"The bombing will be massive but will be limited to a specific target," said a Western diplomat.
Pompeo lied his ass off Sunday on Fox News claiming it's "unmistakable" that Iran was behind the oil tanker attacks last week despite the notion the tankers were hit by "limpet mines" being contradicted by the Japanese.
Of note, Pompeo did not say our intelligence agencies signed off on the White House assessment that Iran was behind the attack. He would only say the intelligence community "has lots of data, lots of evidence," and "the world will come to see much of it."
As a reminder, Mike Pompeo told CBN News in May that "as a Christian" he believes Trump may have been sent by god to be a savior of the Jews and fulfill an ancient Jewish prophecy by defeating "Haman" from the Hebrew "Book of Esther" — which CBN said is now Iran.
In related news, President Trump just got a settlement named after him in the Golan Heights:
Read More @ InformationLiberation.com