by Chris Menahan, Information Liberation: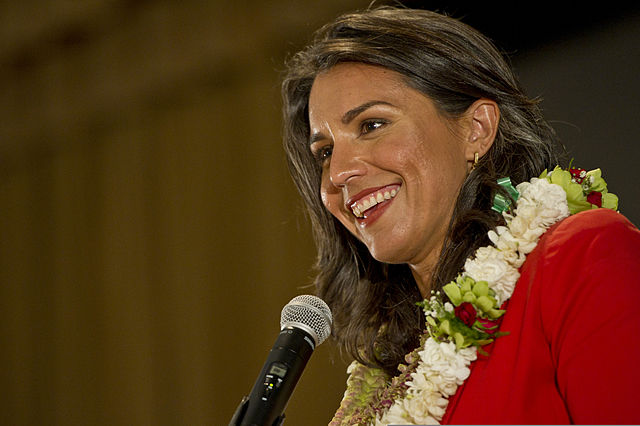 Democratic 2020 presidential candidate Tulsi Gabbard delivered a solid anti-war message during Wednesday night's first Democratic presidential debate.
Her battle with neolib shill Rep. Tim Ryan was the highlight of the (otherwise extremely boring) night:
Watch the 5 minutes that have people talking Tulsi!
A soldier's truth about the establishment war machine driving US foreign policy https://t.co/JC0MqYSEmT #DemDebate – #TULSI2020 pic.twitter.com/kJnp3gRfKq

— Tulsi Gabbard (@TulsiGabbard) 27 June 2019
We are in Afghanistan & Iraq where we have lost so many lives and spent so much $ that should be going into our communities here at home. This is why it's so important to have a commander in chief who knows the cost of war. #TULSI2020 #DemDebate #Democrat https://t.co/PIdii6kLxh pic.twitter.com/oFAg4I0rS8

— Tulsi Gabbard (@TulsiGabbard) 27 June 2019
Tim got owned and is lashing out https://t.co/REkDqVLcFk

— Michael Tracey (@mtracey) 27 June 2019
Gabbard was the only candidate who bucked the establishment and didn't come across as a clown and it showed in the polls and Google trends.
.@TulsiGabbard: "For too long our leaders have failed us, taking us from one regime change war to the next…costing us trillions of our hard earned tax-payer dollars and countless lives. This insanity must end." #DemDebate pic.twitter.com/RS0yZh8EAi

— The Columbia Bugle 🇺🇸 (@ColumbiaBugle) 27 June 2019
She won the Drudge poll:

Read More @ InformationLiberation.com