by Chris Menahan, Information Liberation: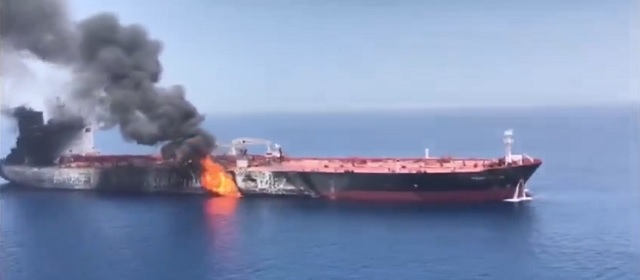 Two tanker ships reportedly carrying Japanese goods were attacked in Sea of Oman on Thursday while Japanese Prime Minister Shinzo Abe was meeting with Iran's Supreme Leader Ayatollah Khamenei to try and deescalate tensions between Iran and the US.
One ship with 23 people on board was reportedly "rescued Thursday by nearby vessel Hyundai Dubai, were unharmed and were transferred to an Iranian navy vessel and disembarked at a local Iranian port," according to the AP.
Aerial footage shows one of the oil tankers targeted in the Sea of Oman#SeaofOman pic.twitter.com/mdvEPPT3J4

— Press TV (@PressTV) 13 June 2019
23 oil tanker crew members filmed safe in #Jask after suspected attack pic.twitter.com/07VQqiZsx9

— Ruptly (@Ruptly) 13 June 2019
The second ship with 21 people on board "escaped on a life boat and were initially rescued by a Dutch ship that was headed to the United Arab Emirates," the AP reports.
They were reportedly later picked up by the US.
World reacts as two #tankers 'attacked' in #SeaofOmanhttps://t.co/gkA6e1RP98#Iran#PersianGulf #MiddleEast pic.twitter.com/rG72SF5Edu

— Press TV (@PressTV) 13 June 2019
Iran Foreign Minister Javad Zarif responded to the attack saying: "Suspicious doesn't begin to describe what likely transpired this morning."
Read More @ InformationLiberation.com