by Clint Siegner, Money Metals: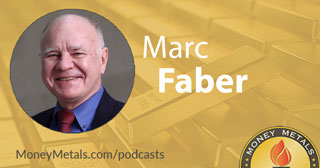 Welcome to this week's Market Wrap Podcast, I'm Mike Gleason.
Coming up Marc Faber, Dr. Doom, joins me for a must-hear discussion on debt, the global economy and the future of the dollar. Marc tells us how much he believes the average investor should have in gold and silver right now and reveals which precious metal he favors most going forward. So don't miss a tremendous interview with Marc Faber, coming up after this week's market update.
Click HERE to listen
Well, what a week – big developments to report in politics, geopolitics, monetary policy, stocks, crude oil, and precious metals.
Let's start with the gold market. On Thursday, gold prices surged $30, breaking through some major resistance levels and closing at a five-year high. The money metal ended up at $1,390 an ounce, just shy of the psychologically significant $1,400 level. It did cross over that during the Asian trading session last night and as of this Friday recording is back below it now to trade at $1,396 per ounce and is registering an impressive 4.0% gain this week.
Silver shows a weekly gain of 2.6% to bring spot prices to $15.32 an ounce. Silver has been following the lead of gold and has yet to show any real leadership of its own so far during this precious metals rally. Silver prices remain historically depressed versus gold, but that could change quickly.
Gold and silver mining equities have shown powerful relative strength over the past month, suggesting investors are anticipating follow through from the prices of the underlying metals. If you missed gold's move to new multi-year highs, you're not too late to catch a possible breakout move in silver – which has yet to even make a new 2019 high, let alone take out highs from previous years.
A catalyst for further gains in metals could be rate cuts from the Federal Reserve. On Wednesday, the Fed announced it would leave rates unchanged for now. That came as a disappointment to doves, but policymakers added language suggesting they are moving closer to acting.
Investors took the central bank's statement to mean a rate cut in July is on the table, and probably another one after that. The S&P 500 responded by notching a new record high on Thursday.
The stock market stole gold's limelight, and another leg higher for the aging bull market in stocks would likely diminish the safe haven appeal of precious metals. However, there is no rule that says stocks and metals can't rise in tandem – especially if they share a common driver in monetary inflation.
Right now, stocks, bonds, and gold are all on bullish footing. Crude oil and other commodities are also threatening to trend higher, which would bring inflationary side effects to the economy.
Another apparent attack this week by Iran– this time on a U.S. drone – helped boost oil prices on fears of a larger conflict. A war with Iran and a blockade of oil tankers in the Persian Gulf could easily send oil prices spiking up into the triple digits.
In such a scenario, investors who hold economically sensitive stocks and low-yielding bonds would be in a vulnerable position.
Some of President Donald Trump's top advisors clearly want war with Iran, but the President himself seems more interested in domestic issues like immigration and the economy. He formally launched his re-election campaign this week in the crucial battleground state of Florida.
Some national polls show Trump losing to Democrat frontrunner Joe Biden. But we would suggest these early polls don't mean much.
To begin with, Biden will have a tough time securing his party's nomination. He's running on a center-left track record obtained during a different era in Democrat politics. He's running against several hard left candidates who, combined, are more popular with today's Democrat voters than he is.
The base of the party now essentially embraces socialism. Radical leftists who vote in primaries will insist that candidates commit to a long list of pie in the sky promises such as socialized medicine, slavery reparations, a Green New Deal, free college tuition, free abortions, and free everything for illegal aliens.
If the former Vice President wins the DNC nomination by going hard left on all these issues, he could make Trump look like the sensible moderate in the general election.
The Vice Presidency is often seen as a stepping stone to the Presidency. But that hasn't been the case in recent years.
Joe Biden passed on the opportunity in 2016, claiming personal reasons. We can only imagine the pressure that was put on him privately by Hillary Clinton and her backers at the DNC to stay out of the race.
The previous Vice President, Dick Cheney, also declined to run.
Former Vice President Al Gore captured his party's nomination but failed to win the general election in 2000. That same year Dan Quayle, Vice President to George H.W. Bush, ran unsuccessfully for the GOP nomination that was claimed by Bush junior.
Back in 1984, Jimmy Carter's Vice President Walter Mondale got crushed in a landslide by Ronald Reagan.
When Richard Nixon resigned from office in 1974, VP Gerald Ford assumed the presidency but failed in 1976 to get elected to the nation's highest office.
Since 1974, only one former Vice President has gone on to win a Presidential election. That was George H.W. Bush in 1988. Voters threw him out after just one term.
Fast forward to 2019. After running unsuccessfully for President more than three decades ago, then playing second fiddle to Barack Obama for eight years, then deferring to Hillary Clinton, it would be awkward for Joe Biden to try to explain why his time is now.
President Trump's re-election prospects are probably better than the polls now suggest. If the GOP does keep the White House in 2020, would that be good news for stock market bulls and bad news for gold bugs? Not necessarily.
The last time a Republican was up for re-election was 2004. Incumbent President George W. Bush faced off against Democrat challenger John Kerry.
Gold and silver markets performed well in the second half of 2003 and made modest gains in 2004. The metals were in the early stages of a major bull market.
When George W. Bush won re-election in November 2004, gold was trading at a mere $450. Gold went on to hit a record $1,000 per ounce in early 2008. Over that same period, silver advanced from under $8 to over $20 an ounce. Precious metals vastly outperformed the stock market through the four years of W's second term.
In the years ahead, forces now in motion should continue to exert upside pressure on gold and silver regardless of election outcomes. Steadily rising government debt and inflationary monetary policy are inevitable thanks to the political priorities of both Republicans and Democrats.
Well now, without further delay, let's get right to this week's exclusive interview.