from ZeroHedge: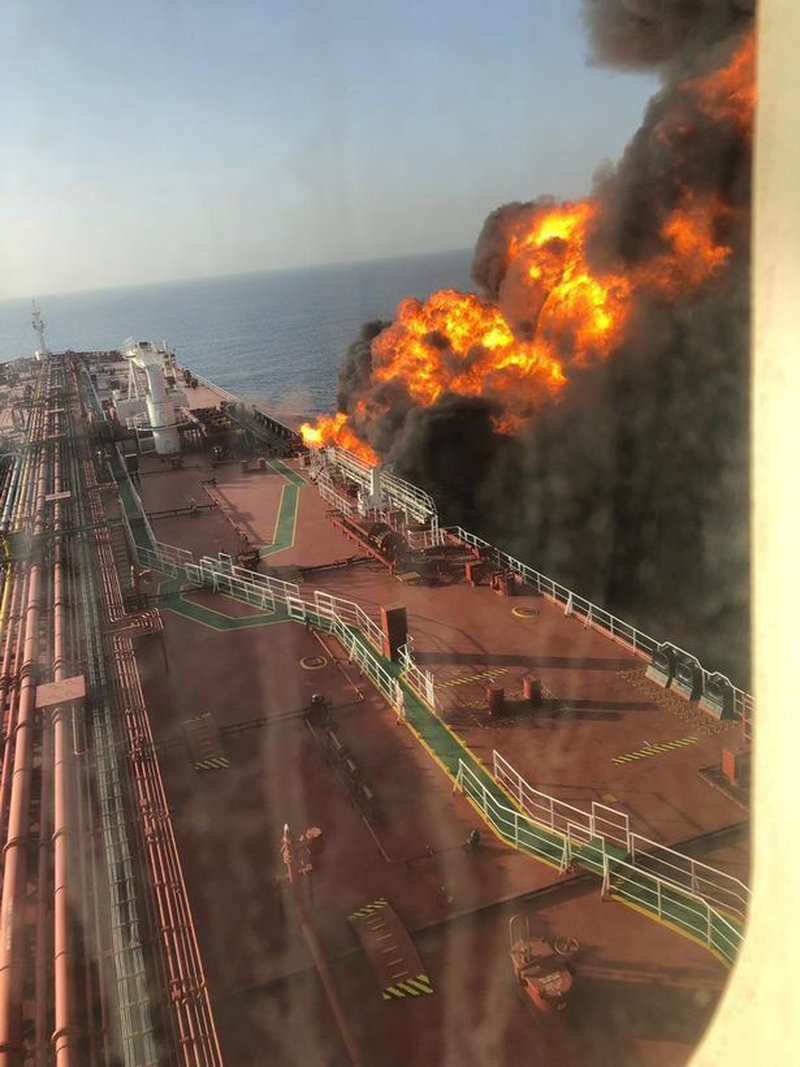 Update 4: Nobody has stepped forward to take responsibility for Thursday's suspected torpedoing of two oil tankers in the Persian Gulf, and Iran's Foreign Minister has argued that Iran has nothing to gain and everything to lose by provoking the Europeans and Japanese, but that hasn't stopped Washington from beating the ol' war drum.
According to CBS News, a senior American defense official told the channel's top national correspondent that "it's highly likely Iran caused these attacks." He also dismissed Iran's claim that it helped rescue the crews of both ships as "patently false," adding that the USS Bainbridge picked up 21 crew members. Iran said it dispatched a rescue team that picked up all 44 crew members from the two damaged vessels.
Members of the crew of one ship told CBS's correspondent that they believed the ship had been hit by a torpedo or a mine, but that the exact nature of the attack couldn't be confirmed.
Even more ominously: The official told CBS News that "any retaliation" from the US would depend on whether it can recover hard evidence linking the attacks to Iran, something the official expects they will find after a search of the debris.
After four tankers were attacked last month in the Strait of Hormuz – a sea-mining attack that the US and Saudi Arabia blamed on Iran – Saudi Arabia reportedly had no appetite for retaliation.  However, that has now changed.
Iran's foreign minister isn't the only one trying to communicate how little Iran has to gain from attacks like these: Bloomberg's Julian Lee argued in a column that whoever is behind these attacks is 'no friend of Iran'.
This would seem very clumsy timing from a country seeing the first tangible signs of any easing of the crippling sanctions imposed by the Americans. But it is absolutely understandable if you're someone whose ultimate goal is to derail any easing of tensions between the two nations, and to effect regime change in Tehran.
And as we pointed out earlier, there's a much, much more sensible culprit somewhere else in the region:
Two ships with one stone:
Saudis get i) higher oil price ii) US to attack Iran

— zerohedge (@zerohedge) 13 June 2019
Update 3: Managers at the companies that own the tankers have weighed in on Thursday's attacks. The manager of the Kokuka Courageous described the incident as a "hostile attack," and DHT Holdings and Heidmar, the owners of the two tankers, have suspended new bookings to the Gulf.
* * *
Update 2: It appears earlier reports that the Front Altair had sunk were, in fact, incorrect. The ship's captain has said that it is still afloat. VHF radio traffic confirmed that it is damaged but still afloat.
Hours have passed since the suspected attacks, and still nobody has claimed responsibility. Iran's Foreign Minister Javad Zarif has noted how suspicious it is that a Japanese owned vessel would be attacked while Iranian leaders were meeting with the Japanese prime minister in Tehran.