by David Stockman, via Ron Paul Institute:
In the present era of 24/7 "breaking news", the journalistic information intermediated by the internet and the cable networks has largely been reduced to noise, devoid of signal. Or at least any historical context beyond the here and now.
The currently threatened escalation of Washington's economic war on Iran into an actual shooting war is a fraught case in point. Based on the news coverage since the two oil tankers were damaged yesterday you'd think that a crew of bloody-minded aggressors in Tehran had up and decided out of the blue to attack the whole world via disrupting its 18 million barrel per day oil lifeline through the Straits of Hormuz.
The truth of the matter, however, is just the opposite. The blatant aggressor is Washington and the dangerous confrontation now unfolding is utterly unnecessary.
That's the foundational reality, and it's far more important to understand than the momentary disputation about whether the Japanese oil tanker got hit by an Iranian mine or incoming projectile of uncertain origin.
Indeed, the Bombzie Twins, Pompeo and Bolton, have been in such heavy war heat for years that you can virtually bet when the dust settles the following false flags and manufactured pretexts for war per Max Blumenthal will have a Gulf of Oman coda:
Remember the Maine, Operation Northwoods, Gulf of Tonkin, Kuwaiti incubator babies, Saddam's WMD's, Qaddafi soldiers' Viagra spree, Last Messages From Aleppo, Douma, burning aid on Colombia-Venezuela bridge…. and now today's attacks in the Gulf of Oman.
So whatever deliberate or accidental incident may next materialize on the Persian Gulf waters, the truth is that it will happen because:
the US 5th Fleet naval and air war machine is all over the Gulf and it shouldn't even be there; and,
Washington has blatantly attacked Iran via crushing economic sanctions designed to close the entire global market to its oil exports and suffocate its domestic economy to the point of collapse – yet Iran is zero threat to the security of the American homeland, and, for that matter, Europe and Asia as well.
That's right. Iran has no blue water Navy that could even get to the Atlantic and only 18,000 sailors including everyone from admirals to medics; an aging, decrepit fleet of war planes with no long range flight or refueling capabilities; ballistic missiles that mainly have a range of under 800 miles; a very limited air defense based on a Russian supplied S-300 system (not the far more capable S-400); and a land Army of less than 350,000 or approximately the size of that of Myanmar.
Indeed, Iran's defense budget of less than $15 billion amounts to just 7 days of spending compared to the Pentagon's $750 billion; and it is actually far less even in nominal terms than Iran's military budget under the Shah way back in the late 1970's.
In inflation-adjusted dollars, Iran's military expenditure today is less than 25% of the level prior to the Revolution. Whatever the foibles of today's Iranian theocratic state, a thriving military power it is not.
Iran's Military Budget In US Dollars (millions)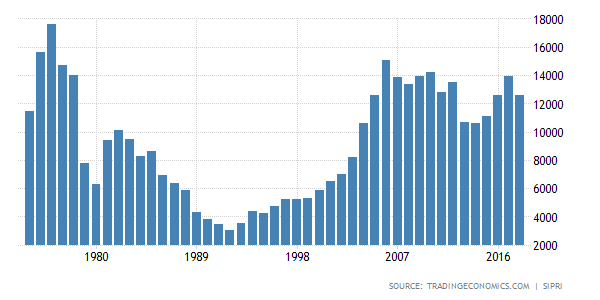 In fact, that's the real irony. Mostly what comprises the core of Iran air force is left over 40-50 year-old planes that had been purchased from the US under the Shah, and which have been Jerry-rigged with bailing wire and bubble gum to stay aloft and to accommodate some modest avionics and armaments modernizations.
As one analyst further noted, some of its planes were actually gifts from Saddam Hussein!
Much of the IRIAF's equipment dates back to the Shah era, or is left over from Saddam Hussein's Iraqi air force, which flew many of its planes to Iran during the 1991 Persian Gulf War to avoid destruction. American-made F-4, F-5 and F-14 fighters dating from the 1970s remain the backbone of the Iranian air force.
So military threat has absolutely nothing to do with it. Washington is knee deep in harms' way and on the verge of starting a war with Iran solely on account of a misguided notion that the Persian Gulf is an American Lake that needs to be policed by the US Navy; and, more crucially, that Washington has the right to control Iran's foreign policy and determine what alliances it may and may not have in the region – including whether or not they pass muster with Bibi Netanyahu.
Stated differently, the missions of protecting the oil supply lines and regulating the foreign policy of what amounts to a two-bit economic power is straight out of the playbook of Empire First. As such, it amounts to a foolish policy of putting America's actual security last.
The fact is, Iran doesn't even matter in the context of an $80 trillion global economy.
Its GDP of $450 billion (and shrinking fast under Washington's oil embargo) amounts to just 0.6% of world output. Moreover, that's well smaller than Argentina ($650 billion), Sweden ($535 billion), Belgium ($500 billion) and Thailand ($455 billion); and really it is not much larger than Austria ($420 billion), Norway ($400 billion) or even Nigeria ($375 billion).
None of these countries can threaten America's homeland security or even world peace – regardless of whatever mischief might be attributable to their foreign policies. That is, the world doesn't need an Empire to keep the small fry of the likes of Iran and its economic peers in line.
In the current instance that admonition includes whether Iran chooses to ally with and provide aid to its Shiite confessional brethren in Iraq, Syria, Hezbollah-Lebanon or the Houthis government of northern Yemen.
Read More @ RonPaulInstitute.org