by Chris Menahan, Information Liberation: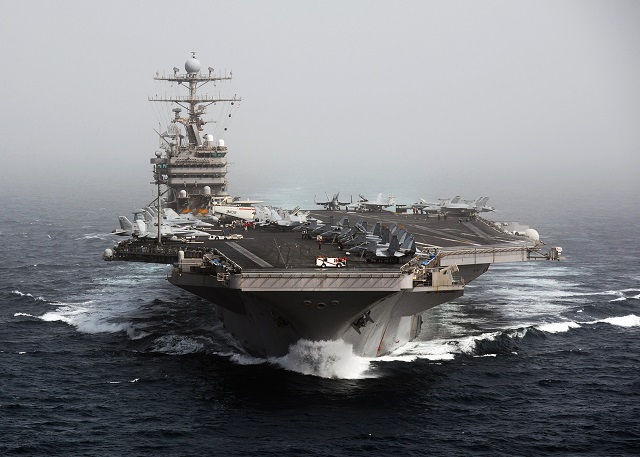 As tensions between the US and Iran threaten to boil over, the probability of a provocation or "accident" that would provoke hostilities between the two countries is higher than ever. U.K. Foreign Minister Jeremy Hunt, after meeting with U.S. Secretary of State Mike Pompeo, openly stated as much on Monday, telling reporters in Brussels that the U.K. was worried of a conflict breaking out between the U.S. and Iran by "accident with an escalation that is unintended really on either side but ends with some kind of conflict."
Yet, current and past events make it clear that such an "accidental" provocation is unlikely to be purely accidental in nature, as forces in the U.S. and Israel have been actively pushing for a U.S.-led war with Iran for years and have a track record that demonstrates little inhibition about using an "accident" or "false flag" to drag the country into a war with the Islamic Republic.
Notably, the state of Israel — in an event long since buried by the government and corporate media — has previously staged such a "false flag" by targeting an American naval vessel, killing 34 Americans, in order to blame the attack on Egypt and drag the U.S. into a war with several Middle Eastern nations in 1967. However, Israel is not alone in this, as the CIA as well as neo-conservatives serving in the Bush administration, led by then-Vice President Dick Cheney, have planned "false flags" that involved the murder of American servicemen and civilians in order to justify miltiary action against U.S. adversaries.
In this two-part series, MintPress explores the troubling evidence that preparations for another such "false flag" are well underway. In this first installment, current events in relation to U.S.-Iran relations and the role of Israel in the ratcheting up of tensions will be examined, while the second installment will focus on Israel's past of conducting "false flags" to goad the U.S. into wars on Israel's behalf as well as efforts by former Vice President Dick Cheney to conduct a "false flag" pitting American sailors against American sailors disguised as Iranian naval forces to justify a conflict with Iran.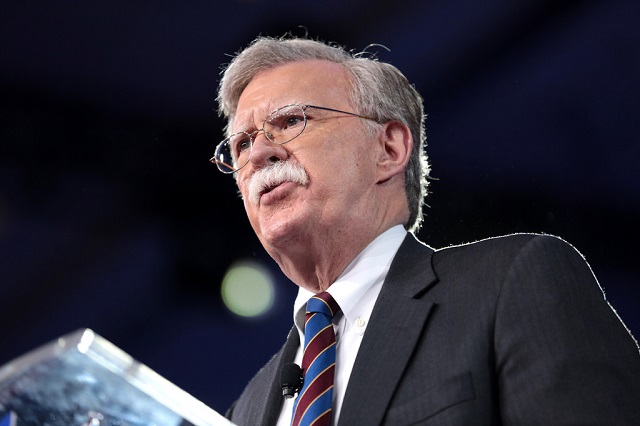 Bolton, taking a page from Iraq 2003 playbook, sets ball rolling 
Since National Security Advisor John Bolton sent out a dramatic press release announcing the deployment of a U.S. carrier strike group as a warning to Iran on May 5, tensions between the U.S. and Iran have risen dramatically, a development that Bolton — who has long advocated regime change and a pre-emptive war against Iran — likely welcomes. As MintPress recently reported, that press release was intentionally vague, allowing justification for a military response to any number of incidents, whether committed by Iran or alleged "proxies" of Iran, including groups over which Iran's government has no control.
Furthermore, it has since been revealed that the "intelligence" Bolton used to frame the deployment and the rationale for future U.S. military action against Iran was from the Israeli government — which has long pushed the U.S. towards war with Iran. In addition, several unnamed U.S. officials stated soon after that Bolton and other Trump administration officials had greatly exaggerated the nature of this intelligence and overreacted. MintPresshas noted on several occasions Bolton's history of distorting intelligence to conform with a specific narrative or in order to promote specific policy actions and this tendency of Bolton's was also recently noted in a New Yorker profile on the current National Security Advisor.
It was subsequently revealed that a few days prior to Bolton's press release, Bolton had made a "highly unusual" visit to CIA headquarters to discuss Iran. NBC News reported that the "extremely rare" choice to hold this meeting at the CIA instead of the White House's Situation Room likely meant that the purpose of the meeting was "to brief top officials on highly sensitive covert actions, either the results of existing operations or options for new ones," based on statements from five former CIA operations officers and military officials.
That meeting, as noted by the political and financial news site ZeroHedge, "hearkens back to the Bush-Cheney White House's direct intervention over Iraq intelligence in the lead-up to the 2003 invasion, which involved the VP and his staff making multiple personal visits to CIA headquarters and the Pentagon to pressure the intel analysts into conforming to a preferred 'narrative.'" Yet, the emphasis on "covert actions" in relation to Iran suggests that something much more sinister may be afoot.
Indeed, in the weeks since that press release and the "highly unusual" CIA meeting, the U.S. has deployed more military assets towards the Persian Gulf and Secretary of State Pompeo has made several abrupt schedule changes in order to discuss Iran with various countries. Notably, the Trump administration has also announced the end of waivers that have allowed some foreign companies to continue buying Iranian oil without facing U.S. sanctions.
The situation has forced Iran to respond, with Iran announcing that it would begin withdrawing from the Iran nuclear deal — which the U.S. unilaterally withdrew from over a year ago — as the U.S.' economic war against Iran shoots to another level.
Perhaps most telling of all is the fact that Western media, particularly U.S. media, have been heavily promoting the Iranian "threat" since soon after Bolton's Mary 5 press release, in yet another striking parallel to the lead-up to the 2003 invasion of Iraq. Yet, particularly notable in this case is that much of the "intelligence" that has been used to justify these recent moves by the Trump administration has come from Israel's government, led by the recently re-elected Israeli Prime Minister Benjamin Netanyahu, whose desire to goad the U.S. into a war with Iran is an open secret.
Read More @ InformationLiberation.com