by Chris Menahan, Information Liberation: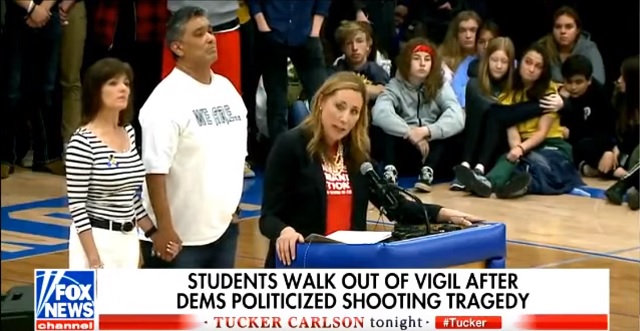 Students walked out of a prayer vigil on Wednesday at Highlands Ranch High School — which everyone assumed was being held to honor the victims and heroes of Tuesday's shooting — after Democrat vultures hijacked the event to push for gun control and play politics.
On Tuesday, nine students were shot reportedly by two shooters at STEM School Highlands Ranch in Douglas County, Colorado. One of the alleged shooters was in the process of "transitioning to male" according to police and the other allegedly spraypainted his car with a pentagram on the hood, "666" and "F**k society." He also said on Facebook that he hated Christians who "hate gays."
Wow, this story disappeared in a hurry. Wonder why? https://t.co/wG2yH7fkdl

— Paul Joseph Watson (@PrisonPlanet) 9 May 2019
Car towed from #stemshooting suspect's home apparently has "F*** SOCIETY" spray painted on the side. Also "666" and a what looks like a pentagram sprayed on the hood. pic.twitter.com/e6QX3lq4v3

— John Fenton (@higuysimjohn) 8 May 2019
Three students heroically fought back against the shooters and one of them, Kendrick Castillo, tragically died.
When a gunman burst into his high school classroom in suburban Denver, Kendrick Castillo did not hesitate.

The 18-year-old immediately charged, pinning the attacker to the wall before he was fatally shot protecting classmates, witnesses said. https://t.co/ywTNmjR1RS

— Los Angeles Times (@latimes) 9 May 2019
The Federalist reports: "In response to the shooting, a public vigil was announced at another local public high school: Highlands Ranch High School. It was sponsored by the gun control groups Brady's Team Enough and March for Our Lives and featured Democratic politicians who seek limits on Second Amendment gun rights, but was billed instead as an event to remember and honor Castillo and other victims. As the politicians called for gun control, students left in protest over the politicization of the deaths and injuries."
Read More @ InformationLiberation.com